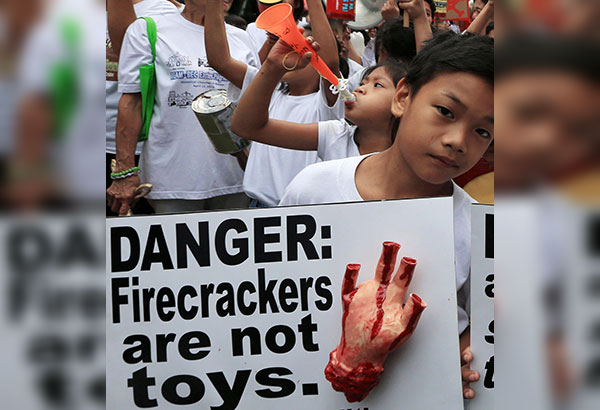 A boy joins a parade calling for a safer and cleaner New Year celebration in Manila yesterday. Edd Gumban
Pyrotechnics still allowed in households
BOCAUE, Bulacan, Philippines — Sparklers, "fountains" and other pyrotechnics can still be lit at home to greet the New Year.
The Philippine Fireworks Association (PFA) is clarifying misconceptions in the interpretation of the provisions of Executive Order 28 signed by President Duterte to regulate the use of firecrackers and other pyrotechnics.
The PFA, headed by Joven Ong, said EO 28 allows consumer pyrotechnics like fountains, sparklers, luces, aerial display cakes or devices, etc. to be used outside a citizen's residence.
Ong noted that "only firecrackers like labintador or kwitis would be used in designated areas for firecrackers identified by local government units (LGUs)."
He said some LGUs though have gone against EO 28 and made ordinances contrary to the order.
Ong pointed out that last Dec. 19, the Department of the Interior and Local Government issued Memorandum Circular 2017-168, which said that due to the substantial number of firecraker-related injuries and casualties recorded every year, the DILG has issued Memorandum Circular 2017-105 in support of the provisions of EO 28 series of 2017.
The circular provides additional guidelines on Sections 2 and 3 of EO 28 on allowable and prohibited types of fireworks.
MC 2017-105 advises all provincial governors, city and municipal mayors, DILG regional directors, regional governor of Autonomous Region in Muslim Mindanao, Philippine National Police (PNP), Bureau of Fire Protection (BFP) and all others concerned that pyrotechnic devices or pailaw that are authorized "might be used outside designated community fireworks areas, meaning outside places of residences."
The order reiterates the campaign against illegal firecrackers that use two grams or one-third teaspoon of gunpowder.
The circular also said "special attention should be given to the stoppage of the illegal sale and discharge of piccolo or 'scratch bangers' or whatever name it goes by, which has been the cause of a majority of fireworks-related injuries."
The concerned officials are directed to immediately disseminate the issuance "to all local government units within their respective jurisdictions."
It added that "non-compliance to this memorandum circular shall be dealt with in accordance with pertinent laws, rules and regulations."
DILG officer-in-charge Catalino Cuy also reminded LGUs to issue permits for the conduct of community fireworks display. The permit must specify the place, date and time of the display in conformity with national standards, rules and regulations. Cuy said prohibited firecrackers include piccolo, super lolo, whistle bomb, goodbye earth, atomic big triangulo, Judas belt and watusi. All firecrackers with gunpowder exceeding two grams, or 1.3 teaspoons, are also prohibited. Under Republic Act 7183, baby rocket, bawang, small triangle, pulling-of-strings, paper caps, el diablo and skyrocket (kwitis) are the only types of firecrackers that can be manufactured, sold and used. Sparklers, luces, fountain, jumbo regular and special, mabuhay, Roman candle, trompillo, airwolf, whistle device and butterfly are also allowed.Cuy has directed all governors, city and municipal mayors, the PNP and BFP to also remind the public of President Duterte's EO 28 banning powerful firecrackers and to ensure compliance.?
DOH appeal
The Department of Health (DOH) reiterated yesterday the appeal to parents to be vigilant and watch their kids during the New Year revelry as more children were injured by firecracker blasts.
According to DOH spokesman Lyndon Lee Suy, parents play a vital role in the campaign to minimize firecracker-related injuries.
"It is the responsibility of parents to protect their children. They have to guide their children, tell them that it is dangerous to play with firecrackers. Be responsible enough," he said in an interview.
He also urged vendors not to sell firecrackers to children, especially now that there is a ban on the household use of firecrackers.
"We should look at the whole picture. Some claim they sell firecrackers because there is a demand for it. On the other hand, some are saying that they buy firecrackers because they are available in the market. Whichever way, firecrackers should not be used just by anyone. It is dangerous," he added.
Citing EO 28, he urged barangay leaders or any private entity to organize community fireworks displays in ushering in the New Year.
Muntinlupa and Las Piñas will implement a ban on the use of firecrackers, aiming to record no firecracker-related injuries or casualties.
Muntinlupa City has been implementing the firecracker ban since 2014.
The Las Piñas government has also ordered barangay officials, the city health office, local police and the BFP to intensify its information campaign on the dangers of firecrackers to life, property and the environment.
Former climate change secretary Heherson Alvarez reminded yesterday the public to shun the use of firecrackers and pyrotechnics during the New Year celebration to help reduce carbon emission that cause global warming and bring down firecracker injuries.
In March, Duterte signed the Paris Agreement, committing the Philippines in its pledge to reduce 70 percent of greenhouse gas emissions by 2030 to help keep the earth's temperature below the dangerous two degrees Celsius and avoid the deadly impacts of climate change. – Cecille Suerte Felipe, Sheila Crisostomo, Helen Flores, Ghio Ong