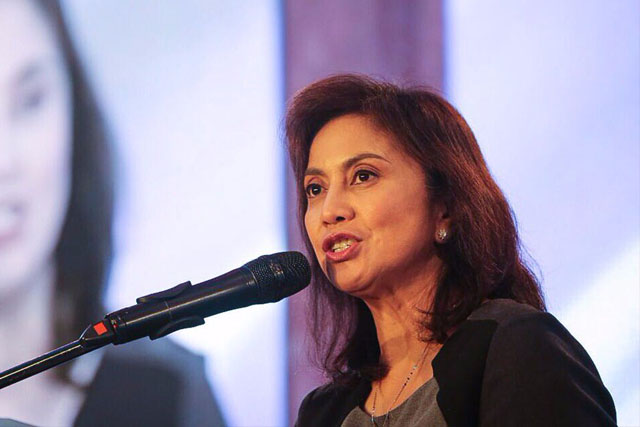 In a statement, Vice President Leni Robredo said the Philippines has historically been a part of the efforts to promote human rights not just in the country and the region, but in the entire world. Office of the Vice President/Released, File
On Human Rights Day, Pinoys urged to stand up vs EJK
Janvic Mateo
(The Philippine Star) - December 9, 2017 - 4:00pm
MANILA, Philippines — Vice President Leni Robredo yesterday called on Filipinos to stand up against extrajudicial killings (EJKs) and other human rights violations in time with the commemoration of Human Rights Day today.
In a statement, Robredo said the Philippines has historically been a part of the efforts to promote human rights not just in the country and the region, but in the entire world.
"It is reflected in our Constitution, which promotes respect, defense and fulfillment of these rights," she said in Filipino.
"The commemoration of Human Rights Day this year should not only be remembered as our contribution to this struggle. It should also serve as a reminder of its spirit, particularly because of disturbing news about the widespread human rights violations, especially against those on the fringes of society," she added.
The Vice President cited challenges faced by the country in terms of protection of human rights, particularly alleged extrajudicial killings and violation of freedom of speech, including in social media.
She also noted the continuing hunger and poverty experienced by millions of Filipinos.
"I hope that we use this opportunity in commemorating Human Rights Day to further strengthen our determination to become a society that recognizes and practices respect of the dignity, freedom and rights of every Filipino," added Robredo.
The Human Rights Day is commemorated every year on the anniversary of the adoption of the Universal Declaration on Human Rights by the United Nations General Assembly on Dec. 10, 1948.
A children's rights group said yesterday that a bloody Christmas will be the gift of President Duterte to the Filipino children this year with his deadly "war on terror" and campaign against illegal drugs.
During the annual children's solidarity action in Mendiola yesterday, the Salinlahi Alliance for Children's Concerns called out the administration for policies that result in destruction of communities and death of children and their families, particularly in Mindanao.
Salinlahi secretary general Eule Rico Bonganay noted that dozens have died because of the attacks in lumad communities in Mindanao, as well as in drug operations where children are tagged as drug personalities.
He also cited the ongoing food blockade in Surigao where donations and aid for lumad evacuees are supposedly being blocked by the military.
"The military is violating not just the international humanitarian law but also Philippine laws with this food blockade," said Bonganay.
The group also condemned the recommendation to extend martial law in Mindanao, saying it could result in further exploitation of resources and death of civilians.
"In their recommendation to extend martial law, what the Armed Forces of the Philippines wants is to let people and natural resources of Mindanao bleed to death," said Bonganay.
Dozens of lumad and Moro children joined members of militant organizations in the protest yesterday.
Meanwhile, militant activists yesterday cooked up something else to protest Duterte's alleged "recipe for a fascist dictatorship."
Members of Karapatan cooked "Pinapaitang Buhay," "Digong's Dinuguan" and "Pasistang Pasta" in a kitchen set up at the Don Chino Roces Bridge in Mendiola near Malacañang, mocking "Duterte's Kitchen," a small eatery set up in Cubao by the administration party Partido Demokratiko Pilipino-Lakas ng Bayan serving food to street peddlers.
Activists poured pig's blood on the dinuguan (blood stew) symbolizing the blood spilled in the administration's war on drugs.
"The dishes represent a range of Duterte's policy that have been burdensome for the poor and the marginalized. He is cooking up a dictatorship in Malacañang, with his unwanted, unappetizing and poisonous recipes," Karapatan secretary general Cristina Palabay said of the protest that culminated following the botched peace talks with communist rebels and the President branding them as terrorists. – With Marc Jayson Cayabyab, Elizabeth Marcelo