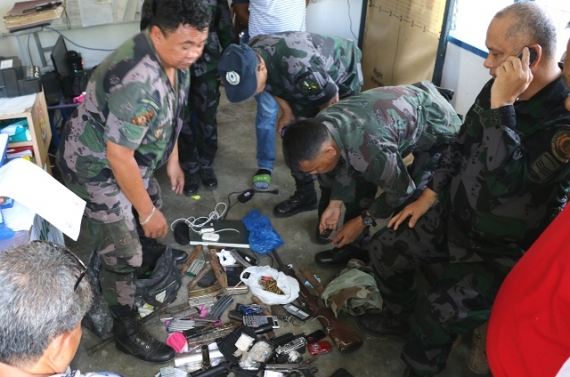 Police inspect firearms, ammunition, shabu and communication equipment seized in June from members of a big drug ring arrested in Pandag, Maguindanao. Philstar.com/John Unson, file
'Real numbers' contradict new Duterte claim on police casualties
(Philstar.com) - December 9, 2017 - 2:30am
MANILA, Philippines — The most recent #RealNumberPH data release contradicts a new claim by President Rodrigo Duterte made on Thursday that 242 police officers have died in drug operations.
Duterte, a guest at the Kapampangan Food Festival in Clark, Pampanga on December 7, stressed that shabu (methamphetamine hydrochloride) makes drug suspects violent and aggressive, forcing law enforcers to shoot back and kill them.
"Pero why is it, if it is not that dangerous and violent, why is it that to date, I have lost 242 policemen in drug-related raids and arrest?" he said according to an official transcript released by the Presidential Communications Operations Office.
He later said that, including police officers killed in the Marawi siege that lasted from May 23 to October 23, the number of police killed is close to 300.
"That is why in the — the Mindanao campaign against drugs, I have lost something like almost 300 policemen. That is including those who died in the actual fight when there was the siege already. 'Yung noon 'yun, those were arrest… and the deaths of — until today," he said.
"And you can be very sure of this. I'm losing on the average six to eight soldier or policemen in Mindanao in drug-related cases," he also said.
But the latest #RealNumbersPH infographic released by the PCOO tallies 86 security personnel killed in drug operations between July 1, 2016 and Nov. 27, 2017.
That number includes personnel from the Philippine National Police, Philippine Drug Enforcement Agency, Armed Forces of the Philippines and the National Bureau of Investigation, logos on the infographic suggest.
Of the 312 casualties, 226 were wounded.
The #RealNumbersPH campaign was launched to give the public what the government says is accurate data on the war on drugs.
Marawi casualties
Another 61 cops had been wounded in operations to liberate the capital of Lanao del Sur from Maute and Abu Sayyaf terrorists at the time.
A press release on the PNP website on a heroes' welcome for Special Action Force troopers on October 25 said that of 500 police commandos deployed to Marawi, four had been killed in action.
SAF said 60 of its personnel had also been wounded during operations there.
Security officials have shrugged off differing figures on drug war casualties in the past, saying the president has intelligence sources that heads of the police and military may not have access to.