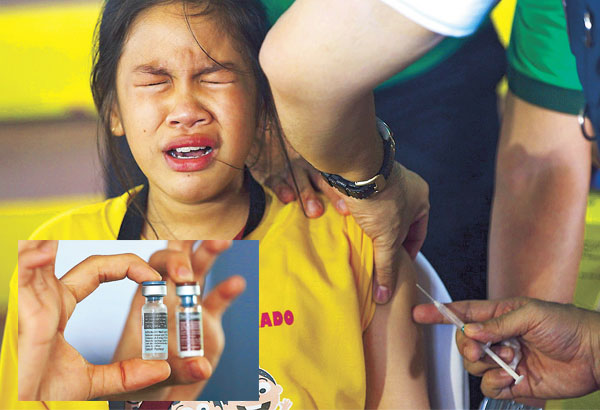 A pupil from Parang Elementary School in Marikina receives an anti-dengue vaccine from a Department of Health worker at the start of the nationwide dengue vaccination program in schools. Inset shows vials of the vaccine. The STAR/Miguel De Guzman, File
'997 children got sick after vaccination'
Jess Diaz
(The Philippine Star) - December 5, 2017 - 4:00pm
MANILA, Philippines — Nearly a thousand children in public schools had fallen ill over a five-month period after receiving their first dose of the controversial dengue vaccine Dengvaxia, The STAR learned yesterday.
According to a draft report of the House of Representatives committee on health, which conducted hearings on the efficacy of the vaccine, the Department of Health (DOH) reported that between March 18, 2016 and Aug. 20 of the same year, there were 997 "adverse events following immunization, 30 of which were considered serious cases that needed hospitalization."
The 30 serious cases included two deaths. But the DOH said these "were not related to the immunization program," which was launched in early 2016.
While the DOH said there were only two deaths, based on information reaching the committee on health, at least four children had died.
Asked to explain what the term "adverse events" meant, Quezon Rep. Angelina Tan, who chairs the committee on health and is a medical doctor, said, "It means that the 997 children got sick after being inoculated with their first dose of Dengvaxia."
"Their sickness ranged from as simple as fever, nausea, vomiting and body pain, to serious illness that required hospital confinement. The DOH did not have other details, highlighting its lack of proper monitoring and reporting protocols before undertaking the program," Tan said.
She said the House panel does not know what happened to the children, as the DOH has not submitted an update.
Of the four children who died, two were from Bataan and two from Bulacan. Central Luzon, Metro Manila and Calabarzon (Cavite-Laguna-Batangas-Rizal-Quezon) are the three regions where the massive Dengvaxia inoculation program that targeted one million children in public elementary schools was launched.
Those who died in Bataan were 10-year-old Christine de Guzman and Paul Ramirez. The two from Bulacan were not identified.
According to the health committee's draft report, De Guzman's father, Nelson, testified that she had her first dose of Dengvaxia on April 16, 2016.
"On Oct. 11, 2016, De Guzman complained of headache and fever and would be absent from class. The following day, her fever continued. She was admitted in hospital and was diagnosed with dengue," the report stated.
"On Oct. 14, she experienced difficulty in breathing and stomach ache. It was later found out that she suffered internal bleeding and blood was already coming out of her mouth. In the morning of Oct. 15, she passed away," the report added.
Tan said De Guzman had not had dengue before she was vaccinated.
Over the weekend, Sanofi Pasteur, manufacturer of Dengvaxia, said the vaccine was safe for those with previous exposure to dengue but complications could develop for those who had not.
Tan said the DOH was not aware of De Guzman's case, which was reported to her committee by Bataan Rep. Jose Enrique Garcia III.
In the case of Ramirez, he was vaccinated on March 31, 2016 and died on April 10.
The health committee report stated that Baguio Rep. Mark Go noted that "although the cause of (Ramirez's) death was congenital heart disease, his ailment was never medically established prior to his confinement."
Citing studies made by American dengue vaccination researcher Dr. Scott Halstead, clinical epidemiologist Dr. Antonio Dans of the Philippine College of Physicians said, "All dengue breakthroughs after vaccination are vaccination-induced."
The committee conducted its inquiry in the latter part of 2016. When the panel was almost done with its hearings, the House directed the committee on good government and public accountability to join the probe and look into alleged irregularities in the procurement of the P3.5 billion worth of Dengvaxia.
Based on its findings, the committee on health recommended the temporary suspension of the dengue vaccination program and the conduct of serological tests "prior to immunization, for studies have shown that the vaccine provides better protection for those who were already exposed and are positive for dengue antibodies."
It also suggested that the DOH evaluate the medical records of the four children who died after inoculation. – With Janvic Mateo