Duterte urges Congress anew: Pass FOI bill
December 4, 2017 | 4:00pm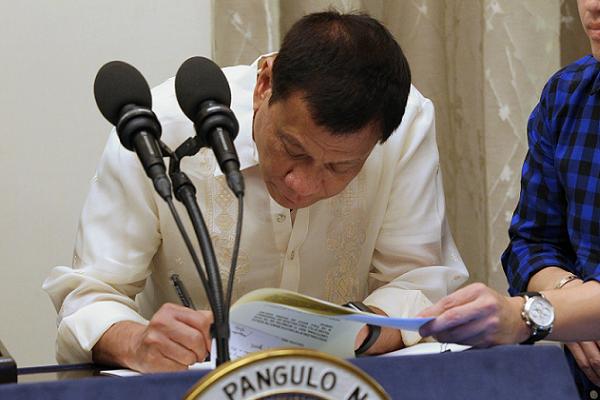 MANILA, Philippines — President Duterte yesterday again appealed to Congress to pass the freedom of information (FOI) bill, more than a year after he signed an executive order implementing the policy in the executive branch.
"I hope that both the legislative and judicial branches of government would join us in strengthening our democratic institutions by following suit and instituting measures that would allow unfettered public access to relevant information about their affairs, subject to reasonable restrictions and regulations in exceptional circumstances," Duterte said in his message for the first anniversary of the implementation of the EO on FOI.
Presidential Communications Assistant Secretary Kristian Ablan said the executive branch is hopeful that the FOI would be discussed in Congress after the tax reform measure and the 2018 budget are passed.
"We have actually talked with our FOI champions in the Senate and in the House of Representatives. And they have promised that hopefully after the passage of the tax reform bill as well as the budget for next year, the next bill to be tackled by Congress is the FOI," Ablan said in a press briefing yesterday.
"Although the FOI executive order is a step toward the right direction, it would still be better if we have an FOI law," he added.
The FOI policy is contained in Executive Order No. 2 signed by Duterte on July 23, 2016. The order, which required all offices under the executive branch to disclose details of their transactions, took effect on Nov. 25, 2016.
The order covers official records, public records, and documents and papers pertaining to official acts, transactions or decisions and government research data used as basis for policy formulation.
Exemptions to the order include privileged information on national security, those that are covered by executive privilege and those that violate the privacy of individuals.
The order only covers government offices under the executive branch. An FOI law is needed to compel the legislature and judiciary to adopt the policy.
As of Nov. 25, a total of 2,552 requests were lodged with 104 agencies enrolled in the FOI online portal. The agencies with the most number of requests are the Philippine Statistics Authority, Department of Health, Department of Transportation, Department of Budget and Management and the Presidential Communications Operations Office (PCOO).
A total of 127 government agencies are now part of the FOI online portal.
PCOO data showed that 181 of 189 national government agencies have submitted their FOI manuals and implementing details. Less than half or 69 of 141 government-owned and controlled corporations complied with the requirement.
The level of compliance is still low among state universities and colleges, with only 23 out of 113 of these educational institutions submitting their FOI manuals.