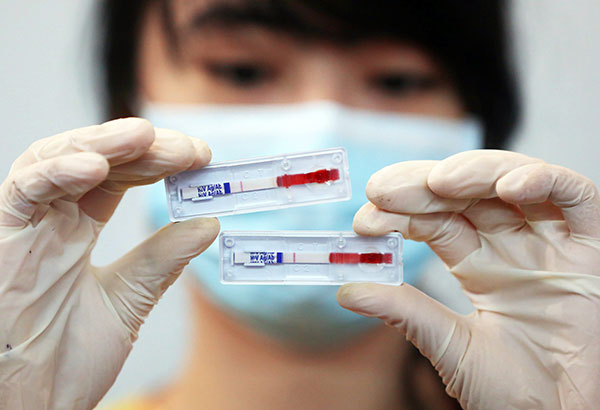 According to the HIV/AIDS Registry of the Philippines of the Department of Health (DOH), 858 HIV cases were recorded in July and 1,104 cases in August. During the two-month period, 118 deaths were recorded. STAR/Miguel De Guzman, File
1,962 new HIV cases in 2 months — DOH
MANILA, Philippines — In a span of two months, 1,962 new cases of human immunodeficiency virus (HIV) infection were reported in the Philippines.
According to the HIV/AIDS Registry of the Philippines of the Department of Health (DOH), 858 HIV cases were recorded in July and 1,104 cases in August. During the two-month period, 118 deaths were recorded.
Of the total number of HIV cases, 250 cases have developed into full-blown Acquired Immune Deficiency Syndrome (AIDS).
A total of 1,892 cases were transmitted through sexual contact. In 1,146 cases, infection was acquired through homosexual contact, 512 through bisexual contact and 234 through heterosexual contact.
Thirty-five of the cases acquired HIV through sharing of infected needles, while seven cases were mother-to-child transmission. The mode of transmission of 28 cases is unknown.
Among the new HIV cases recorded from July to August are 154 overseas Filipino workers. Except for four, all the OFWs acquired the infection through sexual contact.
The National Capital Region accounted for the biggest number HIV cases with 732, followed by Calabarzon with 344 and Central Luzon with 179.
Central Visayas posted 144 cases and Davao region 116 cases.
DOH said the new cases recorded brought to 7,363 the number of HIV cases recorded in the first eight months of the year, including 891 AIDS cases and 334 deaths.
There are now 46,985 HIV cases recorded nationwide since 1984. The figure includes 4,556 AIDS cases and 2,303 deaths.
Wurtzbach hits HIV patient's 'outing'
Meanwhile, Miss Universe 2015 Pia Wurtzbach yesterday called out the Philippine Drug Enforcement Agency (PDEA) and some members of the media for disclosing the HIV status of one suspect arrested in a drug bust on Monday.
In a post on Instagram, Wurtzbach – who advocated for HIV awareness and prevention during her reign as Miss Universe – said the incident has worsened the situation of people living with the disease in the Philippines.
"Was this really necessary? I understand that what the men were supposedly doing was illegal and they should face legal consequences. But there was absolutely no need to expose and publicly shame them. It's illegal to publicly announce one's HIV status," she said, referring to a provision in the Philippine HIV/AIDS Control and Prevention Law.
"What has been done has not only traumatized the men that were involved; it has also worsened the HIV situation in the Philippines. We're working so hard in educating the people properly on HIV/AIDS, on taking away the stigma," she added.
Wurtzbach said the disclosure resulted in people "ridiculously" associating drugs and immorality with being gay. – Janvic Mateo