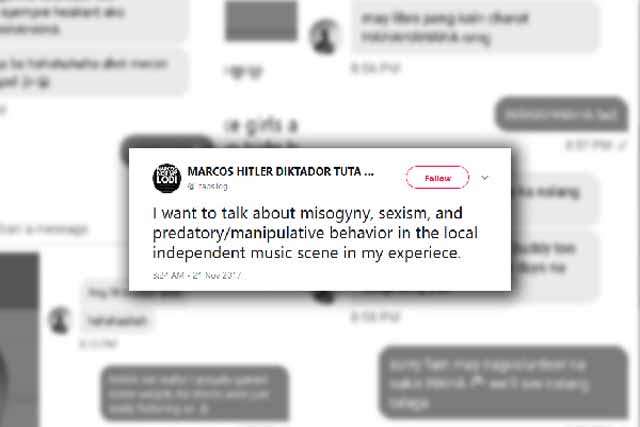 The #MeToo campaign's effects reached the Philippines as several netizens came forward to share their experiences with artists and local band members who allegedly committed sexual misconduct.
Philstar.com
'Weinstein effect' reaches Philippines, artists accused of sexual misconduct
MANILA, Philippines (Originally published on Nov. 23, 2017; 4:53 p.m.) — After sexual harassment and assault allegations against Harvey Weinstein broke, with Hollywood stars coming out to expose him, other industries followed across the globe including the Philippines.
Actress Alyssa Milano was among the celebrities who spoke about the issue as she urged victims to use the hashtag #MeToo—a campaign originated by writer and activist Tarana Burke in 2007—to share their rape, sexual assault and harassment stories across social media.
READ: 'Weinstein Effect' goes global as powerful men confronted
The campaign's effects reached the Philippines as several netizens came forward to share their experiences with artists and local band members who allegedly committed sexual misconduct.
Over the weekend, a 17-year-old netizen named Jan Heenan started a Twitter thread sharing her experience with digital artist Justin Remalante.
In her tweets, Heenan claimed Remalante, who does commission artwork, sent her sexually explicit messages and tried to hook up with her.
Several other young girls followed Heenan and also shared their horrific experiences with Remalante.
READ: How to take action if you are harassed online
"I want to make girls aware of predatory men on Twitter who hide behind popular individuals on Twitter to promote his art and at the same time prey on girls here is my experience with him, He's well aware that I'm only 17," Heenan wrote.
Another netizen pointed out that some girls were already warning about Remalante as early as 2013.
And someone was trying to warn girls via AskFM about Justin Remalante as far back as July 2013.

Four years later and he's still at it? He can keep his ~apology and throw it into the trash bin himself. pic.twitter.com/pPiu4O5IOY

— That Girl Named ?? (@highreaching) November 20, 2017
Meanwhile, artists and online personalities expressed messages of support to his victims.
I reposted some of @jstn9somethin9's artwork in the past. I just learned of his sexual predatory behavior, targeting mostly young and at times UNDERAGED girls. I urge everyone to be wary of this man. His name is Justin Remalante.

— Saab (@saabmagalona) November 20, 2017
I feel absolutely gross and remorseful for supporting Justin Remalante (jstn9something) and his artwork after finding out what he's done.

To all the victims, I'm sorry this happened to you and I am with you. Do not be afraid to speak up. We're in this together.

— JELINE CATT (@jelinecatt) November 19, 2017
In a way I felt used, because this person created art that involved me & I supported him, and he used that "popularity" to take advantage of his position and prey on younger girls. I'm sorry that you guys went through that & I had no idea.

— camie juan (@camiejuan) November 19, 2017
Remalante posted an apology on Twitter and vowed to seek help for his misconduct.
"I've realized na may (there is a) problem and I will now be seeking help," Remalante wrote on his Twitter account.
"I apologize to those who were victimized and to everyone concerned. Not because I got caught or because panget effect sakin (it had bad effects to me) but because I now fully understand the problem na di maffix ng ganon lang (which cannot be fixed easily). I am genuinely sorry," he added.
Local band members also accused of harassment
More women chimed in and posted screengrabs of their experiences of sexual harassment.
Tbh i was too scared to fully expose him before kahit binaback up naman ako ng friends ko and i regret it bc i should have done it sooner anyway eto siya

s/o @JrmyVnglst @Nedddyy yan na naexpose ko na ng buo be proud pic.twitter.com/WMqtJsVGHr

— Den ? (@Dayniyel) November 20, 2017
Local band members also faced the same accusations after a netizen with the Twitter handle @_tapsilog made a thread discussing sexual predatory behavior.
"I want to talk about misogyny, sexism, and predatory/manipulative behavior in the local independent music scene in my experience," the netizen said.
According to her, local band members allegedly took advantage of their fans sexually and committed "blatant exploitation of labor and skills."
What they're also guilty of doing (and they do this quite a lot) is taking advantage of their fans to get them to do over-the-top or sexual favors and acts.

Pag nakuha na yung gusto nila sa 'yo, BYE. Kunwari walang nangyari. At kung sex yun, ikukuwento pa nila sa kabanda nila.

— MARCOS HITLER DIKTADOR TUTA MARCOS HITLER DIKTADOR (@_tapsilog) November 21, 2017
Among the local band members mentioned in the thread were Jensen Gomez, Carlo Maraingan, and Sammy Valenia of Jensen and the Flips; Sud Ballecer, Jimbo Cuenco and Kohl Aguilar of Sud; and Justin Teano of MilesExperience.
Red flags
User @_tapsilog opened up in her tweets that she was still young then and didn't really know what being taken advantage of looks like.
"When you're the one in the situation, it's much harder to recognize it, to call it out, to judge objectively," she explained in her tweet.
I didn't really know what taking advantage of me looked like when I was faced with it because I didn't really think that ever happened to me before. When you're the one in the situation, it's much harder to recognize it, to call it out, to judge objectively.

— MARCOS HITLER DIKTADOR TUTA MARCOS HITLER DIKTADOR (@_tapsilog) November 21, 2017
Victim blaming and shaming are among the reasons why victims of sexual assault choose to remain silent.
Hannah Athena Victa, among those who opened up about their experiences, said it is important for people to talk about the issue online as social media could be used to "influence others on what to think and how to act."
"I decided to speak out because I had the privilege to. It is so important that we use our voices, because so many women are oppressed, or are afraid to speak out. This is our way of telling people, that we won't take being treated as second-class citizens anymore. We are human beings, not objects. We deserve respect, regardless of what we wear or what we choose to do with our bodies," she told Philstar.com.
i was 14/15 and twitter people significantly older than me made every conversation we had sexual/wouldn't stop asking for nudes and whatnot. and since i've always been open about my sexuality, i used to feel like it was my fault

— hannah athena (@Hannahphern3lia) November 20, 2017
April, another Twitter user who decided to break her silence, told Philstar.com on Wednesday why she decided to do so.
ENTHUSIASTIC di yung hinindian ka na mangungulit ka pa ng sige na pls tas pag ayaw ulit tatawad pa!!!! https://t.co/MYWsAHq5sI

— ap (@simeiotic) November 20, 2017
"Some of these artists are my friends. People have tolerated them for so long, thinking, 'ganyan na sila eh.' Finally, they're facing the consequences," she said. "They can't treat women like objects anymore, thinking it will have no effect on their careers... I'm sorry, but they need to learn to treat women with respect."
She said she is happy that "people are finally doing something about harassment and assault, especially in the music scene."
Coalition Against Trafficking in Women–Asia Pacific Executive Director Jean Enriquez shared to Philstar.com on Thursday some behaviors women and young girls should watch out for on social media.
"Red flags include strangers messaging and flattering you. Also, there are online offers for on-cam modeling that are, in fact, trafficking for online prostitution," Enriquez said.
"A clear red flag is when unknown people, who are creating artificial profiles, friend you."
Beyond #MeToo
Enriquez praised the domino effect of the #MeToo campaign, saying "it is very good that women found inspiration in other women who are speaking out even against powerful or known personalities."
But she added that it is also critical for everyone to know the laws that might cover the specific forms of sexual violence in order to pursue justice or to seek protection.
"We currently have the rape law, anti-trafficking law (which cover some forms of online sexual violence), and anti-sexual harassment law," she said.
Enriquez also highlighted the need to pass a comprehensive gender-based online violence law and expand the law on sexual harassment.
After the allegations, two music event organizers dropped local bands Sud and Jensen and the Flips from their lineup of performers. Coke Studio also issued a statement terminating its partnership with Jensen and the Flips.
"#CokeStudioPH was created to serve as an inspiration to the youth; and will remain as an avenue that fosters a culture of respect and dignity through the songs we create and the collaborations we make."
READ: Music event organizers drop local bands amid sexual misconduct allegations
Apologies issued
PhilStar.com reached out to the bands for clarification. Sud and MilesExperience said they would be releasing their respective statements soon.
Valenia of Jensen and the Flips, meanwhile, took to Twitter to apologize for his acts.
"I am really sorry sa mga taong na-offend ko at na-disappoint sa akin because of this post and because of what I did. I respect yall's opinions. I know this ain't enough but again, I am really sorry," he said.
Jensen and the Flips also released an official statement acknowledging their mistakes and apologizing for the misconduct. They vowed to work on being better individuals.
"An apology will never be enough to make up for all the things that have been done in the past," the band said.
"Trust was lost with productions, event organizers, partners, and supporters. We know that this is hard to rebuild, and respect their decisions regarding established commitments with Jensen and the Flips," it added.
November 22, 2017
A netizen also posted a screenshot of Sud member Cuenco's text message owning up his mistakes and apologizing for it.
"Sorry for my past actions. The screencap was from last year and a lot has changed in me since. But that's no excuse I know. I own up to those actions and am deeply sorry," Cuenco said.
thanks, @jimbooooowww for owning up to your mistakes. i hope everyone learns from this. pic.twitter.com/xn5s1q4Oqq

— ? (@mcaviray) November 22, 2017
— with Mikas Matsuzawa