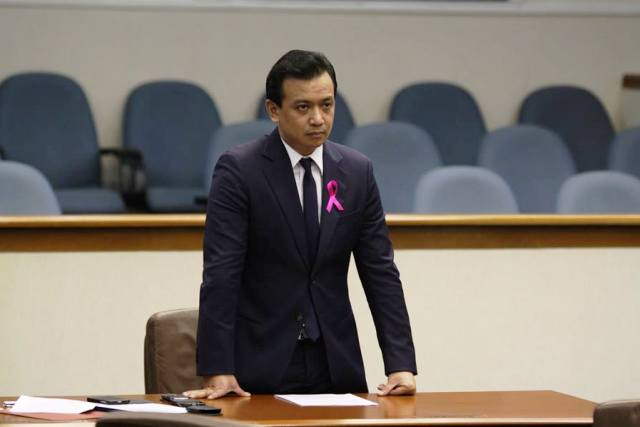 Trillanes, in his complaint, said that Nieto's post "was clearly made solely for the purpose of besmirching my reputation and maligning my name." The STAR, File
Trillanes sues Thinking Pinoy blogger over 'Little Narco' post
MANILA, Philippines — Sen. Antonio Trillanes IV has filed a libel complaint against Thinking Pinoy blogger Rey Joseph Nieto for alleging that US President Donald Trump referred to him as a "narco" or drug lord.
The complaint, which alleges libel under the Cybercrime Prevention Act, said Nieto's post "US President Donald J. Trump reportedly called Senator Antonio 'Sonny' F. Trillanes IV a 'Narco', a colloquial word for a 'drug baron' or 'drug lord'" was a malicious imputation that was "published far and wide and all over the world."
He said the post has garnered 62,000 reactions on Facebook and has been shared 15,759 times "to the grave and utter detriment and prejudice of [Trillanes]."
Trillanes said that Nieto's claim was "fake news"—a term now used for lies and propaganda made to look like legitimate news articles.
"Respondent Nieto did not even cite the source or the news outfit (as there was indeed none) that purportedly conducted the supposed interview where the President of the United States allegedly uttered those words," Trillanes said in the complaint filed at the Pasay City Regional Trial Court on Wednesday.
A similar article by columnist Mary Ann Reyes has likewise been taken down.
Nieto in a Facebook post on November 7, when Trillanes first announced plans to sue him, said that "my primary source for the allegedly libelous ThinkingPinoy post is Al Pedroche's article, published by the Philstar Group, with emphasis on the word 'primary', as the information has already been posted by Ira V. Panganiban three full days before the publication of the Pedroche article."
"What interesting in this entire brou-ha-ha is that Trillanes seems to have spared Philstar columnist Mary Ann Reyes, and ABS-CBN stringer Mike K Cohen. Instead, the idiot focused only on me, an independent blogger," Nieto said then.
"See you in court, o baka hindi mo na naman yan itulak kamukha ng dalawang kudeta mong hindi lumagpas ng 24 oras?" he said, referring to mutinies that the Magdalo group staged against President Gloria Macapagal-Arroyo.
Trillanes and other members of the group have been granted amnesty for the attempts to get Arroyo to resign.
Trillanes wants P2 million in damages
Trillanes, in his complaint, said that Nieto's post "was clearly made solely for the purpose of besmirching my reputation and maligning my name."
In accusing Nieto of cyber libel and of libel, Trillanes said the former had publicly and maliciously alleged that he is involved in the proliferation of drugs, which is a crime. He said the claim was made to "cause dishonor, discredit [and] contempt" against him.
"As can be seen from all the foregoing, such malicious imputation is purely a falsity, baseless, and is without actual basis," he said.
Aside from the criminal penalties, Trillanes also wants Nieto to pay P1 million in moral damages and another P1 million in exemplary damages "to serve as an example for the public good, and to deter persons similarly inclined like the respondent from committing the same or similar offense".
He also wants Nieto to pay P250,000 in attorney's fees.
Trillanes' complaint comes as Sen. Vicente Sotto III announced plans to also file a libel case against Edward Angelo Dayao over posts on "Silent No More PH," a Facebook page and blog that was the subject of a Senate hearing early last month.
The hearing was partly prompted by senators taking offense at posts against them for not signing a resolution against extrajudicial killings, especially of children.
The senators claimed they were not approached to sign the resolution and that they had been unfairly targeted online.
Free speech advocates have cautioned that government officials filing libel cases against their critics threaten the freedom of expression and can be a tactic to silence dissent.