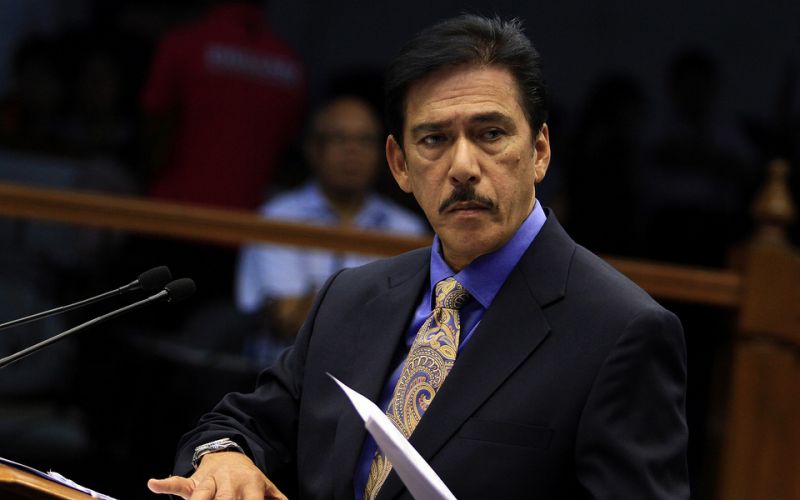 Sen. Vicente Sotto III blasted a blog site for calling him and six other colleagues names following their alleged refusal to sign a Senate resolution condemning the killing of minors. The STAR/File photo
Suits by 'sensitive' senators threaten free speech
MANILA, Philippines — Sen. Vicente Sotto III's plan to file a complaint against Edward Angelo Dayao over online "name-calling" is a threat to freedom of expression, but so is Sen. Antonio Trillanes IV's plan to sue Thinking Pinoy blogger Rey Joseph Nieto.
"Whether for or against the administration or the opposition, comment on public officials and public figures should be unfettered. That is the essence of the right to free speech," lawyer Marnie Tonson with the Philippine Internet Freedom Alliance told Philstar.com on Tuesday.
The senators claimed they were not approached to sign the resolution and that they had been unfairly targeted online.
Sotto said he will not accept a public apology from Dayao over the posts, which have yet to be proven were written by him. "He can let me punch him if he wants," Sotto said in Filipino on Monday.
"Senators sought public office and made themselves public servants. Their service must be continually critiqued for the public good," Tonson said.
"'Name-calling' is just throwing insults, and the right to free expression is sometimes called the right to offend. It is only when the offensive speech goes into the extent of palpable harm that the law should step in," he also said.
But Sotto is not the first senator to consider suing bloggers for writing negatively about them. In September, Trillanes actually filed a complaint, including three counts of cyber libel, against Communications Assistant Secretary Esther Margaux "Mocha" Uson, who maintains a pro-Duterte Facebook page.
'Censorship no remedy for false accusations'
"As a free speech advocate, I am also against the suit filed by Trillanes," Tonson said Tuesday, stressing a point he also raised last Friday at a regional forum on fake news and freedom of expression.
"Of course there will be unjust accusations, but in the free market of ideas the answer to false accusations cannot be less speech but more speech that leads to the truth. Prior restraint on public comment is the anathema of a democratic society," he said.
Nieto did not himself say that the claim made in the column was true.
Fake news a serious policy concern
David Kaye, UN special rapporteur for freedom of expression, acknowledged at the forum last Friday that the phenomenon of "fake news" and propaganda is not new but their speed and reach in the digital age has made them a "serious public policy concern."
He said that "at the root of all these challenges is something familiar and timeless: The desire by governments and others... to forbid someone from sharing information."
There is a proposal at the Senate to penalize the spread of fake news, and Article 154 of the Revised Penal Code has made the dissemination of "false news" a crime since the 1930s but, Kaye cautions, "many repressive governments punish and decriminalize the dissemination of false information and that is a deep problem worldwide because of the impact it has on reporting and on dissent."
Lawyer Gilbert Andres, chairman of the Advocates for Freedom of Expression Coalition-Southeast Asia (AFEC-SEA), said Friday that "criminalization of speech is incompatible with the right to freedom of expression." AFEC-SEA has 12 affiliate NGOs in six countries in Southeast Asia.
He said: "In the Philippine Constitution, it doesn't really differentiate whether it is really false information, whether it's propaganda. Free speech, freedom of expression is protected."
As Kaye put it, the challenge posed by fake news is how to "not to solve the problem of fake news by creating a new wave of problems we would have to call censorship."
Self-regulation, high standards
He urged governments to repeal laws that make spreading fake news a crime instead of passing more of them since these can more likely be used to silence dissent. Advocates at the forum warned that laws penalizing the spread of "fake news" might also violate the State's obligation to create an environment for the balanced flow on information regardless of the truth behind that information.
Kaye also said media must practice "appropriate self-regulation," which means aiming for "the highest standard of accuracy" to be able to combat propaganda and fake news. This will also help maintain credibility in regimes where journalists as labeled enemies of the state or of the people.
"They should also include coverage of the phenomena of dissemination of disinformation and propaganda in line with their watchdog role in society," he said. Journalists, he said, should not only cover fake news but also address and have the tools to debunk them.
"State actors should avoid spreading and disseminating fake news — and news that they know or should know to be false," he said, adding government should disseminate accurate information. It should also support public service media organizations to help spread correct information.
Andres stressed: "For the state and its agents, there is no right for disinformation. But the public has a right to factual information."