Trillanes disputes column claiming Trump called him 'little narco'
November 1, 2017 | 6:07am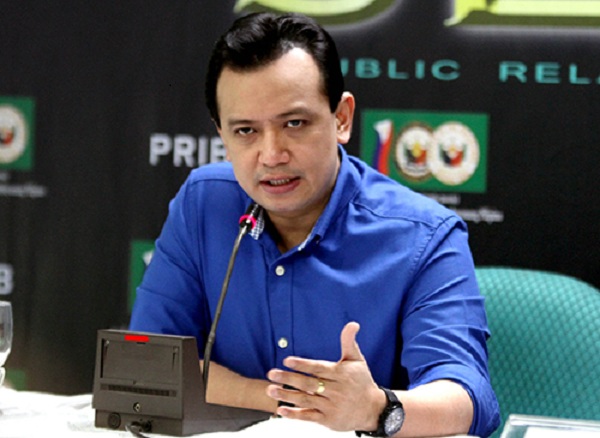 MANILA, Philippines — Sen. Antonio Trillanes IV on Wednesday clarified that an opinion column claiming that US President Donald Trump called him a "little narco" is wrong.
According to an opinion column in The STAR published Wednesday, Trump reportedly remarked "the little narco met with Senator Marco (Rubio)" when asked about Trillanes.
The writer of the column said that Trump reportedly made the remark "while onboard Air Force One."
The column, quoting from the supposed report, claimed: "Trump responded: 'Senator who? Like I said senator who? The lil narco who met Marco? Who'd he get a visa? Isn't he wanted, doesn't he have an arrest warrant or something?'"
But Trillanes pointed out that the columnist "can't even cite the news outfit that conducted the interview."
An online search for the supposed report leads to the Adobo Chronicles, a website that claims to offer satirical news but whose content is often shared online as legitimate news.
The Adobo Chronicles post "Trump calls Trillanes a 'narco;' Trillanes calls Trump a 'wacko'" has since been picked up and republished by websites that were already identified earlier as sources of "fake news" — false information made to look like real news.
Pro-Duterte blogger RJ Nieto of Thinking Pinoy also reposted the column.
"In the first place, those senior US government officials would not meet with me if I had dubious credentials," the senator said. "Moreover, a significant remark like that would've been captured by mainstream media and not released through bloggers, fake news websites and tabloid columns."
The senator, a known Duterte critic, went to the US last month and met with Republican Senator Marco Rubio. He said that they discussed, among other topics, the human rights situation in the country.
Trillanes, in his statement, urged the public: "Let us be more discerning about these things."
Last month, the Senate committee on public information and mass media conducted a probe into the proliferation of fake news.
The hearing was prompted by a manifestation by seven senators who said they had been targeted by malicious social media posts for not signing a resolution denouncing extrajudicial killings linked to the government's campaign against illegal drugs.
They said they did not get a chance to sign the resolution.
The one-day hearing however, failed to discuss crucial issues as some senators took the time to air their grievances over social media posts critical of them.