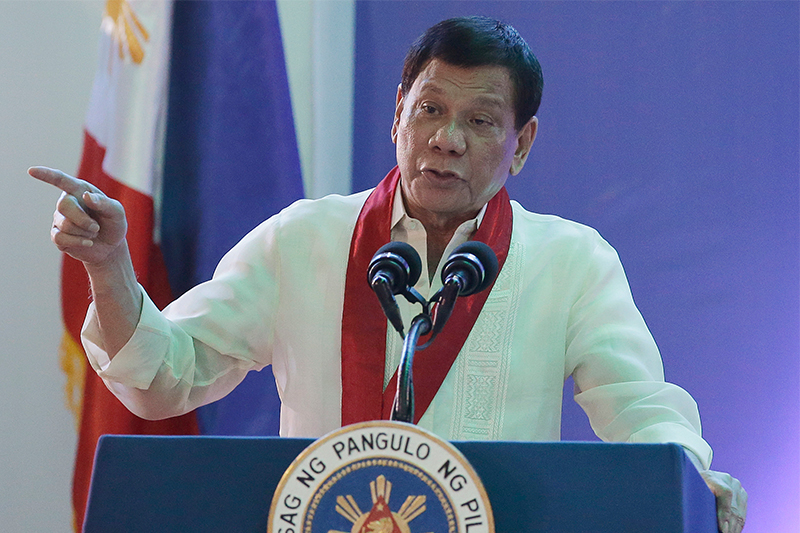 President Rodrigo Duterte said part of his efforts against corruption is to fire government officials who have been wasting people's money traveling abroad even without the necessary permission. AP/Aaron Favila, File
Rody to fire officials over foreign trips
(The Philippine Star) - November 19, 2017 - 4:00pm
DAVAO CITY , Philippines — President Duterte is set to fire next week government officials who have been traveling abroad even without the necessary travel order released by his office.
The word came from the Chief Executive himself, determined to remove corruption from his administration as he had earlier promised.
"Simply because I just said, 'I promise you that I will remove corruption.' Corruption, talagang mawala 'yan (it will vanish). Just give me the third. (In) the third year, mag-le-level na 'yan (it will level) into normal," the President said.
Duterte said part of his efforts against corruption is to fire government officials who have been wasting people's money traveling abroad even without the necessary permission.
"And there are a lot for next week to be fired. Those who went out of the country to waste the money without the permission of the authorities, in this case, the President, tiyak ako (I'm sure)," he said during the launch of TienDA farmers market here last Saturday.
Duterte is asking those government officials who have been traveling without the necessary travel authority – whom he did not name – to resign from their posts.
"All those guys who have been using money of the government, just easily going in and out of travel upon the invitation of maski sinong mga (whoever and whatever) seminar-seminar and they are really just to… some of them without getting a permit and wasting the money of the people," he said.
The President stressed he has to ask these officials to resign especially when they are using government money in travelling, others even lavishly.
"I have to ask them to resign. If at all, kung gusto ko man, kokonti lang (if ever I want to, there were just a few) and those important meeting. But just like 'yung basta na lang na (all of a sudden) there's a seminar about whatever — about farming, about corruption, about business, hindi natin pera 'yan, eh (that's not our money)," Duterte said.
"Basta (As long as it's) corruption, I really do not tolerate it, I just say, 'Mag-resign. Just resign,'" he added.
But Duterte was also quick to point out that he would not make public his dismissals to spare the officials from humiliation.
"So when I say to you, 'You resign,' go out silently para walang (so that there will be no)… (it will be) less bloody para sa atin (for us)," the Chief Executive said.
Duterte said he is really bent on making sure there will be no corruption in his governance.
And should those asked to resign refuse to do so, then he will have no other recourse but to strip one in public by making the dismissal public.
"When I said na walang (that there is no) corruption, wala talagang (there's really no) corruption. Pahiyain kita (I will humiliate you). I will undress you before the public. Huhubaran kita talaga (I will really undress you). 'Yan ang sakit ko. Pahiyain kita (That's the bad thing about me. I will humiliate you)," he said.