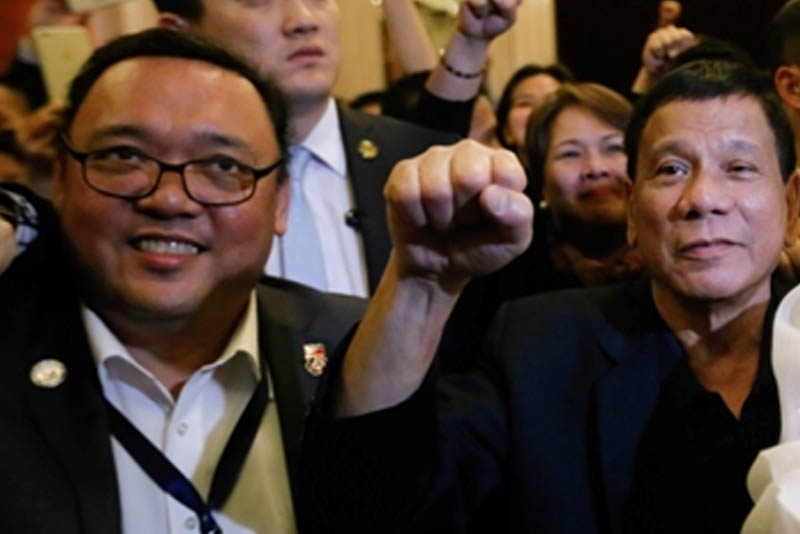 A CAREER PIVOT. Harry Roque, a human rights lawyer by profession, has been appointed as spokesperson to President Rodrigo Duterte, accused by international groups of human rights violations. In this Oct. 19, 2016 photo, Roque poses with Duterte as part of the delegation to China. PPD/Toto Lozano
Tough-talking Harry Roque now Duterte's spokesperson
(Philstar.com) - October 28, 2017 - 1:17am
MANILA, Philippines — Acid-tongued President Rodrigo Duterte has named Kabayan Partylist Representative Harry Roque, a tough-talking solon who gained prominence as a human rights lawyer, as his new spokesperson.
Duterte made the announcement during Roque's birthday party in Davao City on Friday night—confirming rumors that the firebrand leader was set to have a new mouthpiece.
"To get the message clear, sabi ko, Harry will fit the... kasi medyo malikot ang bunganga namin," Duterte said, adding that Roque will be given a rank of "secretary."
"To make his entrance dramatic, he will be attending the first Cabinet meeting on Monday," the president also said.
Roque is expected to formally take over the tasks of spokesman after Duterte's three-day working visit to Japan from October 29 to 31.
Roque will be replacing spokesperson Ernesto Abella, who has a rank of undersecretary and is a pastor by profession.
Duterte—who is known for his profanity-laced speeches and off-the-cuff remarks—was reportedly unhappy with Abella's explanation regarding the sharp decline in his ratings and the way Abella tempers misdirected presidential outbursts toward the European Union.
On Friday, Abella's office maintained that he is still Duterte's spokesman and he "may" still give press briefings next week as it is still uncertain whether he will join Duterte in Tokyo.
READ: Palace: Abella still Duterte's spokesman amid replacement rumors
'I will not forget Harry'
In an interview with ANC, Roque, meanwhile, said he was clueless why he was called in to assume Abella's post, but that the president referred to his former point man as a preacher who did not sufficiently interpret his statements.
"He (Duterte) just said Abella is really a pastor. He said this is a not a church and what is needed is someone who can understand his remarks," Roque said in Filipino.
In October last year, Abella went under fire for advising journalists to use their "creative imagination" after Duterte incited diplomatic alarm by announcing his "separation" from long-time ally the United States.
Roque will bring a fresh face and voice to Malacañang's communications team that soft-speaking Abella used to co-manage with Presidential Communications Secretary Martin Andanar.
Roque will also face the tough job of putting out the fire caused by Duterte's fiery remarks and controversial policy statements.
In a speech on October 22, Duterte endorsed Roque for the 2019 senatorial elections, saying the lawmaker had been campaigning for him even before he filed his candidacy.
Roque, a well-known human rights lawyer, has expressed support for Duterte's brutal war on drugs, which has drawn widespread criticisms at home and abroad over alleged extrajudicial killings committed by cops implementing the bloody crackdown.
"I will not forget Harry," the crime-busting leader said.
Reactions
In an open letter dated Thursday, October 26, Bertha Justice Network urged Roque to reconsider Duterte's offer to be his new presidential spokesman.
"Many of us, your former colleagues, remember you as a fierce advocate for human rights," said the group, which is composed of 14 international groups, including the Center for International Law that Roque used to head.
"As the Bertha Justice Network, we strive to bring about a more just world and human rights for all. This vision is incompatible with working for Duterte, who embodies everything we and our partners struggle against," it added.
For acts inimical to the interest of Kabayan party-list group, officials of the group removed Roque as their first nominee to the House of Representatives early this year.
Among the bases for Roque's ouster was the November 2016 hearing at the House where he asked sexual questions of Ronnie Dayan, the driver and former lover of former justice secretary and now Sen. Leila de Lima, a vocal Duterte critic.
Kabayan officials also questioned Roque's behavior, which was made without their prior approval, especially because such pronouncements tarnished the group's principled advocacies, not to mention cast serious doubts on its ability to deliver its core advocacies.