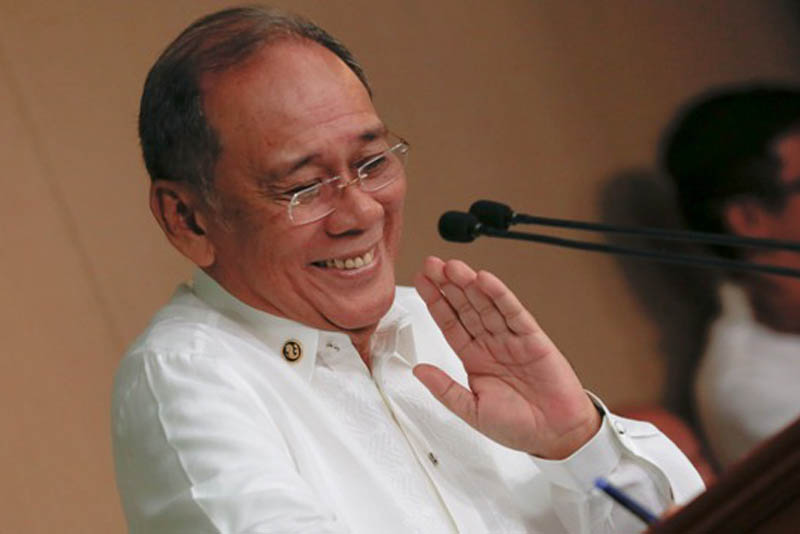 Presidential spokesperson Ernesto Abella is seen in this 2016 file photo. President Rodrigo Duterte's remarks asking European Union ambassadors to leave in 24 hours was an expression of outrage over the perceived interference of some in the country's internal affairs, according to Abella. PPD/File
Palace: Abella still Duterte's spokesman amid replacement rumors
(Philstar.com) - October 27, 2017 - 7:20am
MANILA, Philippines — Presidential Communications Undersecretary Ernesto Abella remains as President Rodrigo Duterte's spokesperson, Malacañang said Friday amid rumors that the chief executive is set to replace his mouthpiece.
"He is still the Presidential Spokesperson. He is carrying out his mandate," said China Jocson, the assistant to the presidential spokesperson, in a press conference in Malacañang.
Jocson presided over Friday's regular Palace briefing on behalf of Abella, whom she said was "attending to more pressing matters."
Pressed by reporters about Abella's whereabouts, Jocson said that while she was not privy to the matter, Duterte's spokesman was supposed to attend the news briefing but something "immediate" required him to skip the event.
She also assured Palace reporters that his principal "may" still give press briefings next week as it is still uncertain whether Abella will join Duterte in Japan on October 29 to 30.
"He is not here right now and it is not unusual. I have done several briefings on his behalf. So nothing unusual with the presidential spokesperson's absence today," Joscon said.
"Since he is in town, you may hear from him next week, he may still give briefings, if he is in town, if he doesn't push through with the trip, he may still give briefings next week," she added.
Citing anonymous sources, veteran journalist Ellen Tordesillas wrote in a commentary published on Vera Files early this week that Kabayan Partylist Representative Harry Roque is set to replace Abella as Duterte's spokesman.
Tordesillas said her sources told her that Abella's post was offered to Roque by Duterte, who reportedly said he "will not take 'No' for an answer."
According to Tordesillas' sources, Duterte—who is known for his profanity-laced speeches and off-the-cuff remarks—was unhappy with Abella's explanation regarding the sharp decline in his ratings and the way he tempers presidential rants.
"Sources said Duterte was dissatisfied with the way Abella, a former religious preacher, handled media on the latest SWS survey results that showed a two-digit decline in his satisfaction and trust ratings," Tordesillas said.
"Also in the issue of the President ordering the expulsion of ambassadors of European countries mistaking them for representatives of non-government organizations who criticized his human rights violations," she added.
READ: Palace rushes to explain as Duterte mistakenly aims ire at EU | Despite steep drop in ratings, public still 'loves' Duterte, says Palace
Sought for comment, Roque told Philstar.com that he will have a meeting with Duterte in Davao City on Friday night, Oct. 27.
Asked to confirm the rumors, Roque said: "Your guess is as good as mine."
According to Jocson, Abella's office is "not aware" of the agenda of the president's meeting with Roque.
"We did not get the schedule... We did not get the details of the meeting. We are aware of the meeting but not the details," Jocson said.
If true, the tough-talking Roque, who gained prominence as a human rights lawyer, would bring a fresh face and voice to Malacañang's communications team that soft-speaking Abella—a former pastor—co-manages with Presidential Communications Secretary Martin Andanar.
Roque will also face the tough job of putting out the fire caused by Duterte's fiery remarks and controversial policy statements.
In October last year, Abella went under fire after advising journalists to use their "creative imagination" in deciphering Duterte's statement about cutting ties with the United States. — with a report from Kristine Joy Patag