US provides P730-M aid for Marawi rehab
September 5, 2017 | 7:20am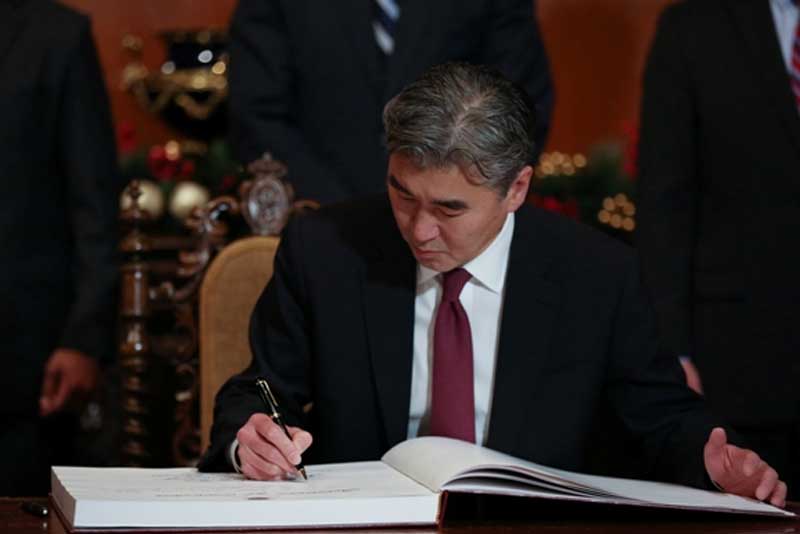 MANILA, Philippines — US Ambassador to the Philippines Sung Kim on Tuesday announced that Washington will provide P730 million (approximately $15 million) for ongoing relief operations and the eventual rehabilitation of Marawi City.
Through the United States Agency for International Development (USAID), P153 million will be used for humanitarian assistance to deliver supplies such as drinking water, hygiene kits, shelter materials for evacuation centers and for programs to protect displaced women and children.
Over P577 million will be allotted for the stabilization and rehabilitation of the city and surrounding areas. This includes restoring basic public services such as health care, water and electricity.
The fund will also focus on jumpstarting livelihoods and promoting community reconciliation and alternatives to violent extremism, according to the US envoy.
This is in addition to the 12,000 water containers, 100,000 chlorine tablets for safe drinking water and 6,500 desks for temporary schools that the USAID has already provided.
READ: US sends water, anti-TB meds to families displaced from Marawi
"I should note that these efforts are just the latest installment of U.S. government non-military assistance that totals 65 billion pesos in the past six years," Kim said in a speech.
The Public Affairs Section of the US Embassy in Manila will also provide P22 million for educational and informational programs for students and women leaders.
Kim noted that military cooperation remains an important component of US assistance to the Philippines.
"Our strong military assistance program also features equipment grants including the recently delivered two sophisticated Cessna C-208 ISR (intelligence, surveillance and reconnaissance) aircraft worth P1.5 billion, and valuable training programs including countering IEDs, maritime interdiction, and marksmanship," Kim said.
The US is looking forward to providing additional intelligence, surveillance and reconnaissance support to the Armed Forces of the Philippines in Marawi City and anywhere else terrorists may attack.
"Counter-terrorism is a shared priority for both of our countries, and important for regional stability," he said.
Donations and assistance from other countries started pouring in for victims of the Marawi conflict as early as July. The South Korean government had delivered P5 million in humanitarian aid for civilians displaced by the conflict while the European Union provided about P49 million.
Australia had announced that it will provide $20 million worth of assistance over four years to civilians affected by the conflict.