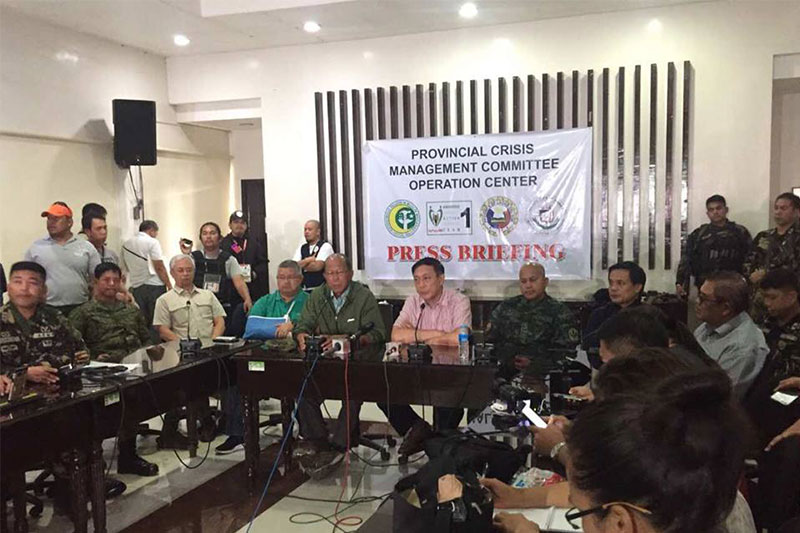 Defense Secretary Delfin Lorenzana holds a press briefing with the Lanao del Sur Provincial Crisis Management Committee in Marawi City. Department of National Defense/Released, file
Lorenzana: No more militants in Marawi City
(Philstar.com) - October 23, 2017 - 5:33am
MANILA, Philippines (Updated 2:40 p.m.) — Defense Secretary Delfin Lorenzana on Monday declared an end to combat operations in Marawi City, saying the capital of Lanao del Sur had been cleared of militants after five months of fighting.
"There are no more militants in Marawi City," Lorenzana, who was in Clark, Pampanga for an international summit of defense ministers, said.
He told reporters Monday in Clark that troops recovered 42 bodies of the last group of militant stragglers.
He said, "Those are the last group of stragglers of Mautes and they were caught in one building so there was a firefight, so they were finished."
READ: AFP: Fight is over
This was a reiteration of a declaration on Sunday from Lt. Gen. Carlito Galvez Jr., commanding officer of the Armed Forces of the Philippines' Western Mindanao Command, who said troops were clearing a building where around 30 Abu Sayyaf and Maute terrorists were making a last stand.
"We are clearing the last floors," Galvez said in a brief text message to reporters.
Troops had been working Sunday to put an end to the crisis by midnight.
"It's either they all get killed, because they're determined to die inside, or we capture them or they surrender," Col. Romeo Brawner, deputy commander of Task Force Ranao, said then.
Soldiers still on guard against stragglers
Brawner explained in a televised briefing on Monday, however, that government forces encounter remnants of the terrorist group, they will engage.

"When we say termination of combat operations, we are terminating the offensive attack of the Maute-ISIS. It does not prevent our soldiers from defending themselves in case there are stragglers," Brawner said.

Exactly five months after the crisis started, Brawner said 920 militants have been killed and 864 firearms recovered. He said 1,780 civilians had been rescued from militant-held areas and 165 had been killed.
The AFP official said troops will still conduct clearing operations for between 30 to 40 bodies inside the last Maute-held building and to look for imporvised explosive devices there. — Rosette Adel with a report from the Associated Press