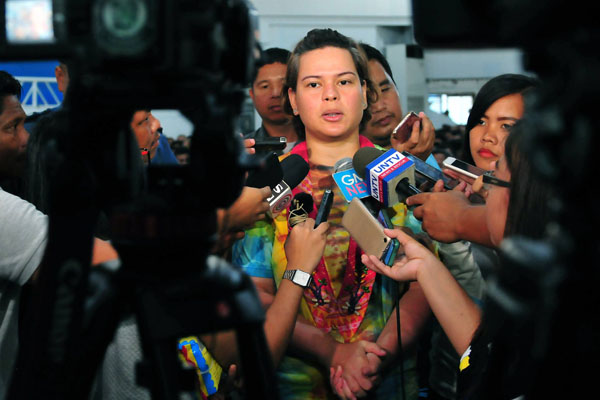 Presidential daughter and Davao Mayor Sara Duterte-Carpio accused Sen. Antonio Trillanes IV, the fierce critic of her father, of lying and dared him to fight her. Davao City Government/Released, File
Sara challenges Trillanes to a fight
(The Philippine Star) - October 13, 2017 - 4:00pm
DAVAO CITY, Philippines — Presidential daughter and Davao Mayor Sara Duterte-Carpio accused Sen. Antonio Trillanes IV, the fierce critic of her father, of lying and dared him to fight her.
"Show your balls. Do not hide behind the Senate," the mayor said.
The presidential daughter's challenge came days after the Office of the Ombudsman announced that it has found reason to probe the Duterte family's bank accounts for their alleged ill-gotten wealth amounting to millions, which stemmed from a complaint filed by Trillanes.
Earlier, President Duterte admitted that he just invented the number of the supposed offshore bank account of Trillanes to trap the senator.
But the presidential daughter maintains that her family has not amassed ill-gotten wealth and is not involved in the hundreds of killings in the war against drugs, a campaign promise of her father.
She also accused Trillanes of lying. She likened Trillanes to Pinocchio, the fictional wooden character whose nose grows when he lies.
"Since now we have established lying, prove to everybody that piece of s**t paper of bank accounts you are waving around is not fake, Pinocchio," she said.
"Tigas ng mukha mo magsabi pamilya ng mamatay tao at magnanakaw kami pero nagtatago ka sa parliamentary immunity. Pakita mo bayag mo, huwag mo itago yan sa Senado (You are shameless for saying that ours is a family of killers and thieves, but you are hiding behind parliamentary immunity)."
"If you made (former) vice president Binay go away without a fight, ang babae na Bisaya hindi umaatras (a Visayan woman does not retreat). Fight!" she added.
The mayor also expressed confidence that she can fight even for three decades since she was raised in Mindanao, and that she is not afraid of Trillanes.
"Kung ang Presidente ng Pilipinas ay inaaway ko, ikaw pa ba (If I fight with the President of the Philippines, why will I not fight you)?" she said.
"Don't ask us to prove you wrong, prove first na hindi ka nagsisinungaling (that you are not lying)," she added.
Trillanes also accused Duterte's close friend Sammy Uy, a businessman, of depositing money into the bank accounts of the President's four children and his partner Honeylet Avanceña.
But the presidential daughter wondered if Trillanes really had no knowledge of the issues against the President when Trillanes asked to be the runningmate of Duterte in 2015 for the May 2016 elections.
Trillanes said when he asked to be the runningmate of Duterte in 2015, he was not aware that Duterte was accused of being a "killer and a thief."
The presidential daughter said that the same issues had been thrown against her father – extrajudicial killings, political dynasty, disrepecting women and foul mouth – but he was never defeated in elections.
She also pointed out that if the same issues are thrown against her father, how come Trillanes does not know about these when he asked to be Duterte's runningmate?
"Na-confine ka ba nang matagal sa mental? Alam na ng buong mundo ang isyu pero ikaw hindi mo pa rin alam (Were you confined in the mental hospital for a long time? The whole world knows the issues and yet you don't know)?" she said. "You are lying."