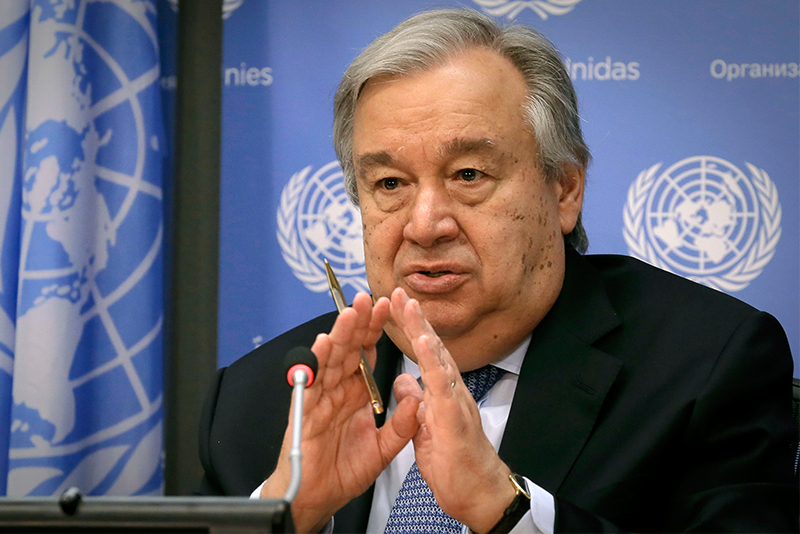 But during his meeting with UN Secretary General Antonio Gutteres at the UN headquarters in New York on Friday, Cayetano said only those who have no bias against the country should conduct the assessment. AP/Bebeto Matthews, File
DFA chief: Phl ready to welcome HR probe
Janvic Mateo
(The Philippine Star) - September 30, 2017 - 4:00pm
MANILA, Philippines — The Philippines is ready to welcome independent experts from the United Nations who would conduct an objective assessment of the country's human rights situation, Foreign Affairs Secretary Alan Peter Cayetano said.
But during his meeting with UN Secretary General Antonio Gutteres at the UN headquarters in New York on Friday, Cayetano said only those who have no bias against the country should conduct the assessment.
He specifically ruled out UN special rapporteur on extrajudicial killings Agnes Callamard, who he said is highly critical of the administration of President Duterte.
"How can someone who is in league with our political opposition conduct a fair and objective assessment of our human rights situation?" Cayetano told Gutteres, referring to previous statements made by the rapporteur.
"All we want is an impartial assessment and not outright condemnation to help us understand the extent of the problems that we are confronted with," he added.
Cayetano met with Gutteres a day after 39 countries issued a joint statement calling for an end to killings in the Philippines during the UN Human Rights Council session in Geneva, Switzerland.
In his meeting with the UN official, Cayetano conveyed Manila's readiness to work with the world body in addressing issues related to sustainable development, including human rights.
He said the Philippines is ready to make the next step, including welcoming experts to conduct an objective assessment of the human rights situation in the Philippines.
"We will fully cooperate and work with you on a rationale, open, fair dialogue on our campaign against crime and illegal drugs…There are real problems but perceptions have overtaken us in western media that make it appear the situation is worse than it actually is," Cayetano said.
"We're not turning our back on human rights. Our campaign against crime and illegal drugs is not intended to violate human rights; it is intended to protect the human rights of our people," he added.
Department of Foreign Affairs spokesman Robespierre Bolivar said there was no specific mention of who would conduct the assessment.
"As long as the experts demonstrate that they do not have biases against the Philippines and are willing to conduct a fair an objective assessment of the human rights situation in the country," he said.
UN special rapporteur on the right to health Dainius Puras was earlier reported to have expressed his intention to conduct an official visit to the Philippines.