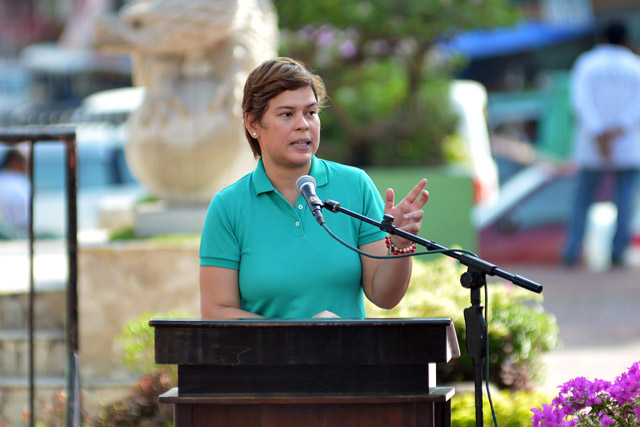 Sara Duterte-Carpio is the best person to succeed President Rodrigo Duterte in office, the chief executive said on Friday. Davao City Information Office/Released, File
Palace: Duterte not trying to cling to power in wanting Sara as successor
(Philstar.com) - September 25, 2017 - 11:16am
MANILA, Philippines — Presidential Spokesman Ernesto Abella on Monday said that President Rodrigo Duterte was not trying to perpetuate himself in power when he said that his daughter Davao City Mayor Sara Duterte-Carpio was the best person to succeed him in office.
Duterte described Sara as a "strong woman" who is not a bigot and who knows the law very well.
"I couldn't find any other better candidate than Sara to become the next president," Duterte told reporters in his hometown of Davao City.
When reminded about Duterte's pronouncement that he is not after power, Abella said the president was just being pragmatic and was just ensuring that the gains of his administration would be preserved.
"It was not an official statement, okay? That statement was made to one reporter. Second, I think you're making a breathtaking leap by assuming that he wants power when he says that his daughter is somebody that he trusts," said Abella, who became famous months ago when he said reporters should exercise "
creative imagination
" in interpreting the president's statements.
"I think the issue here is trust. The issue here is that he trusts the capability of Sara. At this stage, that is his statement, okay?"
Abella said Sara should be seen as an independent individual and not just as the daughter of the president.
"I think you have to consider her as an independent personality and not just his daughter. It's like she is an effective person and mayor and politician who happens to be his daughter," the presidential spokesman said.
"So it's not a question of wanting to perpetuate power. So you know, I think there's a huge difference between the two," he added.
The 72-year old Duterte has repeatedly said that he does not need the presidency and that he is ready to step down anytime.
During the Friday dinner where he made the remark, Duterte recalled an incident in which Sara canceled a project that he had approved since this involved getting materials for a reclamation project from Mt. Apo.
He said that his daughter would not allow this to happen regardless of the amount of material that would be taken as this could result in a landslide.
He also mentions Sara frequently in his speeches, describing her as a tough and feisty woman who is not afraid to stand up for her beliefs.