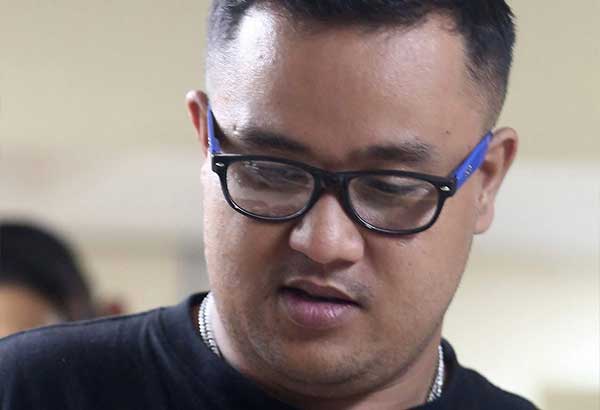 John Paul Solano, Aegis Juris member and principal suspect in the killing of UST law student Horacio Castillo III, is booked at the Manila Police District headquarters yesterday. MIGUEL DE GUZMAN
Paolo Romero
(The Philippine Star) - September 22, 2017 - 4:01pm
Another Aegis Juris fratman escapes to Chicago
The "good Samaritan" turned principal suspect in the hazing death of Horacio Castillo III surrendered yesterday, together with another member of the Aegis Juris fraternity, saying they wanted to clear their name, even as another suspect was reported to have fled to the United States with his mother.
John Paul Solano turned himself in to the Manila Police District (MPD) in the morning through Sen. Panfilo Lacson and denied he was with members of the Aegis Juris when they subjected the 22-year-old Castillo to a severe beating last Saturday.
Suspect Aeron Salientes also surfaced last night at the MPD to deny his involvement in the death of Castillo, a University of Santo Tomas (UST) law freshman.
The two are among 20 individuals in the immigration lookout bulletin issued by the Department of Justice.
Solano said everything was "in chaos" when he arrived at a house in Sampaloc last Sunday to provide emergency medical help to the "half dead" Castillo.
It was Solano and another Aegis Juris fraternity member who took Castillo to the Chinese General Hospital (CGH), where the latter was declared dead on arrival from heart attack triggered by hazing injuries.
With Solano during his surrender were UST Law dean and Aegis Juris member on leave Nilo Divina and lawyer Paterno Esmaquel. Solano was turned over to MPD chief Supt. Joel Coronel.
Solano said he was called Sunday morning to the "fraternity library" on Laon-Laan street in Sampaloc near the UST campus to help revive Castillo.
"Because they were in chaos that time, I was there to give medical assistance. I'm a medical health provider, so more or less they would call me," Solano said when asked why he was at the frat hazing venue.
He explained he was a certified medical technologist and he had not attended law school since 2016.
Solano said he arrived at the "fraternity library" on a motorcycle.
"More or less he (Castillo) was half-dead. I can't give a final verdict that he is dead because I'm not a doctor. He was unconscious. I did give CPR (cardio-pulmonary resuscitation) and then when I couldn't do anything else, I brought him to the hospital," he said.
Police tagged him as the prime suspect after he was found to have lied in an earlier account that he took Castillo to CGH after seeing him sprawled on a sidewalk in Tondo.
In an earlier account, Solano said he flagged a passing red Mitsubishi Strada pickup, which took them to the CGH.
It was later revealed the pickup's registered owner is the father of one of the suspects, Ralph Trangia.
Solano admitted to being the "Popoy" mentioned in the fraternity's chat group as being sought for an "emergency" that Sunday morning.
He said he believed the initiation rites took place the whole night Saturday, but stressed his "only participation was to give medical assistance."
He also clarified he did not recruit Castillo as he was no longer a law student and had met him only twice, the last time when he was trying to revive the hazing victim.
Welcome news
Castillo's parents Horacio II and Carmina welcomed Solano's surrender.
"We welcome the news. At least he can tell us how my son died – what time, what day he died," Carmina told reporters. "At least maybe I can start my closure."
Horacio II urged the parents of the other suspects to also encourage their sons to surrender: "Ilabas na nila yung mga anak nila."
The family is reportedly opposed to having Solano turn state witness.
'Getting worse'
Asked why he finally decided to come out, he said: "Actually, it's getting worse. We can say it's getting worse."
Solano declined to give more details, saying a complete account would be contained in a sworn statement that he was preparing with his lawyer, including an explanation for giving a different story to hospital personnel who received Castillo's body.
"I want to clear my name because I know myself. I'm innocent," he said, adding he was not able to talk to any of his fraternity brothers involved in the hazing as he had gone into hiding.
"First and foremost, I would like to apologize for giving a false statement for that matter to the family of Atio, and also for the death of their son," he said.
Lacson said a former Senate staff informed him of Solano's wish to surrender.
The senator said he then sent men to pick up Solano in a restaurant on the North Luzon Expressway.
Lacson said he had to send escorts, as there could be some groups that might "intercept" the suspect. He said his commitment was to bring Solano safely to surrender.
The Senate committee on public order, chaired by Lacson, is scheduled to conduct an inquiry into Castillo's hazing death on Monday.
Presidential spokesman Eduardo Abella "strongly" condemned the "senseless killing" of Castillo and assured the public and the victim's family that "government agencies are now conducting an investigation on the matter."
MPD's Coronel said Solano remains a principal suspect in the death of Castillo and his statements will still have to be fully evaluated.
But he could be a state witness if the Department of Justice (DOJ) validates his claims, Coronel said.
At the same time, Solano could still be charged with perjury.
"We are contemplating on filing Article 183 of the Revised Penal Code or perjury, and Republic Act 8049 in relation to Section 4 of the Anti-Hazing Law," MPD spokesman Supt. Erwin Margarejo said.
Also yesterday, a UST student surfaced to claim it was him and not Solano who was in the CCTV recording of a spot on Dapitan street near the university where Castillo was supposedly seen with the suspect.
The MPD presented the recording to the media to emphasize that Castillo and Solano knew each other and were together last Saturday. The unnamed student – accompanied by a lawyer – showed up at the MPD to clear his name.
Senators Juan Miguel Zubiri and Sherwin Gatchalian said Solano's surrender should also prompt other suspects to turn themselves in to authorities.
Divina, meanwhile, denied a report in The STAR quoting an unnamed student as saying that the law dean is still active in Aegis Juris activities.
"It is absolutely not true," Divina told The STAR in a text message. "I have not attended any of their functions or meetings since at least eight years ago when I assumed the deanship."
"As dean of the entire Faculty of Civil Law, I knew that I had to remove any vestige or potential source of negative perceptions of partiality on my part," Divina said in an earlier post on Facebook.
2 possible witnesses
Justice Secretary Vitaliano Aguirre II said two witnesses have come forward to shed light on the hazing death of Castillo.
"One of the witnesses called my office and is said to be a member of the Aegis Juris fraternity. This person knows the initiation rites done to Castillo while the second witness, who was being recruited, went to my office," Aguirre said.
He added that Castillo was not in the first batch of neophytes who underwent initiation and that they just "picked on him."
Aguirre said eight neophytes underwent initiation but he was not sure if they or any of them were on the lookout bulletin order of the Bureau of Immigration.
"…But they are somewhat being kept against their will by their seniors so they would not disclose what they know. They are invoking the Code of Silence," the DOJ chief said.
The two witnesses, he said, have yet to submit affidavits. "That is the problem and I am not sure if they would return to the DOJ because they are afraid and that there were threats against their lives," Aguirre pointed out.
"Right now we are still at the very initial stages" of the investigation, he added.
He said anyone wishing to volunteer information or stand as witness may call 0995-4429241. They may apply for protection under the government's witness protection program, he added.
"If they want to tell the truth or clear their names they can come to my office and we will place them under the WPP," Aguirre added.
"We do not need many witnesses, so your testimony could only be corroborative, but we would still take you in," he pointed out.
He also asked potential witnesses to be wary of rumors aimed at discrediting the DOJ and discouraging them from sharing vital information.
"They can trust us, they have nothing to fear from us. They should fear more the ones hiding them or the ones advising them not to come out. They can be dangerous people with hidden agenda. I ask them to come out and tell the truth and we will protect them under the WPP," Aguirre added.
He also said they were verifying with the MPD if Trangia's father Antonio – also an Aegis Juris member – is a "principal suspect" or if it is necessary for him to be included in a lookout bulletin.
Trangia was able to slip out of the country along with his mother a day before the DOJ issued a lookout bulletin order for an initial list of 16 Aegis Juris members linked to Castillo's death.
The younger Trangia and his mother flew to Taipei on Eva Air flight BR262 on Sept. 18 at 2 p.m. and took a connecting flight to Chicago.
"The Supreme Court has mentioned this in its decision several times that while it is not stated in the rules of court, flight is an indication of guilt," Aguirre said.
It was the same position raised by Castillo's father and namesake when told of Trangia's fleeing the country.
In a statement, the Taipei Economic and Cultural Office (TECO) in the Philippines clarified that Trangia did not enter Taiwan. TECO said that Trangia went to Chicago via Taoyuan International Airport by BR 56 on Sept. 19 and not to Taiwan based on their "relevant records."
"In other words, Mr. Trangia did not enter Taiwan. He was only one of the millions of transit passengers who had passed through Taiwan's busy airport and departed for North America. At this point in time, TECO does not know Mr. Trangia's current whereabouts," the statement read.
The DOJ also bared yesterday that four more names have been included in its Immigration Lookout Bulletin (ILBO): Ged Villanueva, Milfren Alvarado, Daniel Ragos and Dave Felix.
The other names apart from Solano, Salientes and Trangia are Arvin Balag, Marcelino Bagtang, Zimon Padro, Jose Miguel Salamat, Carl Mattew Villanueva, Mhin Wei Chan, Marc Anthony Ventura, Axxel Munro Hipe, Oliver John Audrey Onofre, Joshua Macabali, Jason Adolfo Robinos, Ranie Rafael Santiago and Danielle Hans Mattew Rodrigo.
"Considering the gravity of the offense and the likelihood that the subject individuals may attempt to place themselves beyond the reach of the legal processes of this Department by leaving the country, we thus deem the issuance of an ILBO against the subjects prudent in order to at least monitor the itineraries of their flight, travel and/or whereabouts," Aguirre said.
The Department of Foreign Affairs is still awaiting a formal request from the Philippine National Police for the cancellation of Trangia's passport, spokesman Robespierre Bolivar said in a text message. – With Evelyn Macairan, Robertzon Ramirez, Helen Flores, Janvic Mateo, Ghio Ong, Christina Mendez