VACC: Anti-crime advocate for some, mercenary group for others
September 20, 2017 | 4:00pm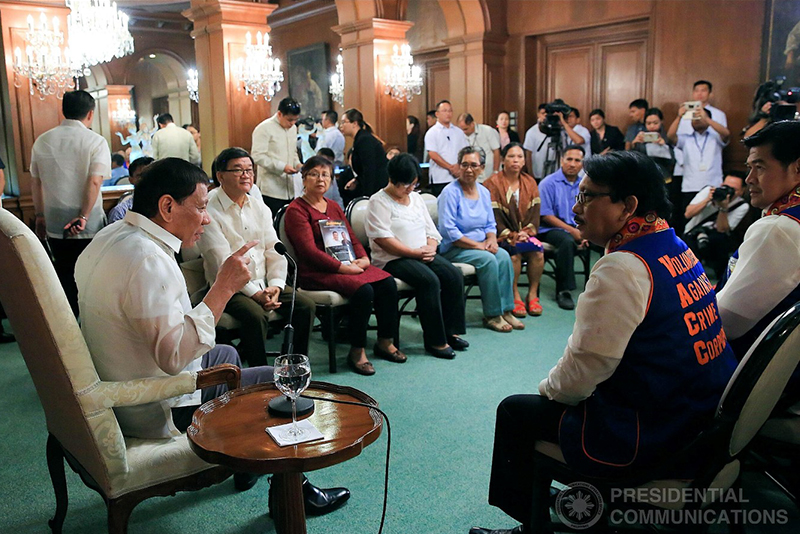 MANILA, Philippines — Unlike other organizations which welcome a surge of their popularity and membership, the Volunteer Against Crime and Corruption does not relish the increasing number people seeking its help.
This is symptomatic, it says, of the country's "fragile peace and order" and an "ominous sign" of the eroding confidence of the public in Philippine criminal justice system.
This is the reason why it finds close affinity with President Rodrigo Duterte, a firebrand leader who won last year's presidential election on a strong anti-crime and anti-corruption platform, two issues close to the heart of the anti-crime group.
"He puts on the line his reputation, even the presidency, as he weights his options," Dante Jimenez, the president and a founding member of the VACC, said in a speech marking the group's 19th founding anniversary held in the ornate, wood-paneled presidential palace, the chief executive's official residence in August.
"It takes a leader with unfailing courage and patriotic fervor to tackle the job at hand. We should give our president our outmost support," said Jimenez, 65, whose brother's death prompted him together with other victims of heinous crimes to form a group in 1990 that would later become the VACC.
This support for the president and the flurry of cases it has filed or threatened to file are what made some to comment that VACC has turned into a "mercenary group" whose members have been used as "agents of vengeance and demolition."
According to Jimenez, he formed the forerunner of the VACC in the 90s in the ashes of his brother's death, the Vizconde massacre and the killing of Leny Villa during hazing rites.
"We formed the Crusade Against Violence nila Vizconde, Leny Villa, yung tatay niya si Atty. Romy Villa, Maguwan," Jimenez said in an interview with Philstar.
Then in 1998, he asked Romy Villa, then the group's president, to organize an association that would help victims monitor court proceedings, the most critical part of any case resolution, according to Jimenez.
When he was appointed by then President Fidel Ramos to be part of the Presidential Anti-Crime Commission, Jimenez saw firsthand the pervasiveness of corruption in the country's criminal justice system. This prompted their group to expand their advocacies to corruption, resulting in the birth of the VACC.
Sen. Leila De Lima, one critic of the group and whose incarceration is partly due to the cases filed by the VACC on allegations that she benefitted from the trade of illegal drugs at the national penitentiary, admitted that this spirit for fighting for justice and finding solutions to problems about criminality was what led to the creation of the group.
However, this has already changed in recent times, she said, especially during the administration of Duterte who counts the detained senator as his most fervent political opponents.
"It breaks my heart to see such an organization being seemingly used as a mercenary group and some of its members become willing agents of vengeance and demolition," she said in one of her dispatches from her detention cell in the national police head quarters in Camp Crame.
She claimed that the actions of the VACC had made the victims whom the VACC is supposed to fight for the "stepping stone or platform for injustice to be done."
One of these victims of VACC injustice, the senator believes, is she herself.
Right after a House panel finished its hearings into the alleged trade of illegal drugs at the National Bilibid Prisons, the VACC filed at the Department of Justice supplemental complaints against De Lima using additional affidavits of several witnesses and the transcripts of the House proceedings.
Then on Nov. 28, 2016, another supplemental complaint was filed by the group stemming from the allegations of Ronnie Dayan and his daughter. Dayan was the driver of De Lima when she was still the justice secretary and her supposed lover.
In February this year, Juanita Guerrero of Muntinlupa RTC Branch 204 ordered the senator's arrest after finding probable cause.
Aside from De Lima, the VACC has also filed a case against former President Benigno Aquino III in connection to the death of 44 police commandos in a Maguindanao town following a bungled police operation.
They have also initiated an impeachment charge against Chief Justice Ma. Lourdes Sereno for breaches of law and public trust. This has recently been dismissed by the House justice panel for insufficiency in form.
Jack Lam, who was embroiled early this year in allegations of bribery attempt on Bureau of Immigration officials running into millions of pesos, was also charged by the group for violations of the country's anti-dummy law.
The VACC has also been involved in the cases of murder of a family of five in Bulacan, killing of a psychology student in Antipolo City, abduction and murder of Korean businessman Jee Ick-Jo, and shooting of Zenaida Luz, whose case is already being heard in a court.
Although the VACC tried to distance itself from the allegations of Sen. Risa Hontiveros that Justice Secretary Vitaliano Aguirre II was conniving with former Rep. Jacinto Paras, one of the group's volunteer lawyers, to file a case against the senator, the group and the former Negros congressman have been reported to be filing a case against the Akbayan senator for alleged kidnapping for failure to return a minor, inducing a minor to abandon home, obstruction of justice and wiretapping.
The VACC president also blasted politicians who would try to use crimes for political purposes, citing as an example the killing of two teenagers allegedly by policemen in Caloocan.
"If gagamiting ng mga pulitiko ang crime for political purposes, putang, dyan ako galit," Jimenez' husky voice thundered. "Sabi ko don't ever politicize a crime."
For instance, he said that the case of Kian Loyd Delos Santos killed along a dark alley in a Caloocan neighborhood should be handled by the National Bureau of Investigation and witnesses in the case should be in the government's custody.
"Ginagamit sa pulitika. Ang importante dito Hontiveros is using itong crime incidences for politically-motivated ano yan ang maliwanag dyan," he said.
On allegations of being used as a tool to target the opponents of the president, Jimenez said what attracted them to the chief executive was similarities in principles and advocacies.
"Syempre yung mga iba will interpret it taht way. Okay lang yun," said Jimenez, referring to the allegations of their critics.
"Attack dog? Ano kami mga aso, ano kami mga uto-uto? Hindi kami ganun," he said, seeing their fight as against oligarchs, crime and drug syndicates and rotten politicians.
He said that their support for Dutere was not absolute, recalling their plunder case against pardoned convicted plunderer Joseph Estrada, the Philippine president from 1998 to 2001. Estrada and Jimenez were together in the presidential commission against crime of Ramos.
"As an organization, kung mga mali na of course pag-uusapan namin. Kung mabigat talaga ang kaso why not," the VACC president said.
The group is also concerned over the rising number of drug-related killings, according to Jimenez, but he said that he had not yet relayed this concern to Duterte as they were not in the position to do so.
"Well alam naman niya yan. Hindi naman namin yan na parang bibigyan ng memo. Sino ba naman kami. Hindi kami ganun," he said.
Jimenez said that he was not afraid of threats to his life since he was used to receiving them.
What's important, according to the VACC founding member, is to proceed with their advocacy to expose the corruption in the justice system, and Duterte, with all his flaws and warts, is seen as a partner in this.
De Lima also wants the group to do the same, but she is preaching a different path.
"Be a champion of justice. Reclaim the mission of the VACC. Disassociate yourself and your group from shadowy operators," the former justice chief said.