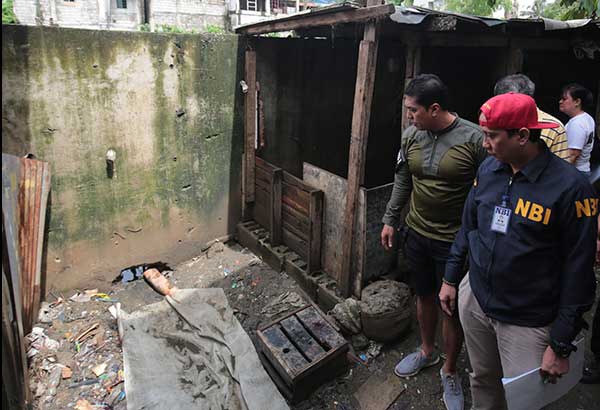 Eleventh grader Kian Loyd delos Santos was "intentionally killed" with three "treacherous wounds" to the head and back while lying face down during a police operation in the government's war against drugs, the Public Attorney's Office bared Monday. Michael Varcas, file
Duterte: Police intel on Kian could be wrong
MANILA, Philippines — The supposed police intelligence that 17-year-old student Kian delos Santos was a drug runner is not enough to stand in court, President Rodrigo Duterte said.
Speaking to reporters Monday night, Duterte said the intelligence information has no probative value and may even be inaccurate.
"Intel is intel. So, if there is no probative value, how can you use it in court and to the people? Those are just information gathered by the police and the military. It is an internal thing… Maya-maya mali iyan (it may even be wrong)," the president said.
But Duterte also has questions about the closed circuit television (CCTV) footage, which showed policemen carrying Delos Santos, an apparent contradiction of their claim that the boy fired at the arresting officers.
"Well, I saw two presumably policemen. How do I put it? Moving a person, but apparently dragging his head or maybe wounded or drunk," the President said.
"I cannot go beyond the footage. And there are many of them. The footage, who placed the camera there? How long was it there? If you cannot answer the questions, you cannot answer that in court. Just take in the video, who was the cameraman, how was it used?" he added.
Duterte said the CCTV footage should also stand the scrutiny of the court.
"Is the picture the portrayal of the true incident? if you fail to answer these questions… it's worthless," the president said.
The Philippine National Police Internal Affairs Service has said police officers involved in Delos Santos' death have admitted to being the men caught on camera.
"Inamin ng dalawang pulis na sila nga daw ang nag-akbay kay Kian at si Kian ang nasa video at taliwas sa kanilang unang sinasabi na 'yun ay informant," Inspector General Alfegar Triambulo told reporters Tuesday.
He also said administrative cases are being readied against the police officers over operational lapses that led to the boy's death.
Delos Santos, a grade 11 student, was killed in an anti-drug operation in Caloocan City last Wednesday allegedly after resisting arrest. Police officials also claimed that Delos Santos was a drug courier who sold 10 grams of shabu per day.
But some witnesses claimed that the policemen beat up the boy, gave him a gun and told him to run before shooting him.
Senior Supt. Chito Bersaluna, Caloocan City police chief, and four other policemen have been relieved from their posts pending the investigation of the incident.
Duterte: Abuses possible
Duterte admitted that it is possible that some abuses have been committed by government forces enforcing his anti-drug crackdown.
"I cannot discount the possibility, as I said, in my reply that there is a possibility that in some of the police incidents, arrests, there could be abuses. I admit that," the president said.
"But if they want to put me down, I am, I said, very much willing to encourage them to do it," he added.
Despite his promise to protect policemen and soldiers involved in his drug war, Duterte said he would not hesitate to send government troopers guilty of criminal acts behind bars.
"Should the investigation point to liabilities by one, two, or all, there will be a prosecution and they have to go to jail if convicted," the President said.
"That I can assure you. That there will be no luto-luto (whitewash) there because I really do not interfere."
"But if it is really a rubout, you can be sure. They have to answer for it. They have to go to jail. So I am sorry. That's what I will tell them."
Duterte previously said he would not allow any soldier or policeman running after drug syndicates to rot in jail and that he takes full responsibility for the campaign against narcotics.
The president said he has no plans to visit the wake of delos Santos, saying it would put much pressure on the police.
"It is pregnant with so many suppositions. One is that, 'Look, Duterte went there maybe to apologize…' Then, I would be putting so much pressure on the police. They will be distraught. Perhaps Duterte is seeking an apology," Duterte said.
"I cannot do that. I cannot do that because the organization of PNP (Philippine National Police) is under me. I would be the last person to condemn them without a valid investigation," he added.