Entire Caloocan City police force sacked
September 15, 2017 | 4:00pm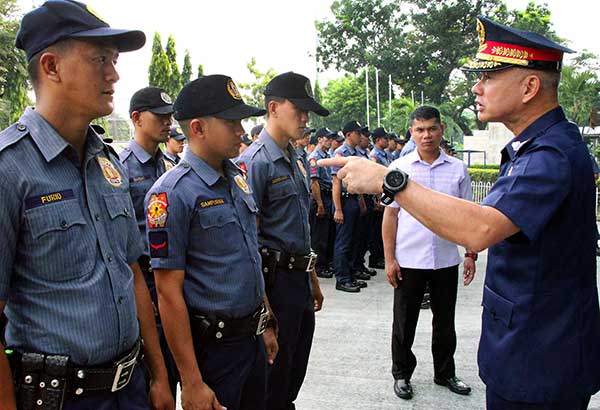 Only new chief, deputy retained
MANILA, Philippines — Last month at the Police Service anniversary, the Caloocan Police received an award as the Best City Police Station.
Yesterday, the entire city police force was sacked, with only the newly installed chief and his deputy spared, following the killings of teenagers and a break-in and robbery by city policemen.
National Capital Region Police Office (NCRPO) chief Director Oscar Albayalde ordered the relief and retraining of the sacked police personnel.
The order came a day after members of the Caloocan Police Community Precinct 4 raided an elderly woman's home and reportedly stole money and other valuables in an incident captured on closed circuit television camera.
Albayalde said some 1,200 personnel of the Caloocan Police would undergo retraining and reorientation for 45 days before being reassigned to other police units, not necessarily back to Caloocan City.
Only Caloocan City Police chief Senior Supt. Jemar Modequillo and his deputy for administration, Chief Insp. Ilustre Mendoza, were retained.
Modequillo replaced Senior Supt. Chito Bersaluna on Sept. 5, following widespread outrage over the killing of 17-year-old Kian Loyd delos Santos on Aug 16.
Mendoza, on the other hand, had a good track record as police administrator and chief of the investigation unit.
"We will start with the city's police precincts 2 and 7," Albayalde said.
The NCRPO's regional public safety battalion, a combat-trained unit, would temporarily replace all personnel in Caloocan's headquarters and seven precincts.
There are about 3,500 policemen in the entire Caloocan Police force. "This (reshuffle) will be done in batches," Albayalde said.
It is the first time an entire city police unit has been relieved of its duties since President Duterte unleashed his bloody crackdown against illegal drugs 15 months ago, a campaign that has killed thousands of Filipinos.
The move comes amid intense scrutiny of police activities in Caloocan City in the wake of the killing of Delos Santos in what police said was an anti-drugs operation.
His lawyers and family said he was murdered in cold blood. The three policemen involved in the killing claimed Delos Santos fired at them and they acted in self-defense.
The Department of Justice has started an investigation based on the murder and torture complaint filed against the Caloocan policemen allegedly linked to the killing of Delos Santos.
The Internal Affairs Service (IAS) of the Philippine National Police (PNP) has set the hearing on summary dismissal proceedings against the policemen.
Another teenager, Carl Angelo Arnaiz, suffered a similar fate. The 19-year-old was accused of trying to rob a taxi driver and shooting at police who tried to arrest him. The taxi driver said on Sunday that he saw him alive in the custody of the Caloocan police.
Cops, robbers
Some 13 policemen, some in civilian clothes, were seen in a security video of a robbery that was uploaded on social media and went viral.
Albayalde ordered the relief of the entire personnel of the Caloocan Police community precinct 4 after a woman complained that 13 policemen and two police assets barged into her house and ransacked her belongings last Thursday.
CCTV footage purportedly showed the policemen robbing the house during an alleged drug raid.
This angered the PNP leadership, according to Albayalde, who immediately issued the orders to relieve the Caloocan precincts.
"From what we have seen this has been done or will continue to be done by others so it is best to implement this preemptive measure to avoid similar incidents," Albayalde told reporters.
IAS Inspector General Alfegar Triambulo said there were violations committed by the Caloocan policemen – including use of a minor captured on the house's surveillance camera stealing wristwatches and a cellphone.
A man with a physical disability said to be a police asset was also with the group, armed with a firearm and clad in a police vest.
"That is a big violation in police operational procedures," Triambulo said.
Triambulo said the policemen could also be held further liable if it is proven they entered the house without a search warrant.
The 13 policemen were identified as Police Officers 1 Ariel Furlo, Marvin Poblete, Sherwin Rivera, Jay Gabatu, Sahabane Sampurna, Rene Llanto, Louie Serrano, Jaypee Talay, Ronelio Julaton, Jay-R Sabangan, Jaime Natividad, Joey Learan and a certain PO1 Miguel.
They were charged with robbery and trespassing, Modequillo said.
Modequillo said they have identified the boy and the police asset who accompanied the police in the raid but withheld their names. He did not say if they would also be charged.
Mendoza said precinct commander Chief Insp. Timothy Aniway would be facing administrative charges for command responsibility over his men. Team leader Senior Insp. Warren Peralta was included in the criminal charges, he said.
Drastic measure
Albayalde justified the reshuffle of the Caloocan Police.
"The reshuffle is a drastic measure but we have to do this to keep them away from their sphere of influence and prevent them from involvement in criminal activities in the future," Albayalde said.
"It is not farfetched that they would follow the bad example of those involved in the killings and other illegal activities," he added.
Albayalde gave assurance the functions of the Caloocan police would not be affected by the reshuffle.
"The delivery of public service would not be affected due to the reshuffle because the police officers relieved would be replaced by responsible policemen to oversee the peace and order in the city," he said.
However, some Caloocan policemen expressed dismay over Albayalde's order to relieve the entire city police force.
"We are saddened by this development. It's like punishing the whole police force for the wrongs committed by a few scalawags. But we will abide by the wisdom of the NCRPO chief, " one of the policemen said.
A police official said the PNP leadership is asking for too much from them.
"If everyone else is relieved that would grossly affect the whole organization because those who will come in don't have any idea how things are done here," he said.
Another police official complained it would be inconvenient for him to travel outside Metro Manila if ever he would be reassigned elsewhere.
Some residents joined militant groups in holding a protest rally in front of the Caloocan Police headquarters.
Another group, holding placards saying "Stop the Killings," also held a rally at the Caloocan police precinct in Tala district.
Welcome move
Lawmakers, on the other hand, hailed the reshuffle of the Caloocan Police as a timely move to address concerns of abuses of the police.
Sen. Panfilo Lacson said the spate of killings involving the Caloocan City policemen appear to be due to the "false perception" of some police officers that they are immune from criminal prosecution.
He said the incident, as well as the killing of Delos Santos and Arnaiz, should prompt President Duterte to temper his language on assuring police officers of being pardoned if they are convicted of doing their jobs.
Lacson said Duterte should rethink the entire anti-illegal drugs strategy of the administration.
He said the administration must make immediate "major adjustments" without sacrificing the overall objective of stamping out drugs and criminality.
"For one, there might be ingrained in the attitude of police officers the wrong perception that they are immune from criminal complaints, or a false hope of automatic pardon from their commander-in-chief," Lacson said.
For his part, Caloocan City Rep. Edgar Erice said police abuses would continue to be committed not only in his city but throughout the country as well if President Duterte insists on his bloody anti-drug war.
"Practically, the government has given the police the right to kill, the right to plant evidence, the right to ignore terms of engagement and the rule of law," he said.
Erice said it's now the "rule of the gun" that prevails.
"God bless us all," he added.
Magdalo Rep. Gary Alejano said the relief of the entire Caloocan City police force was a "welcome move" on the part of Albayalde.
"It goes to show that our PNP is sensitive enough in addressing the wrongdoings of its members. But such action will have no significant impact without reviewing its rules of engagement and policies in carrying out the war on drugs and without denouncing extrajudicial killings and committing to run after vigilantes who kill without letup," he said.
Rep. Tom Villarin of Akbayan said Albayalde should be commended.
"His superior, (Director) General Roland dela Rosa, should learn a lesson or two from him. Accountability demands action and not melodramatics," he said.
For his part, Ifugao Rep. Teodoro Baguilat Jr. said Albayalde sacked Caloocan policemen a month after awarding them as Metro Manila's "best and finest."
Baguilat described Albayalde's order of relief as "ironic justice."
On the other hand, Senate President Pro Tempore Ralph Recto said he believes Duterte did not order the killing of minors but it is such an alarming situation that he must quickly put a stop to it.
"It cannot be denied that there are too many killings, including children. I believe the President when he says he has not ordered it. But it is highly possible that there are rogue policemen abusing their authority," Recto said.
Sen. Sherwin Gatchalian said in the absence of an official report from an investigation, it is very difficult to speculate if there is systematic killing of minors.
He suggested the PNP leadership immediately convene the peace and order council of Caloocan City to get the local government unit and community involved in addressing the issue.
Caloocan Bishop Pablo Virgilio David lauded the order for relief of the Caloocan police force.
"Praise the Lord!" David remarked after learning of the relief order.
David said he is hoping that even if these policemen have been relieved, appropriate criminal charges would still be filed against those responsible for these deaths.
"This is the only way the PNP can protect the integrity of the whole police institution: by disciplining their own ranks and following only just and lawful orders from their superiors," he added.
Albayalde said the relief of the entire Caloocan City police force should serve as a warning to other police stations to "toe the line."
"We would not condone any wrongdoing by our men. We would not hesitate to institute pre-emptive measures like this reshuffle should they continue engaging in killings and other illegal activities," Albayalde said.
Anger and protests have focused on the killing of Delos Santos and Arnaiz, prompting President Duterte, known for his frequent speeches that call for drug dealers to be killed, to order a thorough investigation into the killings and warned police he would not tolerate abuses. – With Paolo Romero, Jess Diaz, Emmanuel Tupas, Evelyn Macairan, AP, Reuters