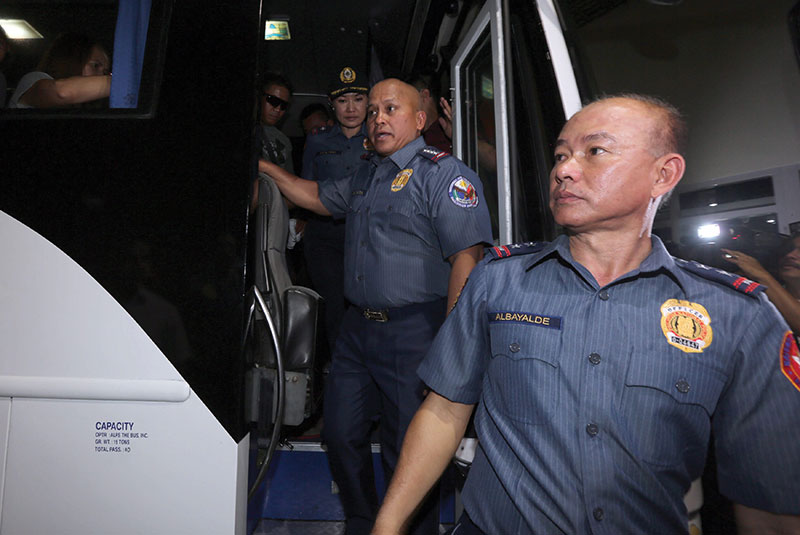 NCRPO Director Oscar Albayalde on Friday ordered the whole Caloocan City police force sacked after some personnel raided a private residence without search warrant and stole belongings. Last month, Caloocan City Police Station was recognized the Best City Police Station in NCR. Boy Santos, file
NCRPO relieves Caloocan City police force
(philstar.com) - September 15, 2017 - 2:33am
MANILA, Philippines — (Update 12:39 pm.) Director Oscar Albayalde, National Capital Regional Office, on Friday ordered all police officers in Caloocan City relieved.
"Sa ngayon, 'yung ginawa natin na Substation 7, lahat po iyon ay tinanggal na natin. Lahat ng personnel 'yun. Sixty two of them plus 13 from the Public Safety Battalion ng Northern Police District," Albayalde said in an interview on dzBB. Public Safety Battalions are regional police office units that are primarily tasked with internal security operations.
He said all other Caloocan City police officers will be gradually relieved.
Albayalde's announcement came after after it was found that Caloocan cops raided a private residence without a search warrant and stole valuables.
"Mas mabuti po siguro ito na preemptive measure na gagawin na rin po natin," Albayalde said.
Speaking before the sacked Caloocan police officers, Albayalde said, "Wala akong nakikitang dahilan para hindi niyo ako maintindihan."
Albayalde also said he is mulling the retraining and reassigning the entire Caloocan police in batches.
'Bato should learn from metro chief'
Lawmakers said Albayalde's move should be commended for helping "restoring order in the ranks of PNP."
"General Oscar Abayalde has indeed admitted by his move that the killings are perpetrated, condoned or even being promoted by the Caloocan police," Akbayan party-list Rep. Tomas Villarin said.
Although the PNP is a civilian agency with civilian ranks, the colloquial use of equivalent military ranks is common. The PNP was created to replace the Philippine Constabulary, a military unit.
Villarin also said that Albayalde is better than PNP Director General Ronald dela Rosa at holding his personnel accountable.
"His superior, General Roland dela Rosa should learn a thing or two from him. Accountability demands action and not melodramatics," Villarin added.
Dela Rosa, during a Senate probe on the death of a 17-year-old teenager in a Caloocan City police operation, broke down in tears following intense questioning on cops being involved in summary executions.
While he welcomed the NCRPO chief's move, Magdalo party-list Rep. Gary Alejano challenged the police force to review its rules of engagement and policies in carrying out operations.
"But such action will have no significant impact without reviewing its rules of engagement and policies in carrying out war on drugs and without denouncing extrajudicial killings and committing to run after vigilantes who kill without let up," he said.
Alejano added: "Kung hindi, palabas lang ito at mga ganitong gawain ay magpapatuloy.
'Best City Police Station'
Caloocan City Police Station was recognized the Best City Police Station in NCR on the same week teenagers Kian delos Santos and Carl Angelo Arnaiz were killed by Caloocan cops.
They were awarded for their contribution to the government's brutal war on drugs.
The Northern Police District was also recognized as the unit with the most significant accomplishment in Project Double Barrel Reloaded, the PNP's anti-drug campaign.
Human rights groups claim 7,000 to 9,000 people have been killed since the start of Duterte's term, with some estimating around 12,000 have been killed.
But according to police records, only 2,216 people died in police operations. The government's "RealNumbersPH" campaign claims around 3,700 drug suspects have been killed in operations by the PNP, PDEA and other security forces.