Puerto Princesa vice mayor in drug bust
September 4, 2017 | 4:00pm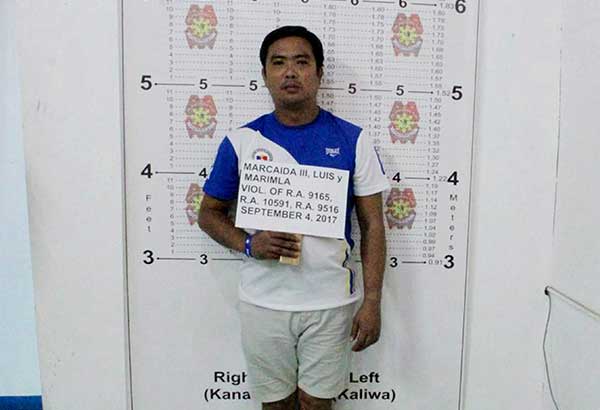 MANILA, Philippines — Police arrested Puerto Princesa City Vice Mayor Luis Marcaida III and seized illegal drugs and unlicensed firearms in his house during a raid early yesterday morning.
Arresting officers handcuffed Marcaida shortly after the raid at his house on Jacana Road, Barangay Bancao-Bancao, Puerto Princesa City at about 6 a.m., the Philippine National Police-Drug Enforcement Group (PNP-DEG) said in a report.
Police launched the raid on the strength of a search warrant issued by Manila Executive Judge Reynaldo Alhambra.
The raiders said they seized 30 sachets of shabu, a .22-caliber rifle, three rifle grenades, a fragmentation grenade and four .45-cal. pistols.
The drugs were reportedly found at the back of a photo frame displayed in the living room of the house.
In a report, police said barangay chair Marilou Gumangan of Bancao-Bancao and barangay chairman Francisco Gabuco of San Pedro and a member of the media witnessed the raid.
Police identified Marcaida as a "high-value target" in the Duterte administration's war on drugs.
Elmer Zita, spokesman for Marcaida, decried what he called the planting of evidence against the vice mayor.
"Nakakalungkot, pwede palang magtanim, parang palay lang ang tinanim, ito ay ginawa ng alas 4 a.m., walang media, walang barangay officials, nakakalungkot, first time nangyari na involved ang vice mayor ng lungsod (It's sad. They can plant like they're just planting rice. This was done at 4 a.m. with no media, barangay officials around. It's sad. It's the first time a vice mayor of a city has been involved)," Zita said in a television interview.
He said it made no sense that the drugs allegedly seized from Marcaida were found in the living room. "You don't keep stuff like that in the sala," he said.
Zita also belied police report the raid was carried out in the presence of media and barangay officials.
"The raid was highly irregular, it's only after the raid the media and the barangay were called. Everyone here in Puerto Princesa knows the vice mayor does not have those kinds of firearms. The police were not telling the truth," he pointed out.
He said Marcaida only has a short firearm for personal security.
He added that Marcaida's legal team is now working to prove the innocence of the vice mayor. "His legal team is now checking how to correct the wrongs, legal defense. It's unfair that this could be done to just about every Juan dela Cruz," he added.
He said the vice mayor's assuming the post of mayor after the dismissal of Mayor Cecilio Bayro by the ombudsman may have prompted the former city chief executive's men to prevent Marcaida from officially taking over and unearthing anomalies under his predecessor.
Zita said it was the Department of the Interior and Local Government which directed Marcaida to assume the mayoralty seat.
When asked about reports that Marcaida was included in the list of the high-value targets in the campaign against illegal drugs and that he even surrendered last March, Zita said the surrender was meant to prove he was willing to go though the process of clearing his name.
Zita said the vice mayor would definitely question the legality of the raid, including the fact that the search warrant was issued by a Manila judge and not one from Puerto Princesa City.
"That's the big question. What was the legal basis for having a court in Manila and not in Puerto Princesa issue the search warrant," he added.
No letup
Iloilo City Mayor Jed Patrick Mabilog said that while the killing of Western Visayas alleged drug lord Richard Prevendido may have dealt a blow to the drug trade, it should not make authorities complacent.
In a statement, Mabilog said the Iloilo City government, together with the PNP and the Philippine Drug Enforcement Agency (PDEA), will continue with greater vigor the war on illegal drugs.
"And we will not stop until the battle is won," he said. Mabilog also expressed belief that with Prevendido's death, illegal drugs would be minimized if not eliminated.
"Prevendido's death is an exclamation point that will put an end to the era of illegal drugs in Iloilo City," he added.
He also commended policemen for the neutralization of Iloilo's alleged drug kingpin.
Mabilog praised regional, provincial and city police offices for patiently pursuing leads and tips that led to Prevendido's neutralization.
"This legitimate police operation is proof that our local law enforcers are committed to bring order and justice in Western Visayas, and Iloilo City in particular," Mabilog added.
The mayor also thanked Ilonggos "who helped our police ultimately track Prevendido down as he constantly moved from place to place to elude our authorities."
Meanwhile, Mabilog has ordered the immediate release of P500,000, part of the P1.1-million bounty for Prevendido's neutralization.
The other P500,000 will come from the Iloilo provincial government and P100,000 from the PNP.
Mabilog's friends, meanwhile, have advised him to take a leave of absence and let tensions ease a bit.
In their advice to the mayor, they said things remain uncertain despite Prevendido's death and the cancellation of assignment of Chief Insp. Jovie Espenido to head the city police office.
Recently, a team from the National Bureau of Investigation (NBI) armed with no legal authority except an order from President Duterte, checked on Mabilog's house in Barangay Tap-oc, Molo district.
Duterte earlier branded Mabilog's house as a mansion and even claimed that Malacañang paled in comparison.
The NBI, along with the Bureau of Internal Revenue (BIR), has been tasked to conduct a lifestyle check on Mabilog.
Mabilog's wife Marivic, for her part, said it was unfair for authorities to treat her husband the way they did.
"This was the longest 32 hours. At first, I said to myself that we don't deserve this. All we really wanted was to make Iloilo better and every Ilonggo proud of their own city," she said on Facebook.
"I got to realize that indeed, there are people in our circle willing to risk their lives, career, well-being and safety so that we get to live another day," she said.
She thanked her "dearest friends" for showing her family what real love is all about.
"Today, more than ever, I realized how significant our mission, is. Let's all embrace it and not falter," Marivic said.
In earlier statements, Mabilog said that he and his wife had worked hard to achieve success in life.
He claimed that they were already running a number of businesses before he joined politics.
In fact, Marivic, who is an accountant, had served as a director for a big firm in Canada.
'Ber' months
Meanwhile, PNP chief Director General Ronald dela Rosa revealed the sale of illegal drugs usually soars during "ber" months, especially in December when people are in a party mood.
Dela Rosa said he has directed all police commanders to intensify the gathering of intelligence information as well as maximize police visibility as part of overall efforts against criminality.