Cayetano forwards ASEAN concern to North Korean envoy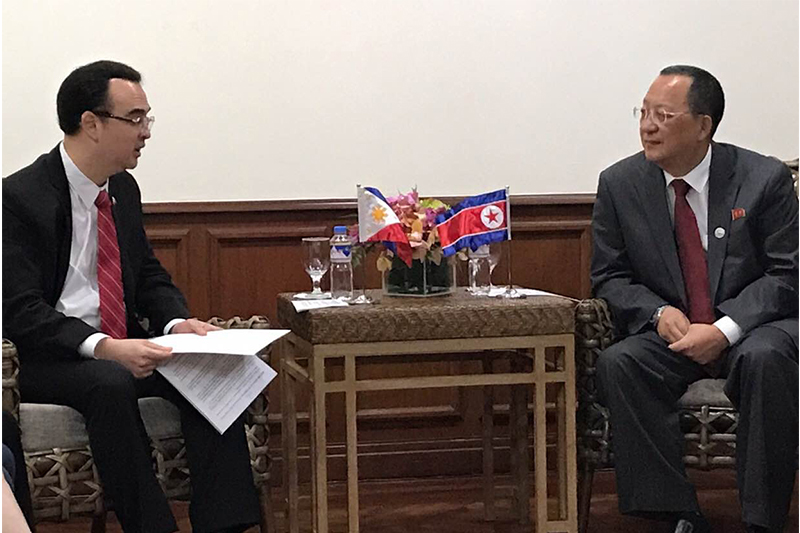 MANILA, Philippines — In his meeting with North Korea's diplomat, Foreign Secretary Alan Peter Cayetano personally conveyed ASEAN's position on the developments in the Korean Peninsula.
Last Saturday, the foreign ministers of the 10 ASEAN member states released a statement reiterating grave concern over the escalation of tensions on the Korean Peninsula following North Korea's testing of ballistic missiles.
Cayetano presented the statement to North Korean Foreign Minister Ri Yong-Ho before the East Asia Summit Foreign Ministers Meeting past noon today.
The Philippines' top diplomat told his North Korean counterpart that he was tasked by his ASEAN colleagues to personally convey the regional bloc's position.
"The statement was not borne out of lost friendship but is because of frustration that there seems to be no opening for discussions or dialogue to address the impasse on the issues in the Korean Peninsula," Cayetano told Ri.
Cayetano also affirmed the commitment of ASEAN to engage Pyongyang during the ASEAN Regional Forum, which will also be held in Manila on Monday evening.
"However, there is a sentiment across ASEAN that for this engagement to be truly productive and beneficial not just to ASEAN but to our region and the world, we need to ensure that there is a mutual openness and communication amongst us," Cayetano said.
Ri thanked Cayetano for personally delivering the sentiments of his ASEAN colleagues and said that he understood their position, according to the Department of Foreign Affairs.
The North Korean foreign minister assured Cayetano that the ASEAN position would reach Pyongyang.
In their joint statement, the ASEAN ministers stressed that the developments in the Korean Peninsula seriously threaten peace, security and stability in the region in the world.
READ: North Korea vows harsh retaliation against fresh UN sanctions
The Southeast Asian ministers called on North Korea to immediately comply fully with its obligations under all relevant United Nations Security Council Resolutions.
On Saturday, the UN Security Council unanimously imposed new sanctions on North Korea over its two intercontinental ballistic missile tests last month.