Scandal engulfing Comelec chair Bautista expands to compromise of 2016 polls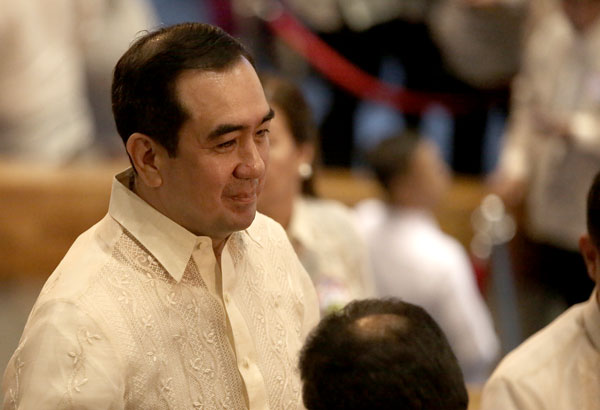 MANILA, Philippines — Two separate congressional resolutions were filed on Monday calling for an investigation into allegations of illegally obtained wealth against the Commission on Elections chief and the possible compromise of last year's national election.
Senate Majority Leader Vicente Sotto III asked the Senate Blue Ribbon panel to investigate allegations that Comelec Chairman Andres Bautista failed to disclose some bank accounts and property in his Statement of Assets, Liabilities and Net worth.
Sotto said the Senate panel should look into reports that Bautista failed to comply with the provisions of Republic Act 6713 or the "Code of Conduct and Ethical Standards for Public Officials and Employees" that requires government workers and officials to submit their SALN and ensure the accuracy of the information it contains.
"There is a need to determine if the present law is adequate enough to ensure compliance by all public officials with the provisions on the required submission of SALN," Sotto's Senate Resolution 456, which calls for the probe, said.
At the House, Rep. Harry Roque filed House Resolution 1171 asking the chamber's panel on suffrage and good governance to lead an inquiry into the "shocking revelations" by Bautista's wife, Patricia Paz Bautista, that raised serious doubts on the integrity of last year's national elections.
He said that last year's vote had been beset by insinuations that Bautista favored certain candidates for some posts.
Roque said that Patricia alleged in her affidavit that Bautista received commissions from the Divina Law Offices, counsel for last year's technology provider, Smartmatic.
"The shocking revelations made by his very own estranged wife raises serious questions about the integrity of the May 2016 National Elections," he said.
On Monday, a scandal straddling family, politics and money arose after Bautista's estranged wife filed an affidavit at the National Bureau of Investigation alleging that the poll chief had bank accounts and bank and real property documents not reflected in his SALN.
Patricia claimed that the dubious property and money were between P250 and P300 million in value, more than the P176.3 million reported by Bautista in his SALN.
Information and documents that would show that Bautista engaged in "misdealing and corrupt practices" while in government were stated in the affidavit.
Bautista denied these allegations, saying his wife has been demanding a large amount of money following their separation in 2013. He added that she had a third party to their marriage.
"To be honest, I don't know but I've been told that there is a political agenda behind this move.... I think that there are other factors that are moving aside from the usual marital problems that married people have to contend with," Bautista said, hinting at political forces that might be at play.
Sen. Grace Poe supported the move for the Senate to probe the allegations against Bautista, saying that the issue went beyond a domestic spat as it already concerned public interest considering the poll chief's job.
Poe said that a Senate panel's investigation would not preempt any possible impeachment complaint from the House of Representatives.
"[A]ny possible complaint for impeachment in the Lower House, these investigations should not deter the Senate from looking into the veracity of the other aspects of the allegations that appear to be supported by documentary evidence for purposes of coming up with appropriate remedial legislation," she said.
She said that Patricia's affidavit showed an "allegation of corruption of epic proportion that definitely concerned public interest."
"It can no longer be framed merely as a 'wife vs. husband' quarrel. The information made public points to the possibility of a 'husband vs. the people' case," Poe said in a statement.
A lifestyle check among employees and officers of the Comelec should also be done following the revelation, said Poe.
Sotto said the Comelec, being a constitutional body, should be beyond reproach in the performance of its duty as the "guardian of the Philippine electoral system."
Bautista said he thought that everything was going well for him and his estranged wife following their meeting and talk with President Rodrigo Duterte at the Palace.
He said his family and that of his wife were behind him as they knew that he was the victim in this case.
"You know, I never thought that a man could be raped. That is how I felt when I went to my, you know, when I was prevented from entering my own house. When all of a sudden, the cabinets, the locked cabinets that belong to me, were forced open. Documents were taken without my permission, without my consent," he added.
Omissions in one's SALN could lead to one's ouster just like in the case of former Chief Justice Renato Corona who was removed by the Senate following the discovery of his failure to declare dollar accounts.
This is something that Bautista seems prepared for as this is "part and parcel of the terrain," he said.