Philippines prefers legally binding South China Sea code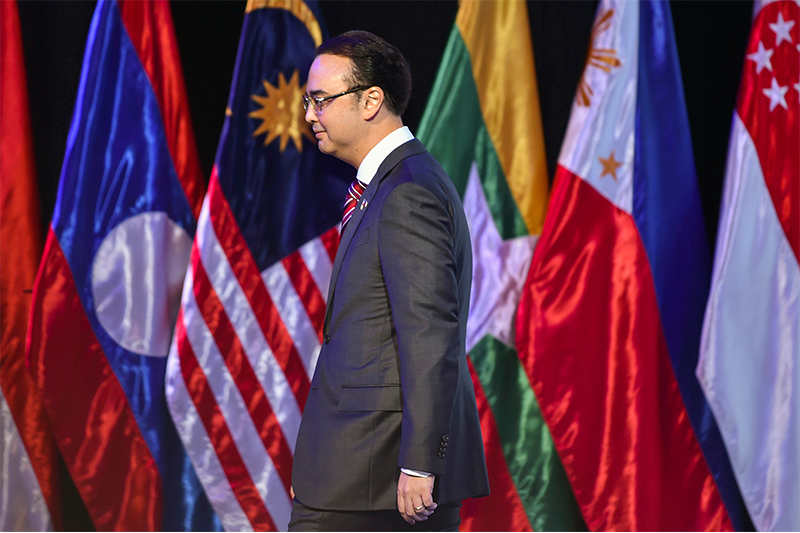 MANILA, Philippines — A day before the Association of Southeast Asian Nations and China are set to adopt a framework of the Code of Conduct of Parties in the South China, the Philippines expressed its position that they want a legally binding instrument.
Department of Foreign Affairs spokesperson Robespierre Bolivar said that Foreign Affairs Secretary Alan Peter Cayetano mentioned to his ASEAN counterparts that the Philippines prefers a legally binding code.
Cayetano chaired the 50th ASEAN Ministerial Meeting in Manila which opened on Saturday.
"Secretary Cayetano mentioned that the Philippines, as a country, prefers to have a legally binding code of conduct but of course the caveat there is we have to have an effective code of conduct," Bolivar told reporters.
The framework that will be adopted on Sunday during the ASEAN-China Ministerial Meeting would serve as an outline of the COC that will be negotiated by concerned parties in the future.
Bolivar stressed the importance of having a COC that all parties would observe and adhere to.
"When the negotiations start then that is where you see countries putting the more substantive aspects of the code so it's entirely possible that the issue will be discussed, will be negotiated upon as the code is being negotiated," Bolivar said.
A draft of the framework of the COC, however, stressed that it would not serve as an instrument to settle territorial disputes or maritime delimitation issues in the South China Sea.
READ: South China Sea code framework skips dispute settlement
The framework seeks to establish a rules-based outline to guide the concerned parties and to promote maritime cooperation in the disputed waters.
As of press time, the ASEAN foreign ministers are yet to release a joint communique where they are expected to issue a statement on the disputed South China Sea.
A draft joint communique obtained by Philstar.com showed that the ASEAN foreign ministers welcomed the conclusion of the negotiations on a framework of the COC.
The draft statement did not mention militarization Beijing's man-made islands in the disputed islands, as well as the ruling of a United Nations-backed tribunal on the Philippines' arbitration case against China's nine-dash line claim.
RELATED: 'South China Sea claimants will suffer if harsh to China'
"Taking note of concerns expressed by some Ministers over recent developments in the area, we reaffirmed the importance of enhancing mutual trust and confidence, exercising self-restraint in the conduct of activities, pursuing mutually agreed practical maritime areas of cooperation, and avoiding unilateral actions in disputed features that may further complicate the situation in keeping with the principle of peaceful resolution of disputes without resorting to the threat or use of force," the draft joint communique read. — Video report by Efigenio Toledo IV