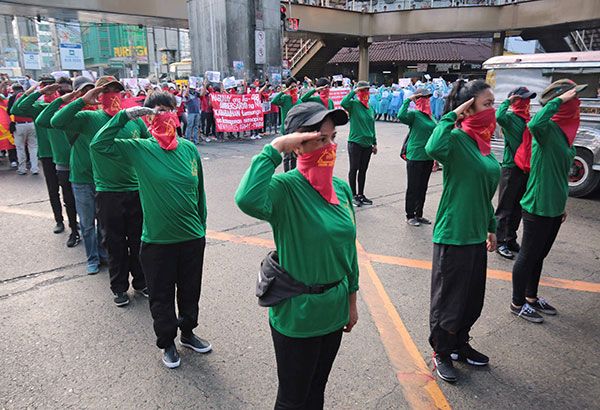 Demonstrators claiming to be allied with the New People's Army hold a protest along EDSA in Cubao, Quezon City yesterday to mark the communist group's 48th anniversary in March. MICHAEL VARCAS, file
CPP: Duterte tirades vs Joma belie Leftist label
(Philstar.com) - August 2, 2017 - 8:02am
MANILA, Philippines — President Rodrigo Duterte's personal attacks on Communist Party of the Philippines founder Jose Ma. Sison show that he is not a Leftist as he has often claimed, the party said in a statement.
In a statement, the communist party said Duterte's tirades — he has claimed that Sison, his former professor, has colon cancer and has dared the 78-year-old to come home to the Philippines to fight — "are a vain attempt to derogate a giant of a revolutionary intellectual and leader."
READ: Reds are ready to die for me, Duterte says | Joma, Reds: We won't die for Duterte
The party, with which Duterte had a working relationship while he was mayor of Davao City, said the president "has completely embraced the counterrevolutionary anti-communist US line and abandoned all pretensions for being a Leftist."
Duterte stepped up verbal attacks against Sison after his State of the Nation Address in July, when he also hit the United States for what he said was interference in domestic affairs like the government's war on drugs. The president also demanded the return of church bells that American soldiers took from Balangiga town in Samar in 1901.
READ: Duterte dares Joma: Come home and fight here
"The revolutionary movement in the Philippines is fortunate that, at 78 years old, Ka Joma remains physically sound and intellectually potent. He continues to give invaluable service to the Filipino people and their revolutionary forces," the communist party's information bureau said.
Sison is chief political consultant of the National Democratic Front of the Philippines, which has been representing the communists in peace talks with the government. Those talks have been suspended in response to attacks by the New People's Army on security forces, including a convoy of the Presidential Security Group traveling through North Cotabato last month.
Duterte and Sison have been trading barbs after a year of on-again, off-again talks between government and NDFP panels that were preceded by the inclusion of NDFP nominees to the Duterte Cabinet and the release on bail of around 20 peace consultants.
RELATED: Activists chant Duterte off rally stage
The talks began bogging down in February over the government's refusal to release more political prisoners and continued security operations in rebel-claimed areas. The NPA declared it would cancel its ceasefire with the government and launched attacks before the truce was scheduled to lapse.
The declaration of martial law in Mindanao in May further complicated the peace talks as the CPP-NPA-NDFP saw it as part of a so-called "all out war" against them.
READ: 'Vacillating' CPP-NPA-NDFP puzzles Duterte
The CPP-NPA-NDFP believe poverty in the Philippines is caused by feudalism in agricultural areas, imperialism — particularly by the US — and "bureaucrat capitalism," or the use of government resources and structures by the ruling class to enrich themselves at the expense of the rest of the people. It has been fighting to set up a revolutionary government since 1969. — Jonathan de Santos