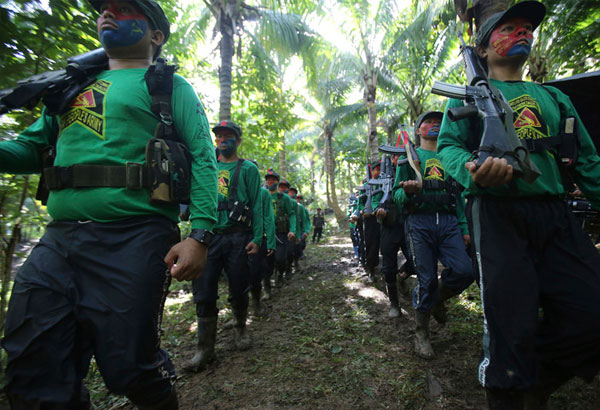 In this Nov. 23, 2016 photo, New People's Army guerrillas with faces painted to conceal their identities, march during ceremonies at their rebel encampment tucked in the harsh wilderness of the Sierra Madre mountains, southeast of Manila, Philippines. AP Photo/Aaron Favila, File
Reds are ready to die for me, Duterte says
MANILA, Philippines — Despite his differences with communist rebels over their demand to free more than 130 prisoners, President Rodrigo Duterte believes that the leftist insurgents are loyal to his administration and are even ready to die for him.
Duterte belied notions that the political left is plotting his ouster, noting that he has established a relationship with them when he was still mayor of Davao City.
"Let me tell you frankly, in every demonstration, it's the yellow who's shouting for my ouster. But you will never hear it from the communists because I am the president belonging to the left actually," Duterte said during the Wallace Business Forum dinner in Malacañan Monday night.
"The Reds would never demand my ouster. They will die for me believe me. That's the reason why I was able to convince them for a talk," he added.
Yellow is the campaign color of people associated with the Aquino administration and the Liberal Party, the political opposition. It was also the color of groups opposed to the dictatorship of former strongman Ferdinand Marcos.
Duterte said he was able to cross ideological borders even before he became a mayor. He said this allowed him to facilitate the release of soldiers and policemen who were kidnapped by rebels.
"They will never go for the ouster. Look at their posters. They would just condemn the burial of Marcos. But that was really their line, their favorite lines actually because Marcos was their enemy," the president said.
Duterte, however, stood firm on his decision not to yield to the demand of the rebels to release more than 130 of their comrades who are facing criminal charges.
"Do not make too much demands because I am the Republic and you are the rebels," the president said.
"And if you are not ready to accept that kind of mindset at this time, I am ready to, you know, terminate the talks."
The Communist Party of the Philippines (CPP) has demanded that the government release more than 400 persons it claims to be political prisoners. CPP warned that failure to do so could lead to the collapse of the unilateral ceasefire declared by the two parties.
Duterte has said he would not order the release of any rebel prisoner until the two parties sign a bilateral ceasefire agreement. He is open though to freeing dozens of elderly and sick communist detainees for humanitarian reasons.