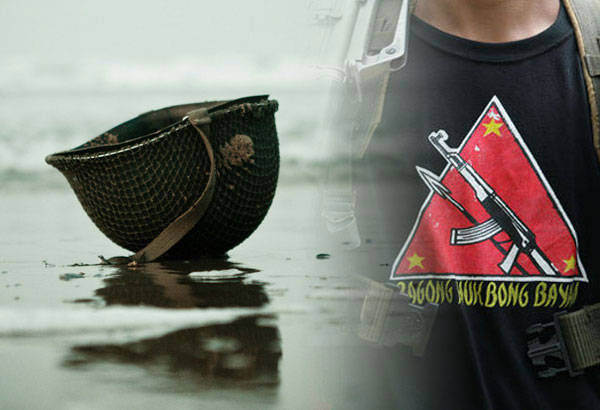 Government forces killed four New People's Army rebels including a commander as firefights with the NPA raged in several provinces following the breakdown of peace talks. File
Firefights rage between AFP, NPA
(The Philippine Star) - July 28, 2017 - 4:00pm
MANILA, Philippines - Government forces killed four New People's Army rebels including a commander as firefights with the NPA raged in several provinces following the breakdown of peace talks.
The four rebels were killed in an encounter at dawn yesterday in Casiguran, Sorsogon.
In San Nicolas, Pangasinan, another firefight erupted at 9:30 a.m. and continued until last night. By afternoon, a policeman had been killed and three others were wounded.
There were also attacks in Quirino and Agusan del Sur.
The gun battles erupted just hours after President Duterte visited Thursday night the wake of six policemen killed in an attack by the NPA in Negros Oriental on July 21.
The NPA commander killed in Casiguran was identified as Andres Hadap Jubilla, alias "Ka Magno."
"Ka Magno was the highest NPA rebel operating in Sorsogon," said Brig. Gen. Fernando Trinidad, commander of the 903rd Brigade based in Castilla, Sorsogon.
The NPA rebels were killed at 5:05 a.m. during a 10-minute firefight with government troops in Barangay Trece Martires. No one was hurt on the government side.
Trinidad said villagers in Trece Martires tipped off the authorities on the presence of armed men in the area.
Elements from Sorsogon and Casiguran police and Military Intelligence Company conducted a combat operation against the NPA.
The bodies of the three other slain rebels were brought to Casiguran police station for identification.
Trinidad said more combat operations would be launched against NPA rebels in Sorsogon and Masbate under the operational command of the 903rd Brigade.
Senior Supt. Ronald Cabral, Sorsogon provincial director, also ordered all police units near Casiguran to set up checkpoints while police intelligence operatives were directed to check hospitals and clinics where wounded rebels could have been brought for treatment.
New firefight in Pangasinan
Meanwhile, Army and police elements have been dispatched to track down the NPA members who killed a policeman and wounded three others in an encounter in San Nicolas, Pangasinan yesterday morning.
Lt. Col. Isagani Nato, Northern Luzon Command spokesman, said elements of the 84th Mechanized Infantry Battalion and Regional Public Safety Battalion (RPSB) were deployed to support the ongoing operations.
Nato said police elements were conducting combat operations in the hinterlands of San Nicolas when they encountered the rebels at the boundary of Barangay Malico and Sta. Maria around 9:30 a.m.
Senior Supt. Edgar Alan Okubo, head of the RSPB, said 16 to 24 policemen initially responded as suspected NPA members were reportedly about to take over the municipality.
"It was along Villaverde Trail where they met each other," Okubo said.
Killed in the firefight was PO2 Aries Tamondong of the RPSB. Three policemen were wounded but were not yet identified.
The NPA members are believed to be from Nueva Vizcaya or Benguet. They reportedly could have taken advantage of the non-deployment of Army troops in Pangasinan.
In Quirino, a suspected NPA member died during a continuing skirmish with the military in Barangay San Ramos, Nagtipunan town last Thursday. The firefight forced at least a hundred families to leave their homes.
Lt. Col. Vladimir Cagara, commander of the 86th Army Battalion, said the fatality has yet to be identified and was brought to a funeral parlor in Nagtipunan town.
In Agusan del Sur, policemen foiled an attack by suspected NPA members against a police vehicle patrolling the provincial road in Barangay Del Rio, Sibagat town on Thursday afternoon.
A brief firefight between police and ambushing NPA rebels left one unidentified rebel dead.
Sibagat police are investigating the incident.
– With Jaime Laude, Emmanuel Tupas, Raymund Catindig, Ben Serrano