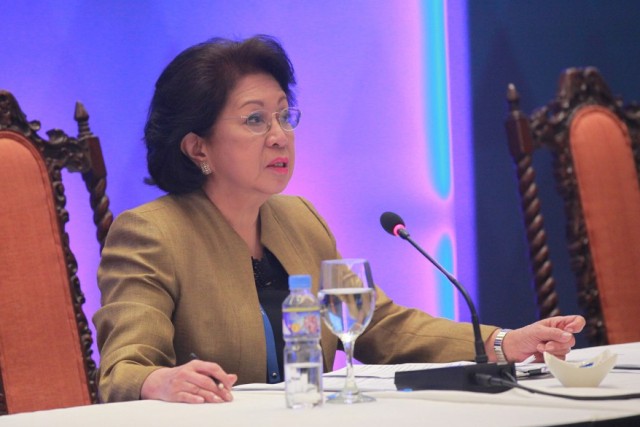 Ombudsman Conchita Carpio Morales answered President Rodrigo Duterte's earlier statement ordering security officials to secure his permission first before appearing in any of the anti-graft agency's investigations. APEC/File
Morales tells Duterte: 'Anong pakialam niya?'
MANILA, Philippines — "Anong pakialam niya?!" (What does he care?)
This was the answer of Ombudsman Conchita Carpio Morales to President Rodrigo Duterte's recent statement that members of the police and the military must seek his clearance first before appearing in an investigation of the ombudsman as well as the Commission on Human Rights.
"Anong pakialam niya?! Under the law, we have subpoena powers. We have orders for particular officials including police and soldiers to show up or to file pleadings. If they don't file pleadings, that's their lookout," Morales told reporters on the sidelines of an anti-corruption forum in Quezon City on Friday.
Morales was reacting to Duterte's press conference on Monday where the chief executive warned the ombudsman against citing policemen and soldiers in contempt for not attending any investigation of the anti-graft agency particularly on the issue of extrajudicial killings in connection with the administration's war on illegal drugs.
"Everything has to go through me… Whoever you will investigate, you have to course it through me. You address it to the DILG. If I say do not allow yourself to be investigated, you will not allow yourself to be investigated," Duterte said.
Morales said: "There is no law that requires a soldier or a policeman or any respondent for that matter to seek clearance from anybody" even from the President.
"To say they need prior approval of the President that's the lookout of those to whom he (Duterte) is addressing that," Morales said.
Morales maintained that the investigation on police and military officials facing complaints before her office would push through whether or not the respondents submit their counter-affidavits and appear during the investigation.
"Tuloy yung kaso (The case will push through) if there is probable cause, irrespective if he answers or not. If there is probable cause on the basis of the evidence of the complainant, we will push though with the filing of the case in court. Kung walang probable cause, kahit 'di siya sumagot (If there is no probable cause, even if the respondent did not answer the complaint) we will dismiss the case," Morales said.
There are pending complaints before the ombudsman against several police officials in connection with the alleged summary killings connected to the implementation of Oplan Tokhang.
Oplan Tokhang is part of the Philippine National Police's campaign against illegal drugs. It involves going house-to-house to encourage suspected drug pushers and users to surrender to police authorities and to voluntarily undergo rehabilitation program.
It was suspended early this year following the kidnapping and murder of South Korean businessman Jee Ick-Joo allegedly by some members of the PNP's Anti-Illegal Drugs Group.
Following the murder, the police introduced "Project Double-Barrel," a supposedly improved anti-drug campaign.