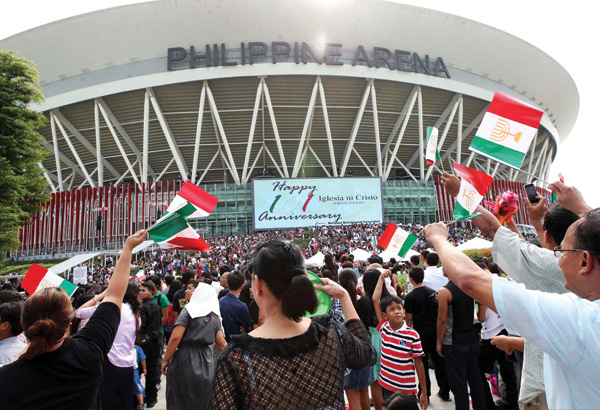 Iglesia ni Cristo members at a celebration of the church's 101st anniversary in 2015. BOY SANTOS, file
Duterte greets Iglesia ni Cristo on 103rd anniversary
MANILA, Philippines — President Rodrigo Duterte on Thursday greeted members of the influential religious group Iglesia ni Cristo on their 103rd anniversary and urged them to contribute to nation-building.
Duterte said the faith of the INC has "served as a firm foundation of our country's resilience in facing the challenges of an ever-changing world."
"Your devotion to the abiding truth of God's love has nurtured our community amd cultivated deep compassion among our people," the president said in a statement issued Thursday.
"I commend the leadership of INC for empowering its flock to make a positive impact in the lives of our fellowmen," he added.
INC was founded by Felix Manalo on July 27, 1914. Known for bloc voting, the group supported Duterte's successful presidential bid last year.
INC made headlines in 2015 when it expelled executive minister Eduardo Manalo's mother Cristina, his brother Angel and sister Lolita for allegedly creating disunity in the church.
Angel had claimed that the INC leadership was involved in anomalies but the church's officials denied the allegation.
Duterte praised the religious group for its mission, which he described as "inspiring" and "laudable."
"As you celebrate this milestone, may you continue to manifest your faith by serving those in the margins and contributing to nation-building," he said.
"I am confident that we can bring positive and meaningful change in our society and build a better and brighter future for every Filipino."