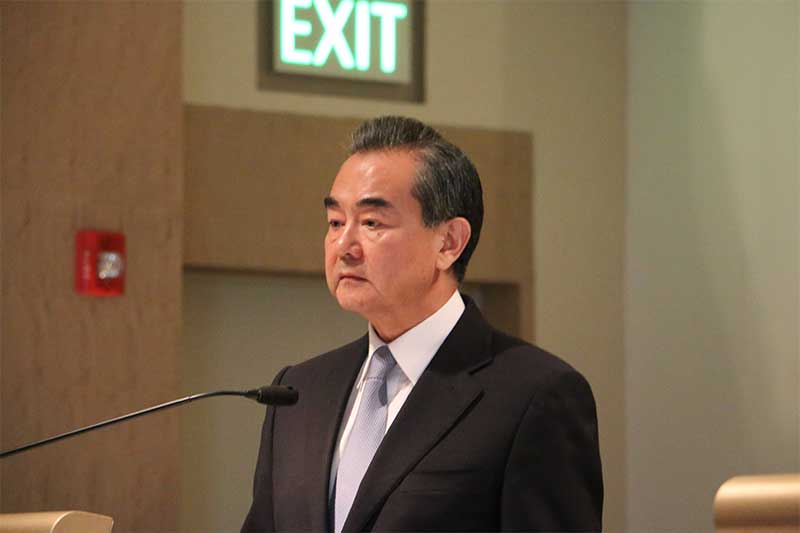 Chinese Foreign Minister Wang Yi is in Manila for a two-day official visit. Philstar.com/Patricia Lourdes Viray
China: We must stand together vs South China Sea outsiders
MANILA, Philippines — Chinese Foreign Minister Wang Yi on Tuesday urged Association of Southeast Asian Nations members to unite against "non-regional forces" interfering in the South China Sea.
China's top diplomat reiterated Beijing's commitment to working with the Philippines and other ASEAN countries to maintain peace and stability in the disputed South China Sea.
Wang said that the improved relations between the Philippines and China are the key towards stability in the region.
"If there are still some non-regional forces or forces in the region that don't want to see stability in the South China Sea and they still want to stir up trouble in the South China Sea, we need to stand together and say no to them together," Wang told reporters during a press briefing in Manila.
He noted that a progress the framework on the Code of Conduct in the South China Sea is taking place.
"This pact shows to the world that China and ASEAN countries have capabilties and wisdom to handle differences between us, maintain stability in the South China Sea," Wang said.
The Chinese Foreign Minister also hailed the Duterte administration's pursuit of an independent foreign policy.
The Philippines, a long-time ally of the United States, appears to have moved closer to China and Russia under the leadership of President Rodrigo Duterte.
"An independent Philippines will bring the country dignity and standing on the international stage. The Philippines that has strengthened relations on other countries will open up brighter prospect for its own development," Wang said.
Wang vowed that China will become a "good neighbor" and a "good brother" to the Philippines.
Foreign Secretary Alan Peter Cayetano and Wang signed a memorandum of understanding on strengthening cooperation between the Department of Foreign Affairs and the Chinese Foreign Ministry.
The Chinese Foreign Minister is in the country for a two-day official visit upon the invitation of Cayetano.