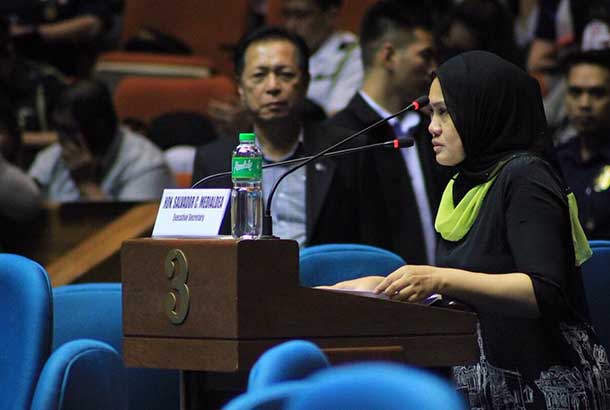 Ranao Rescue Team spokesperson Samira Gutoc-Tomawis giving her testimony during a Congress session on martial law extension. Grace Poe
'Please ask what we feel': Maranao leader speaks up on martial law abuses
MANILA, Philippines — A Maranao leader detailed accounts of martial law abuses in an emotional testimony at a Congress session on martial law extension on Saturday and explained taboo acts displaced Muslims were forced into committing that might be unfamiliar to the majority Catholic population of the Philippines.
Ranao Rescue Team spokesperson Samira Gutoc-Tomawis shared accounts by displaced Marawi residents who reported abuses by authorities.
One account she detailed was on the alleged psychological interrogation and pouring of hot water on the hand of a 20-year-old with a developmental disorder. Gutoc said they have photo evidence proving the story. Another was an account of a man who was among the 26 rescued from Marawi who were told to dig their own graves by men in uniform.
Gutoc-Tomawis, who served as a member of the Army's multisectoral advisory board, part of the military's thrust towards collaborative efforts with the community, also pointed out how bodies of Muslim casualties were left unburied for days, a taboo in Islam where the dead should be buried within 24 hours.
She also detailed how one Muslim woman had to take off her clothes in a crowded evacuation center. Covering up their body is important for Muslim women especially when in the company of males they are not related to.
"I am from Marawi City, your honors, please ask us what do we feel. Please ask us how do we stand up and arise? Twenty bodies are in funeral, 100 days or almost 60 days not buried... Sa Islam, one day lang po. Hindi puwede, bawal sa Islam, the highest form of prohibition," she said.
"I am so sorry I have to speak for 250,000 people and 400,000 Maranaos scattered all over the country," Gutoc-Tomawis said.
Sen. Grace Poe urged different government agencies to work together and intensify efforts "to respect religious and cultural boundaries within those areas."
Double burden
Gutoc-Tomawis, herself a resident of Marawi, has been vocal about the double burden Maranaos experienced after the siege on the largely Muslim city with a population of over 200,000.
The siege that happened during the Muslim holy month of Ramadan began after government troops raided Abu Sayyaf leader Isnilon Hapilon's hideout in Marawi City. The Abu Sayyaf leader and his men called for reinforcements from the ISIS-linked Maute group.
During Ramadan, Muslims may not eat or drink, even water, from dawn until dusk. They can only break their fast outside daylight hours so it is crucial for food at evacuation centers to arrive before dawn. Sanitation at evacuation sites is also important as ablution is crucial before prayer.
In an interview over ANC's "Headstart" a week after the May 23 siege, Gutoc-Tomawis said martial law should have fast-tracked relief. Unfortunately, she said, this didn't happen.
She said strict permit systems, where layers of permissions must be secured from different officials, prevented the food from coming in.
Meanwhile, Gabriela Women's Party Rep. Emmi de Jesus warned against being complacent and dismissing collateral damage as natural during times of conflict.
"Nakakabahala po dahil yung salitang collateral damage naging palasak sa panahon ng karahasan kung sino man ang humahawak ng kapangyarihang pampulitika na para bang kapagka may apektadong mamamayan, palalampasin natin at sasabihin na lang: 'Talagang ganyan, may collateral damage,'" she said.