Duterte repeats promise to protect cops following his orders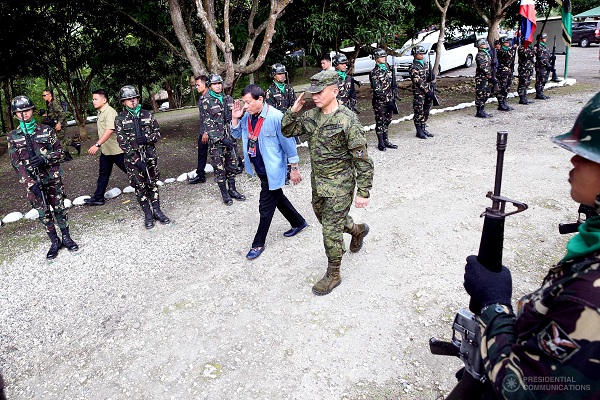 MANILA, Philippines — President Rodrigo Duterte on Wednesday reiterated his promise to prevent government forces, even those accused of committing murder, from going to prison, at one point even saying that he would coach them on what they should say to evade prosecution.
Speaking at the anniversary of the Bureau of Jail Management and Penology, Duterte said that other government agencies could investigate and file charges against police and military personnel as this is their job.
This, however, would not prevent him from pardoning these individuals once they are sentenced, Duterte said.
"Sabi ko, 'Wala akong pakialam dyan. File na ninyo lahat ng gusto ninyong file.' Pero sabi ko and in front of Cabinet, 'I will never allow a military man, a government man or a policeman na makukulong for doing his duty and obeying my order," the president said, to the applause of most of the members of the audience.
He also challenged critics to file piles of cases against police officers and soldiers. He assured security forces that he would immediately issue a pardon as soon as they are convicted by a judge.
"Di talaga ako papayag. Mag-demanda na kayo kung ano ang inyong demanda," Duterte said.
Philippine courts are plagued by case backlogs and it is uncertain whether cases filed during the Duterte administration will be resolved in the enxt five years.
At one point, the president even said that he would coach a police officer on what he to say to evade prosecution and conviction.
"Just tell me the truth. Do not lie to me. Huwag mo ako bulahin," the president said. "Sabi mo, 'Sir, ganito talaga ang nangyari.' Turuan kita. Mali yan, Bata. Ang nangyari ito."
This is not the first time that the president has reassured security personnel of his protection, fueling concerns that this might embolden rogue officers to commit more abuses.
Duterte said in December that he would protect several Leyte cops accused of involvement in the killing of a former mayor on the island even though the National Bureau of Investigation said that former Albuerta town mayor Rolando Espinosa's death was an extrajudicial killing.
Espinosa case
A little more than a week after the surrender of the 19 police officers, the tough-talking Duterte again vowed that he would pardon policemen who would be jailed because of following his orders.
"This is my order. Hunt for them. Arrest them if possible. If they confront you with a violent stance, especially if they're armed and you are in danger of being killed — My God, shoot the idiot, and shoot him dead. 'Yan ang order ko," he said in March. "Pag 'yan ang sinunod ng pulis and military, huwag kayong matakot. I and I alone will be liable for that."
The chief executive also assured military men battling ISIS-inspired militants in Marawi that he would protect them from legal action if they accidentally killed civilians.
He said that troops did not intend to kill innocent people, but they should not "not hesitate to engage just because there are civilians. It is the duty of the civilians to flee or seek cover."
Duterte told his audience at Camp Aguinaldo during the anniversary celebration that he had ordered the reinstatement of Superintendent Marvin Marcos, the leader of the regional police unit under which the 19 police officers operated.
He said that Marcos was not involved in the operation that killed Espinosa and was far away from the detention cell.
The Justice Department recently ordered the downgrading of the cases filed against the police officers from murder to homicide, a move that was widely criticized by senators who also held hearings on the killing.