Strong quake jolts Leyte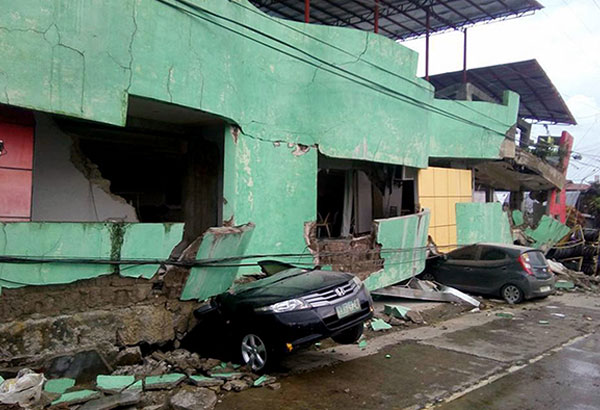 MANILA, Philippines - Rescuers rushed frantically to find people who were trapped in a three-story building that collapsed after a magnitude 6.5 earthquake struck Leyte yesterday.
As of last night, at least two persons had been confirmed killed in the quake, one of them in the building that collapsed in Kananga town.
"We were able to retrieve one dead and one wounded," Mayor Rowena Codilla told dzBB radio.
Codilla said she did not know how many more people were inside the building.
The 10-year-old New Town General Merchandise building near the Kananga Municipal Hall housed a small hotel on the upper floors and shops on the ground floor, she said, adding there was little damage elsewhere in the town.
She said the rescue was hampered by aftershocks that continued to rock the area and the lack of proper equipment.
Ormoc City Mayor Richard Gomez told dzMM that a landslide struck a house and killed a young woman. Over 100 others were injured in the city, with many "traumatized and hysterical," he said.
The strong shaking caused cracks in some buildings and roads in Ormoc and power was automatically shut off, Gomez said.
Officials said a geothermal plant's cooling system in the mountains of Tongonan and Kananga collapsed. The damage could mean a long drawn out power outage to all its service areas in Bohol and the rest of the Visayas.
The National Disaster Risk Reduction and Management Council (NDRRMC) has yet to confirm reports of casualties, injuries and damage to infrastructure due to the quake.
The Philippine Institute of Volcanology and Seismology (Phivolcs) said the quake's epicenter was traced 13 kilometers southwest of Jaro, Leyte.
Intensity 6 was felt in Jaro and Kananga while Intensity 5 was recorded in Tacloban City, Palo and Ormoc City and Cebu City and Mandaue City in Cebu, Phivolcs said.
Intensity 4 was felt in Samar, Bohol, Iloilo, Negros Occidental, Agusan del Norte and other parts of Leyte, it said.
Tsunami possibility dismissed
Department of Science and Technology undersecretary and Phivolcs officer-in-charge Renato Solidum said the tremor, tectonic in origin, was generated by the movement of the Philippine Fault Zone Leyte segment.
Phivolcs dismissed the possibility of a tsunami but added it was expecting damage and advised residents to be prepared for aftershocks.
The Civil Aviation Authority of the Philippines (CAAP) said the quake that hit Leyte at 4:04 p.m. yesterday did not damage airports in the province.
In his initial assessment report to CAAP Operations Rescue and Coordinating Center (ORCC), Area Manager VIII engineer Danilo Abareta said the Calbayog, Catarman and Tacloban airports, which are operating regular commercial flights, are in normal condition while Ormoc airport is being evaluated for damage at the end of runways 36 and 18.
No damage
A receptionist at Hotel XYZ said the quake was felt in Tacloban, but did not damage buildings there.
"It was far away from here, we are OK," the receptionist said.
A receptionist at a hotel in another part of the city reported the quake was felt but did not cause damage in the area. "We are safe," he said.
In Cebu, the biggest city in the Visayas, a receptionist at a hotel also said there had been no major damage.
But people across the region of mostly farming and fishing communities reported feeling the powerful quake.
Marlon Tano, a Leyte farmer and journalist, told AFP it knocked him off his feet at his eggplant farm in Borauen, a town near the quake's epicenter.
"It was so strong that I fell," Tano said.
"I saw buses and motorcycles stopping on the highway and people getting off them," he added.
In Tacloban City, where the tremor was felt at Intensity 5, schools and offices were immediately vacated by panicking people.
There was pandemonium inside malls, as people jostled to get out of buildings. No report of damage, however, was reported.
In Gandara town of Samar, Phivolcs monitored the quake at magnitude 3.6. All employees occupying the municipal hall quickly ran out of the building.
There was instant power outage in Eastern Visayas as the quake struck.
Police Regional Office-8 officials said there was no damage reported but they were still monitoring reports from the field.
In Pastrana, one of two towns at the quake's epicenter, Mayor Alvin Opiniano reported no damage yet but the municipal disaster risk reduction team has gone out to various barangays to monitor the situation.
In Agusan del Norte, two mild quakes hit Jabonga at 6:14 a.m. and 7:57 a.m. with magnitudes 2.7 and 3.5.
The quakes were followed by the bigger 6.5 magnitude tremor in Jaro, Leyte in the afternoon, Phivolcs reported.
No damage was reported by the Jabonga Municipal Disaster Risk Reduction and Management Council.
Assistance to victims
President Duterte assured residents affected by the quake that the government is doing everything to help them.
"The military is doing its utmost. I am here for the time being that there's a ruckus in Central Mindanao. I would be spending most of my time here," Duterte told reporters yesterday in Bukidnon, referring to the Marawi siege, which started last May 23.
Duterte said nobody can foretell disasters like earthquakes.
"That's why in the insurance business, disasters are called or categorized an 'act of God,'" he said.
"So ang God, ganito ang ating habulin. Kaya mo? Isama na natin 'yung mga pari (Can we make God accountable? Let's include the priests)," he said in jest.
"We ask our people, especially residents of affected areas, to stay calm and yet remain alert and vigilant for aftershocks as we assure them of immediate assistance by the government," presidential spokesman Ernesto Abella said.
"We ask our people to regularly check the Phivolcs website for the latest earthquake information," he added.
Quake depth
The quake hit at a depth of around six kilometers, the US Geological Survey said.
There was no immediate warning of a tsunami, the Pacific Tsunami Warning Center said.
In November 2013, large parts of Leyte were devastated by Super Typhoon Yolanda (international name Haiyan).
Huge tsunami-like waves smashed Tacloban City and nearby areas, leaving 7,350 people dead or missing.
In February, a magnitude 6.5 quake killed eight people and left more than 250 injured outside the southern city of Surigao.
The following month a magnitude 5.9 tremor killed one person there in March.
Before the Surigao quakes, the last lethal earthquake to hit the country was a magnitude 7.1 tremor that left more than 220 people dead and destroyed historic churches when it struck the Bohol and other islands in the Visayas in October 2013.
The country lies on the so-called Ring of Fire, a vast Pacific Ocean region where many quakes and volcanic eruptions occur. – AFP, AP, Rhodina Villanueva, Rudy Santos, Emmanuel Tupas, Michael Punongbayan, Alexis Romero, Edgar Vilbar, Lalaine Jimenea, Manassas Benedicto Serano, Miriam Garcia Descada, Freeman