A year of hits, misses and postponed promises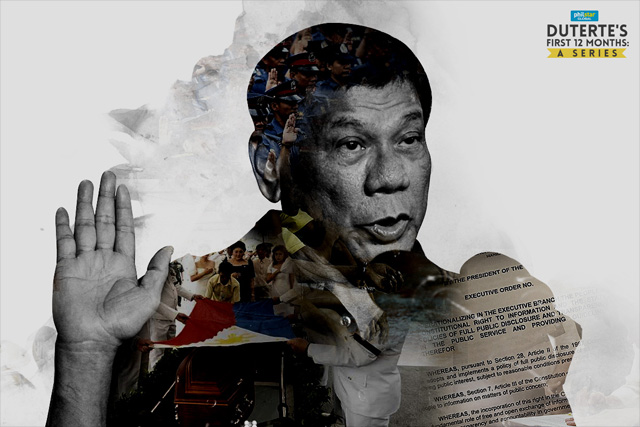 This piece is a part of a news analysis series on the first 12 months of the Duterte administration.
In February 2016, once hesitant presidential candidate, then Davao City Mayor Rodrigo Duterte officially launched his presidential campaign armed with a vow for "real change" for the nation.
Months after, the strongman of Davao got the votes of more than 16 million Filipinos hoping he will fulfill his campaign advocacy of "Tunay na Pagbabago" with "Tapang at Malasakit."
But what has happened to these promises a year after assuming the presidency?
Philstar.com reviewed some of the vows uttered by Duterte during his campaign and when he assumed office in June 2016 to see what he has accomplished so far.
The list is not comprehensive but it tackles most of his big priorities.

Eliminating illegal drugs has been the center of Duterte's priorities. He even made a call urging Filipinos to kill him if he cannot resolve criminality and illegal drugs within six months of his administration if elected president.
After the self-imposed deadline, the president asked for an extension.
Duterte, whose tough stance on crimes and illegal drugs made him win by a landslide with 16.6 million votes, said it was a "miscalculation" on his part when he promised to end the problem in three to six months.
In January, Duterte ordered the dismantling of the anti-drugs units of the Philippine National Police following the killing of a South Korean businessman in a "tokhang for ransom" by rogue officers. A new campaign against illegal drugs was launched in less than a month after "Oplan Tokhang" was suspended.
The president has drawn flak from various advocacy groups for the spate of killings linked to his war on drugs.
Rights groups and watchdogs have varying estimates of from 7.000 to 9,000 killed in the "Tokhang" and "Double Barrel" drives—both from legitimate police operations and vigilante-style or unexplained killings since Duterte assumed the presidency on June 30 last year.
The government, however, has dismissed the reports as "fake news," saying the number of drug-related deaths is much lower.
It said that, as of June 20, only 3,200 drug suspects have been killed in police operations. The government also said that only 2,098 of 12,833 homicides since July 2016 are related to drugs. Another 8,200 are still undergoing investigation and authorities have yet to determine motives for those killings.

While the administration missed the six-month deadline, Duterte said the government has stepped up measures to reduce red tape in the government. In his State of the Nation Address last year, the president ordered government agencies to streamline applications and processes.
Several departments have acted on the order. Business registrations have been processed faster, with the joint circular directing local government units to cut processing time to two days for new business registrations and one day for renewals.
At the Bureau of Internal Revenue, processing property transfers has gotten easier by not requiring applicants to submit a document indicating that taxes were paid for acquiring a property for the first time.
To combat crime and corruption, the administration has also launched nationwide the 24-hour 8888 hotline for citizen complaints and 911 emergency response hotline in August last year.
Duterte has been true to his word in firing anyone, even his closest allies, at the slightest hint of corruption.
In March, the president admitted that he was given a Rolex watch and a Mercedes-Benz, which he allegedly tried to return but the givers refused to take back. There were no reports on whether the lavish birthday gifts were sold as Duterte suggested to do.
The president also repeatedly warned government officials against accepting gifts. Ironically, his top cop, Ronald "Bato" de la Rosa, got in trouble late last year for accepting a free trip to Las Vegas to watch Sen. Manny Pacquiao's bout.

As the first president from Mindanao, Duterte promised to work out the grant of self-governance to the Bangsamoro through the passage of the Bangsamoro Basic Law.
The measure went through massive revisions in Congress following the bloody Mamasapano clash two years ago.
The BBL, which aims to form a new Bangsamoro political entity with enhanced political and economic powers, was bypassed by the 16th Congress because of questions on its constitutionality and because lawmakers wanted to focus on the upcoming elections.
Duterte is set to review a new draft completed by the Bangsamoro Transition Commission earlier in June before endorsing it to Congress. Presidential Adviser on the Peace Process Jesus Dureza said the president will receive the final draft before his second SONA.

Since Duterte assumed the presidency, negotiators from the government and the National Democratic Front of the Philippines have conducted at least four rounds of formal peace negotiations.
The government said it would not participate in the fifth round of peace talks unless the Communist Party of the Philippines ensures that it can stop its armed wing, the New People's Army, from launching offensives against security forces implementing the martial law in Mindanao.
The fifth round of talks was initially set from May 27 to June 1 in Noordwijk in the Netherlands.
Despite calls from the NDF, NPA members continue to attack government forces in different areas, which cast doubts on the rebels' sincerity to the peace process.
As of this posting, there is no formal statement from Duterte on the resumption of peace talks.

In December last year, Duterte issued an executive order creating a 25-member panel that will review the 1987 Constitution.
Though Duterte has created the commission, Speaker Pantaleon Alvarez said that much work has prevented the president from naming its members.
With or without the commission, Alvarez said the House of Representatives will start working on charter change. He added that they would tackle early next year a resolution convening the two chambers of Congress into a constituent assembly to discuss cha-cha.
The amendments in the Constitution will pave the way for the shift to federalism. In late June, the House Constitutional Amendments Committee held a dialogue with Autonomous Region in Muslim Mindanao and Cordillera Autonomous Region officials to discuss federalism.
So far, proponents of federalism have proposed dividing the country into 11 autonomous states.

While Duterte opened the door to peace with rebel groups, the chief executive reiterated his tough stance against the Abu Sayyaf group and terrorism.
The Abu Sayyaf is notorious for kidnappings, beheadings and deadly bombings. With leaders having pledged allegiance to the Islamic State of Iraq and Syria, the group has acquired the label of an international terrorist group.
During visits to military and police camps, Duterte ordered government forces to finish off the Abu Sayyaf and recently, the Islamic State group-aligned militants Maute group which has laid siege in Marawi City on May 23.
To quash the group and its allies, Duterte declared martial law in the whole of Mindanao.
The government also started looking at the link between the ongoing Marawi crisis and illegal drugs with the discovery of millions worth of shabu in the house of a former Marawi mayor.

When it comes to the country's international relations, the Duterte administration has shifted towards new allies Russia and China. Under these new relations, the United States, a traditional ally, takes the back seat but the Philippines continue to receive military aid from them.
Duterte conducted foreign visits and introduced himself to other members of the Association of the South East Asian Nations. He also chaired the ASEAN summit last April and will lead another summit by November.
Despite his pronouncement during his first SONA that he will honor treaties, Duterte threatened to cut ties with the US and the European Union after both blocs raised concerns over his controversial war on drugs.

The Duterte's campaign to end "endo" or end of contract has succeeded, according to Labor and Employment chief Silvestre "Bebot" Bello III. He cited that in December 2016, more than 32,000 got job security after their employers regularized the status of their employment.
In January 2017, however, Duterte approved the implementation of a new regulation issued by the Department of Labor and Employment or the Department Order No. 168 on contractualization.
It bans "endo" and other "labor-only" contracting practices, which according to a labor union, would "allow illegal endo scheme to take a new form through 'seasonal' and project-based employment."
Several labor groups also expressed their "growing frustration" with the Duterte administration and "dissatisfaction" in fulfilling his promise of ending contractualization last May. They said Duterte is no different from past presidents who relied on neo-liberal policies such as contractualization.

Aside from the existing Philipine Overseas Employment Administration in charge of legal assistance, documentation, certification and verification of overseas Filipino workers, Duterte repeatedly vowed to create a separate department for OFWs.
In April 2017, Duterte reiterated this vow to OFWs during his visit to the Middle East. He said the department would promote the welfare and address the concerns of more than 2.4 million Filipino migrant workers worldwide.
Since the creation of the department is still pending, Duterte said he wants OFWs to raise their concerns to him. The DOLE currently handles issues related to OFWs.

Duterte has fulfilled his promise to increase spending on basic education, as well as incorporate mandatory education about drugs since the Department of Education was given the highest budget allocation for 2017. He earlier said education is one of his priorities for the country.
The Duterte administration has approved a P544.1-billion allocation for the Department of Education intended for basic education facilities and teaching and non-teaching posts, while the Commission on Higher Education got an allocation of P18.7 billion, and the state universities and colleges are allotted P58.72. The 2016 budget for DepEd is P433 billion.
On the other hand, for the incorporation of mandatory education on drugs, DepEd is already strengthening its National Drug Education Program.
Although it has been implemented for years now, the NDEP plans to boost its educational program "to create awareness on ill effects of drugs," develop parent education and community outreach, among others.

Like his predecessor, impeached President Joseph Ejercito Estrada, Duterte also stressed in his inaugural speech that he would disregard personal relations with friends and family to serve the nation.
He also quoted a line in his speech: "I have no friends to serve, I have no enemies to harm."
Due to this, the public was critical of his appointments. For his Cabinet appointees, he said he has appointed the "best and the brightest." However, he admitted that he appointed some government officials due to "debt of gratitude", which earned public disapproval.
Despite his promise of having no enemies to harm, Duterte was also criticized since he announced that he will not let anyone involved in his "narco-list" to get away without getting charged and even released a shoot-to-kill order threat.
But the public noted how he let known personalities such as businessman Peter Lim and late Albuera Mayor Rolando Espinosa Sr. go after they voluntarily surrendered and got a chance to explain their side. Espinosa later died in government custody after he surrendered over a gun and drugs-related charges.
In contrast, the president's most vocal critic, Sen. Leila De Lima, was put in jail after she was linked by the president to drug dealing and was later charged by the Department of Justice. Duterte, however, still dismissed former allies who were tagged in corruption allegations.

Prior to his presidency, Duterte had been vocal about the need to revive the death penalty, citing that it would serve as "retribution" for those who committed crimes. He already mentioned that he favored hanging over lethal injection as method of death penalty.
However, the House of Representatives, composed of a majority of Duterte's allies, watered down the death penalty bill.
The lower chamber of the House removed heinous crimes such as rape, treason and plunder from the list of punishable crimes, leaving only drug-related crimes in the list.
The House approved the death penalty bill or House Bill No. 4727 despite loud opposition from the public and quieter opposition in the lower house. The Senate has yet to deliberate on their version of death penalty.
ALSO READ:
A year of Duterte's dystopian vision
A year of accelerated spending—or so they say
A year of battling through traffic and train queues
A year of consistent inconsistencies
A year of fighting and talking (Part 1)
— With reports from Amierielle Anne Bulan; Graphics by RP Ocampo