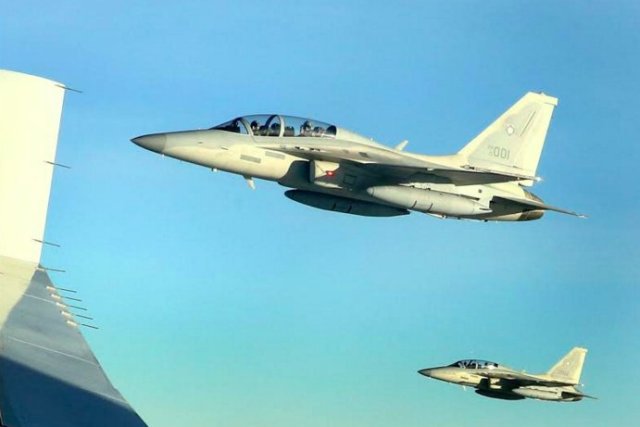 This time, after 10 days of intense clearing operations, the Philippine Air Force (PAF) unleashed its FA-50 sonic jets to assist ground forces battling the well positioned Maute and Abu Sayyaf groups backed by foreign-based terrorists. Malacañang Photo Bureau
Military resumes airstrikes in Marawi
Roel Pareño
(The Philippine Star) - June 2, 2017 - 4:00pm
ZAMBOANGA CITY, Philippines – The military resumed Thursday its airstrikes against pockets of defensive positions of the Islamic State (IS)-inspired Maute group, barely hours after a bomb run accidentally hit and killed 10 soldiers in Marawi City, Lanao del Sur.
This time, after 10 days of intense clearing operations, the Philippine Air Force (PAF) unleashed its FA-50 sonic jets to assist ground forces battling the well positioned Maute and Abu Sayyaf groups backed by foreign-based terrorists.
It grounded Thursday the Italian-made SF260 Marchetti trainers' plane following the bomb run that accidentally hit the troops' position, killing 10 soldiers and wounding seven others who were manning the blocking posts.
Yesterday afternoon, President Duterte went to Ipil town in Zamboanga Sibugay to boost the morale of the 102nd Infantry Brigade, saying the government will win over terrorism.
"We choose to be in government so we are always in jeopardy. But that's beside the point. The point is we are fighting for a principle and that is what it is… but to say that we would lose (this), that's impossible. It will just take a longer period (to win)," Duterte said, pointing out that unlike terrorists, government forces need to adhere to the Geneva Convention and lessen collateral damage.
The President was also scheduled to visit the wake of Cpl. Nilo Donato Jr., who was among those killed in the accidental airstrike.
The government's five-day deadline, set by Defense Secretary Delfin Lorenzana, to end the Marawi conflict ended yesterday with no clear signs that the fighting would be over soon, as authorities say the Maute gunmen along with their IS cohorts continue to put up pockets of resistance.
"Deadlines just add pressure to the heavily burdened field commanders and soldiers on the frontlines," a source told The STAR.
In a related development, Brig. Gen. Nixon Fortes, the Army commander whose unit has operational jurisdiction over Marawi City, was relieved from his post and replaced by Col. Generoso Ponio, according to Army spokesman Lt. Col. Ray Tiongson.
However, Tiongson maintained that the change of command was not due to the friendly fire incident now being investigated by the military.
Brigadier Gen. Restituto Padilla, Armed Forces of the Philippines (AFP) spokesman, said in a briefing at Malacañang yesterday that the current military focus is to clear Marawi of terrorists.
"We continue to apply commensurate military power on these existing threats and pockets of resistance, and we'll continue to do so, including the use of airstrikes," Padilla stressed.
He added that terrorists have converted commercial buildings into defensive and staging positions, and the madrasas (Islamic schools) and mosques as snipers' nests.
As of Thursday, the military placed the terrorists' death toll at 120 and the government's at 36 soldiers, including those who died from Wednesday's friendly fire. Earlier, 19 civilians were killed by the terrorists.
Troops clearing the area have rescued 1,024 civilians who were either trapped or used as human shields.
Surrender or die
Padilla reiterated the AFP's call for the local terrorists to surrender.
"Finally, we continue to call on the remaining terrorists to consider their position, surrender or experience the dire consequence of military action. That is all I have for now," he said.
The AFP, he added, will not waver in going after the enemies of state.
"Even if they want to keep this fight up to the end of this month, or this week, or whatever, we are determined to take care of all these forces that have brought and disturbed the peace, brought violence and disturbed the peace to the peace-loving community of Marawi," Padilla said.
In the same briefing, government peace implementing panel chair Irene Morada Santiago urged those caught in the Marawi crisis to use the peace corridor set up by the government for safety of innocent civilians.
"The peace corridor is a safe and secure corridor for women, men and children fleeing the crisis in Marawi, as well as a reliable space for humanitarian assistance to pass through," Santiago said.
More than 300 trained members of the joint peace and security teams, she added, are being deployed throughout the length of the corridor and would be augmented if needed.
Meanwhile, the Philippine Charity Sweepstakes Office (PCSO) has directed its Iligan City branch to help families and soldiers affected by the clashes by giving them relief and medical assistance.
Alexander Balutan, PCSO general manager, also directed all employees nationwide, including those of Small Town Lottery authorized agent corporations, to observe and participate in the implementation of security measures in Mindanao.
"Protect yourselves, the PCSO assets and properties in your respective areas of operations and workplace," Balutan said as he instructed them to immediately inform his office of any incident affecting safety and security for action.
Balutan stressed that all of the PCSO must "coordinate with local government units, government agencies, law enforcement units and other government security forces whenever the situation requires." – With Perseus Echeminada, Christina Mendez, Jaime Laude