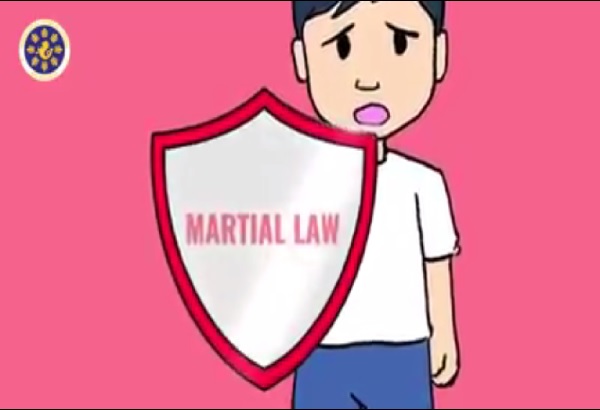 Screengrab from the deleted martial law video released by the Presidential Communications Operating Office.
Palace disowns deleted PCOO video promoting martial law
MANILA, Philippines – Malacañang on Thursday disowned the controversial martial law video that the Presidential Communications Operating Office posted on social media Wednesday and that drew flak from netizens for its poor quality and for seeming to call for martial law across the Philippines.
Presidential Spokesperson Ernesto Abella said in a press briefing that the Palace did not prepare the 36-second video that was posted on PCOO's official Facebook and Twitter accounts. "It's not something we prepared," he said, adding he did not see the entire video but that he saw netizens' reactions to it.
Pressed for comment, the president's spokesman told reporters to ask Presidential Communications Secretary Martin Andanar.
The animated video has been deleted but some netizens were able to download and re-upload it on social media.
"In the free society, there are groups who don't want to give independence. They are adamant on detaining peaceful spirits. They are distressing feelings with fears. Let us not allow them to terrify us. We will all fight in unity. Martial law should be the rule of the land. Martial law. Now," a narrator said in the video.
Martial law was declared in Mindanao on May 23, more than a week before the video said that "martial law should be the rule of the land" and demanded for "martial law, now."
May misfortunes
Andanar's office has figured in three blunders in May alone.
Philippine News Agency, which is attached to the PCOO, was lambasted this week for using a Vietnam War photo in one of their stories on the Marawi clashes.
READ: Oops, Vietnam photo used in Marawi story
In the May 27 report titled "Urban warfare a challenge for soldiers in Marawi," the government news website used an uncaptioned photo of a soldier seemingly investigating a house while residents looked on. The image was cropped from an original photo uploaded in Wikimedia Commons showing US soldiers in Vietnam in 1966.
Media sought an explanation on the PNA's mistake but the secretary snuck out of his office. On the same day, Andanar abolished the Strategic Communications Office through Office Order No. 26 and reassigned some members of that office under his direct supervision.
Earlier in May, PNA also published an inaccurate story that 95 nations in the 27th Universal Period Review of the UN Human Rights Council were convinced that there were no extrajudicial killings in the Philippines. The United Nations disputed the PNA's assertion and Assistant Secretary Epimaco Densing, whom PNA quoted in the story, denied that he said what he reportedly said.
PNA has apologized for the errors and has promised a review of its vetting processes.
READ: Mocha to handle Malacañang social media
Ironically, these gaffes happened since President Rodrigo Duterte appointed blogger Mocha Uson as an assistant secretary of the PCOO.
For her part, Uson, who vowed to fight fake news in social media, shared a photo recently on her Facebook account urging the public to pray for government troops fighting in Marawi City. The soldiers in the photo, however, were not from the Philippine Army and later on identified as police officers of Honduras.
She tried to explain it away as "symbolism" and said that she didn't claim that the security personnel show praying in the photo were actually Filipino soldiers.
It is unclear why she did that when her office has access to official photographs from the Armed Forces of the Philippines.