Philippines seeks gentleman's agreement on sea code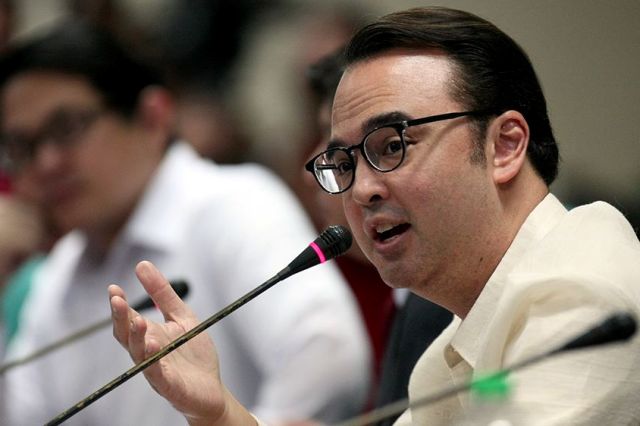 MANILA, Philippines - With no legally binding mechanism to enforce any deal on the South China Sea dispute, China and the Association of Southeast Asian Nations (ASEAN) may, in the meantime, settle for a "gentleman's agreement" to prevent war or at least keep the situation in the region stable.
Newly appointed Department of Foreign Affairs Secretary Alan Peter Cayetano made this observation on Friday after the ASEAN and China finished a draft framework for negotiating a code of conduct (COC), despite regional skepticism over Beijing's commitment to rules that can restrain its maritime ambitions.
"Many countries want it to be legally binding. But what I'm saying is, let's start with it being binding, gentleman's agreement," Cayetano said, referring to the absence in the draft framework of a clause specifying that a code should be legally binding.
"We have a community of nations that signed it," he added.
He explained that legally binding means there is a court or tribunal to which parties can turn if another party reneges on the agreement.
"So, let me say this: definitely, it should be binding. Now, the question is, if it's legally binding, which court can the parties go to? And the countries that don't comply, will they respect that court? We're all trying to avoid not only war, but instability," Cayetano told reporters during a visit to the DFA Office of Consular Affairs on Macapagal Avenue on his first day as DFA chief. He was replying to a question on whether Manila should insist on a legally binding COC.
He admitted there is a need for a mechanism that would help resolve issues if some parties fail or refuse to comply with the code.
"I'm telling you the practical reality of negotiations in international agreement. So, do most or all of the countries want it to be legally binding? Yes. But will the language include that? We don't know. Because if one or two do not approve of that, they don't believe that there can be an independent court, will we go for nothing, no Code of Conduct?" Cayetano said. "Or will we agree to a code of conduct that will be enforced only by the community of nations who signed it?" he said.
Southeast Asian nations with claims in the South China Sea have long wanted to sign China up to a legally binding and enforceable code.
China claims most of the energy-rich South China Sea, through which about $5 trillion in sea-borne trade passes every year. Brunei, Malaysia, Taiwan and Vietnam also have claims in the resource-rich waters, aside from China and the Philippines.
Arbitral ruling
In July last year, the Permanent Court of Arbitration in The Hague invalidated China's claim to sovereignty over most of the South China Sea and the West Philippine Sea in a case filed against Beijing by the previous Aquino administration.
A code of conduct is the key objective of a 2002 Declaration on Conduct, large parts of which China has ignored, particularly a commitment not to occupy or reclaim uninhabited features.
China has piled sand upon reefs and other land features to build seven islands in disputed parts of the Spratly archipelago. China has also been transforming three of the reefs into what experts believe could be forward operating bases.
President Duterte on Friday described them as "some kind of armed garrison."
The code framework would envisage a round-the-clock hotline and urge defense officials to find ways to follow the code, Chee Wee Kiong of Singapore's foreign ministry said on Thursday.
Some ASEAN diplomats fear China's sudden interest in completing the code could be a strategy to buy time for Beijing to wrap up construction activities.
Experts say China wants to appear to engage ASEAN or bind its claimant states to a weak code at a time when US policy on the South China Sea is in a state of flux.
One ASEAN diplomat said the latest draft did not mention any dispute settlement mechanism or sanctions for violations, but focused mostly on managing tension and building trust.
"We are very realistic and practical," said the source who declined to be identified. "We wanted first to pick the low hanging fruit. If we went straight to the contentious issues, we would not get to where we are now."
The framework represented progress, but expectations should be realistic, said Jay Batongbacal, an expert on the South China Sea issue. "Given it's been 15 years to get to a draft, I'm not really holding my breath," he added.
What green light?
Presidential spokesman Ernesto Abella, meanwhile, rebutted yesterday the claims of Senior Associate Justice Antonio Carpio that President Duterte had given a green light to China's further reclamation activities in the West Philippine Sea.
Abella explained Duterte maintains a two-track approach to keep a stable relationship with China.
"One, to grow our healthy economic, trade and investment relationships, and to ensure that our arbitral rights in the West Philippine Sea are not compromised, more so now through the newly established bilateral consultation mechanism to manage disputes in the area," he said.
"The Philippines engaged (China) in a frank discussion on possible oil explorations in the WPS," Abella said in a separate statement yesterday.
"President Duterte was forthright about its economic rights awarded by the Arbitral Court in The Hague, a claim the Chinese leader said they would vigorously contest given their historic claims to the area," he added.
He stressed the President would never stop exploring peaceful ways of resolving the country's maritime dispute with China.
"Given this complexity, both parties agreed to pursue a more peaceful resolution to the matter that satisfies both our sovereign and economic rights," he added.
Abella echoed Duterte's chastising the United States for not directly confronting China over its island building activities in the West Philippine Sea. He said the US chose to remain on the sidelines despite having in its possession satellite images of Chinese activities in disputed waters.
"With all due respect to the Senior Associate Justice, Chinese island-building and military deployment activities on certain features in the West Philippine Sea have been ongoing for some years now," Abella added.
"The disputes in the South China Sea/West Philippine Sea are not the sum total of our relations with China, but we are cognizant of the warmer relationships we have in the region."
Old issue
Duterte on Friday took Carpio and former foreign affairs secretary Albert del Rosario to task for criticizing him over his decision to cozy up to China and separate from the US, a long-time ally.
He said Carpio and Del Rosario have had no basis to claim that he had totally disregarded the arbitral tribunal ruling favoring the Philippines' position.
It was in the same remarks – delivered at the Philippine Coast Guard's 333rd anniversary celebration in Davao City – that Duterte revealed that China's President Xi Jinping had threatened war if the Philippines would force the issue of the arbitration ruling.
A senior security official, who declined to be named, said China was just bluffing. "China could just be exploiting our weaknesses using all elements within its national power," he said.
"This is a very difficult issue but if push comes to shove, let it be known to all that we are determined, as protector of the people and state, to defend what is ours," another official said.
Last Thursday, Carpio said Duterte had practically allowed China to continue its reclamation activities in the West Philippine Sea when he did not mention the territorial dispute in his ASEAN chairman's statement.
"In 2017 we were the host (of the ASEAN Summit), the President was responsible for the chairman's statement (and made) no mention of reclamation or militarization. For the Chinese this is a green light," Carpio said.
Reports said that ASEAN leaders revised the final statement and removed any reference to the arbitration ruling. The revision reportedly happened after intense debates and lobbying among ASEAN leaders.
Carpio was a member of the country's legal team that argued the Philippines' case before the Permanent Court of Arbitration.
The magistrate said even the 2016 chairman's statement in Cambodia mentioned China's land reclamation activities.
"That statement was very good despite the fact that we were not happy. It was strong, it mentioned land reclamation, expressing concern about land reclamation, about land militarization. It was directed at China – do not reclaim further – especially Scarborough Shoal," he said.
Carpio earlier cautioned that it would be "game over" for the Philippines if China succeeds in reclaiming Panatag or Scarborough Shoal. – With Christina Mendez, Jaime Laude