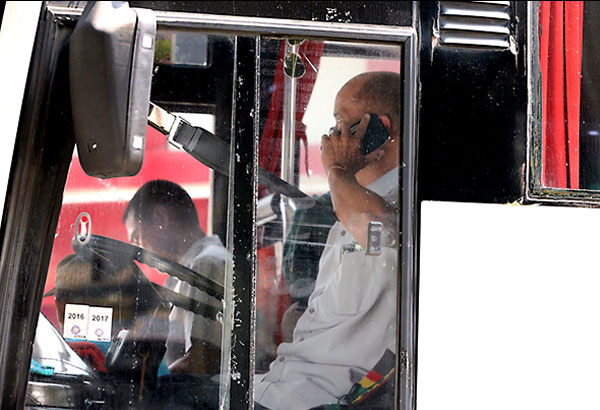 The Land Transportation Office (LTO) will review the implementing rules and regulations (IRR) for the Anti-distracted Driving Law or Republic Act 10913 after its first day caused confusion among motorists and concerned enforcement agencies. BOY SANTOS/File
LTO to review distracted driving rules
MANILA, Philippines - The Land Transportation Office (LTO) will review the implementing rules and regulations (IRR) for the Anti-distracted Driving Law or Republic Act 10913 after its first day caused confusion among motorists and concerned enforcement agencies.
LTO chief Edgar Galvante said he would meet with the government agencies to come up with a uniform implementation of the law as they received mixed reviews from motorists when the law took effect Thursday.
Galvante added that the LTO is open to suggestions on how it could improve implementation of the law.
"Let's see what is more appropriate, reasonable implementation of the law and if possible uniform, because there are so many suggestions and we are open to that," Galvante said in a radio interview.
But he emphasized that the government is not making the lives of motorists miserable after they were prohibited from using their mobile phones for navigational purposes while driving unless these are used hands-free.
He said that the important thing is that there is no distraction in the line of sight of motorists.
Galvante also explained that the LTO has started apprehending erring motorists.
He said the IRR does not state that an information drive should be provided before the government can apprehend violators.
But he said the LTO is giving the apprehended motorists the chance to explain why they should not be fined for their violations during the adjudication, citing that enforcers could have just mistakenly apprehended them.
In the first day of implementation of the Anti-distracted Driving Law, the Metropolitan Manila Development Authority (MMDA) apprehended 127 motorists, consisting of 89 motorcycle drivers, 25 private vehicle owners, seven truck drivers, five bus drivers and one UV express driver.
As of 1 p.m. on Friday, the MMDA has apprehended 19 erring motorists: nine private vehicle drivers, nine motorcycle drivers and one bike rider.
The LTO is the government agency responsible for implementing the Anti-distracted Driving Law through the help of the MMDA, the Philippine National Police (PNP) and the Department of Transportation (DOTr).
Some senators have called for a review of the IRR of RA 10913, which has led to confusion among motorists, particularly on the use of navigation apps like Waze on mobile devices.
Sen. Joseph Victor Ejercito said that the new rules as released by the DOTr were confusing.
Ejercito said that the rules regarding placement of phones for use in navigation are practically incomprehensible.
Officials of the DOTr and its line agencies such as the LTO have been coming out with conflicting statements that baffled motorists because they were unsure whether they could use these apps and exactly where their phones should be placed. – With Romina Cabrera, Gerry Lee-Gorit