Why China is likely to militarize Scarborough Shoal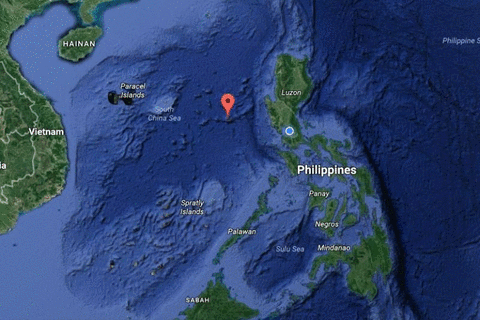 MANILA, Philippines — Beijing may start building military facilities on Scarborough (Panatag) Shoal in the West Philippine Sea as part of their strategy in countering the United States.
In an interview with ANC's "Headstart," Supreme Court Senior Associate Justice Antonio Carpio said China may reclaim Scarborough Shoal in the same way they did with Mischief Reef in the Spratly Islands.
Carpio explained that Scarborough Shoal is a strategic location for China as it guards the exit to the Pacific, which would allow them to fire missiles directed to the US in the future.
"Scarborough Shoal guards the exit to the Pacific because the Chinese submarines, nuclear-armed submarines are based in Hainan (Island) and if they fire their missiles in the South China Sea, those missiles will not reach the US because the range is only about 7,500 kilometers," Carpio said.
Recent reports showed that China has been making preparations for new land-based missile installations on Hainan Island in the South China Sea.
Satellite imagery from ImageSat International reveals recent changes in the layout of the People's Liberation Army's (PLA) Yulin Naval Base at the tip of Hainan Island.
Defense News reported that the PLA has deployed multiple missile launchers on the western side of Yulin Naval Base in less than two months.
Carpio, meawhile, noted that China would have to go to the mid-Pacific in able to launch missiles that would reach the US.
"They have to go to the mid-Pacific and their only exit is though the Bashi channel and the air and naval base of China in Scarborough Shoal will protect that exit to the Bashi channel," Carpio said.
Situated in Batanes off northern Luzon, the Bashi Channel is a route to enter or exit the Western Pacific.
"If they reclaim it, it will be like their reclamation in Mischief Reef where they have a runway, they have a harbor for warships and their warships from there can go to the Bashi Channel to protect their outlet to the Pacific," Carpio said.
Carpio warned that increased Chinese presence in Scarborough Shoal means that they are planning something.
"Scarborough Shoal, I think, is the last shoal that they will reclaim and build into an artificial island to house, to host air and naval base and that could happen anytime," the high court justice said.
'China's militarization of South China Sea is real'
Adm. Harry Harris, commander of the US Pacific Command, said that Washington is challenged by an aggressive China which continues a methodical strategy to control the South China Sea.
"China's militarization of the South China Sea is real," Harris told the US Senate Armed Services Committee a few weeks ago.
Harris stressed that he has testified before that China was militarizing the international waterway and airspace above it by building air and naval bases on seven man-made islands in the Spratlys.
"Despite subsequent Chinese assurances at the highest levels that they would not militarize these bases, today, they have these facilities that support long-range weapons emplacements, fighter aircraft hangars, radar towers and barracks for their troops," Harris said.
China is nearly finished with its construction of three air bases on Subi (Zamora), Mischief (Panganiban) and Fiery Cross (Kagitingan) Reefs in the Spratly Islands.
Beijing's naval, air, radar and defensive facilities in the islands would allow them to deploy military assets including combat aircraft and mobile missile launchers to the Spratly Islands at any time.
RELATED: China can now deploy military assets to South China Sea