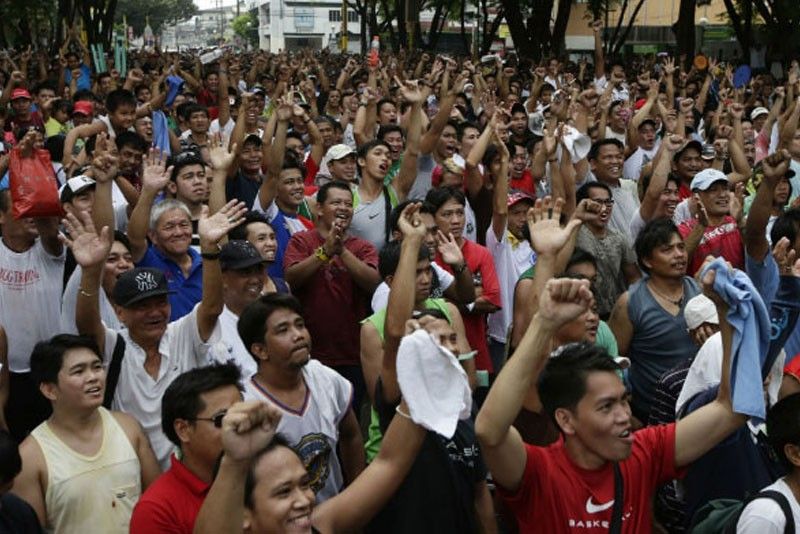 The March 25-28 poll found 78 percent satisfied and 12 percent dissatisfied with the government's drug war, yielding a net satisfaction rating of +66, classified as "very good."
AP/Bullit Marquez, File
SWS: Fewer Pinoys satisfied with drug war
Helen Flores
(The Philippine Star) - April 19, 2017 - 12:00am
MANILA, Philippines - Fewer Filipinos expressed satisfaction with the Duterte administration's war on drugs in the first quarter of the year and many are worried that they might be the next victims of summary killings, the latest survey by the Social Weather Stations (SWS) shows.
The March 25-28 poll found 78 percent satisfied and 12 percent dissatisfied with the government's drug war, yielding a net satisfaction rating of +66, classified as "very good."
But this score is 11 points below and one grade lower from its "excellent" +77 rating (85 percent satisfied, eight percent dissatisfied) in December last year.
Ten percent of Filipinos are undecided.
The same survey also showed 73 percent of adult Filipinos saying they are worried that they, or anyone they know, will be a victim of summary killings in Duterte's drug war.
It also found 66 percent saying it is "very important" and 26 percent saying it is "somewhat important" that suspects involved in illegal drugs be captured alive.
Opinion remains split about the claim of the Philippine National Police that drug suspects resist arrest: 24 percent say the police are "telling the truth" but 31 percent say the police are "not telling the truth."
The remaining plurality of 44 percent are unsure whether the police are telling the truth about drug suspects resisting arrest.
Seven in 10 Filipinos (70 percent), meanwhile, believe the government is serious about solving the summary killings in the government's illegal drug campaign.
Thirty-six percent could not say whether it is serious or not, five percent said the government is "somewhat serious," and four percent say it is "not serious at all."
The SWS terminology for net satisfaction ratings: +70 and above, "excellent"; +50 to +69, "very good"; +30 to +49, "good"; +10 to +29, "moderate", +9 to -9, "neutral"; -10 to -29, "poor"; -30 to -49, "bad"; -50 to -69, "very bad"; -70 and below, "execrable". SWS considers the movement from one classification to another as either an "upgrade" or "downgrade."
The nationwide survey used face-to-face interviews of 1,200 adults 18 years old and above.
The international community has criticized the way President Duterte is addressing the drug menace in the country and blamed his administration for the spate of killings of suspected drug dependents since he assumed the presidency on June 30 last year.