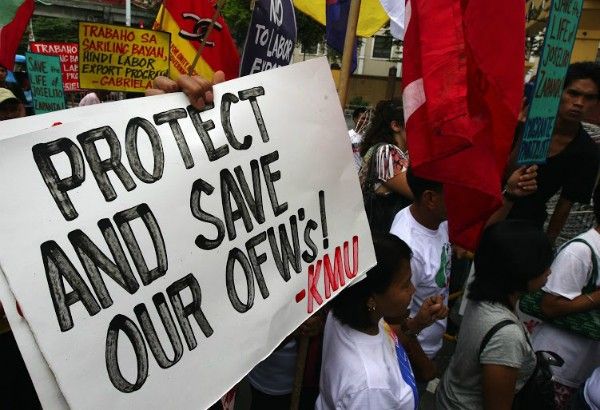 Gabriela urged President Rodrigo Duterte to save OFW Jennifer Dalquez, who is currently on death row for killing the employer who attempted to rape her.
Edd Gumban, file
Gabriela urges Duterte to save OFW on death row in UAE
MANILA, Philippines — Women's group Gabriela on Monday called on President Rodrigo Duterte to save Jennifer Dalquez from death row during his visit to the Middle East.
"We urge him to exhaust all measures to save OFW Jennifer Dalquez from the death row in the United Arab Emirates (UAE)," Gabriela said on a statement on Monday.
Dalquez was placed on death row in 2015 for the murder of her employer when he attempted to rape her in 2014.
The group also expressed hope that President Duterte will have enough time to visit UAE even if it is not included in his itinerary.
President Duterte is scheduled to leave for the Middle East on Monday for a state visit to Saudi Arabia, Bahrain and Qatar, where he will meet with the heads of state as well as with the Filipino communities in those countries.
Foreign Affairs Assistant Secretary Hjayceelyn Quintana said last week that the president's visit aims to strengthen efforts to protect the rights and promote the welfare of the Filipinos in the three countries.
Gabriela filed House Resolution 829 last month, calling on President Duterte to seek executive clemency for Dalquez.
Raul Dado, executive director of the Department of Foreign Affairs' Office of the Undersecretary for Migrant Workers Affairs said that the president is expected to appeal on the case.
"There is no black and white that the president is going to take up Dalquez's case. But knowing his concern, we have prepared the legal papers in case he makes an appeal," Dado said in a statement.