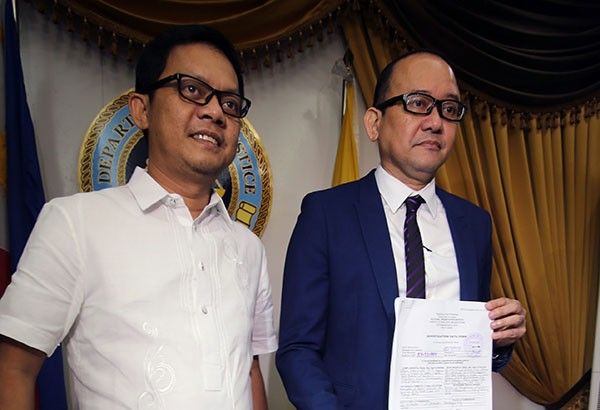 Former Immigration Deputy Commissioners Al Argosino and Michael Robles, part of the persons involved in the bribery scandal, were given an ultimatum by Sen. Richard Gordon.
Philstar.com/File photo
Gordon gives ultimatum to BI execs in bribery scandal
MANILA, Philippines — Sen. Richard Gordon on Thursday said that he will no longer hold hearings on the corruption scandal involving the Bureau of Immigration and online gaming mogul Jack Lam.
"When I adjourn this hearing and filed the committee report, I'm not going to schedule another hearing just to hear more lies," Gordon, chairman of the Senate Blue Ribbon committee said during the fifth hearing on Thursday.
Chinese casino mogul Jack Lam allegedly bribed former Immigration Deputy Commissioners Al Argosino and Michael Robles for the release of 1,316 Chinese nationals working at the Fontana Leisure Park and Casino owned by Lam.
Argosino and Robles allegedly received P30 million, while former BI intelligence chief Charles Calima Jr. reportedly received P18 million.
President Rodrigo Duterte fired Argosino and Robles from office after they admitted accepting and keeping the money as part of a covert corruption probe against Lam, a Macau-based businessman.
The two BI officials are his appointees and fraternity brothers in the Lex Talionis in San Beda's College of Law.
READ: Duterte fires frat brods, Immigration intel chief over bribery scandal
Lam's alleged middleman, retired police officer Wally Sombero, said that what happened in City of Dreams Resort and Casino on Nov. 27, 2016 was not extortion or bribery, but a payoff.
Gordon said that the fifth hearing will be the last chance for the accused to tell the truth.
"This is an opportunity for you to explain you positions," the senator warned the Immigration officials involved in the scandal.
Gordon said he believes that the truth is already out.
Gordon added that the Senate Blue Ribbon panel may propose for stiffer regulations on online gaming activities as the government declared an all-out war against illegal gambling.