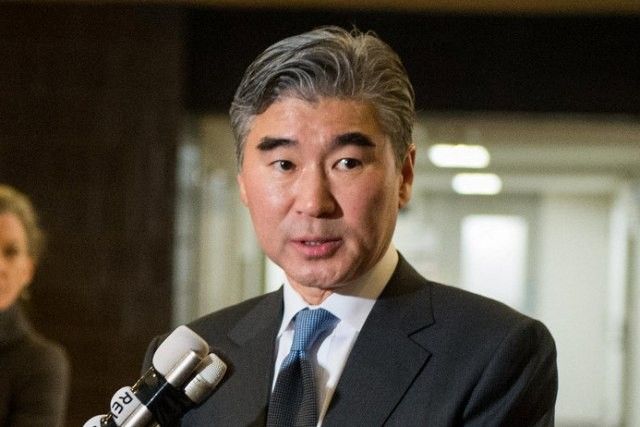 US Ambassador Sung Kim cited strong cooperation between the two countries in fighting drug trafficking, which he said would continue despite some "flaws" in the way it is being carried out.
State Dept./William Ng/Released
US won't undermine Rody gov't, backs drug campaign
(The Philippine Star) - January 25, 2017 - 12:00am
MANILA, Philippines – The US government is supporting the Philippines' fight against the drug menace and reports that Washington was plotting to oust President Duterte over drug-related killings are "total nonsense," America's top diplomat in Manila said yesterday.
US Ambassador Sung Kim cited strong cooperation between the two countries in fighting drug trafficking, which he said would continue despite some "flaws" in the way it is being carried out.
"We have absolutely no interest in doing anything to try to undermine President Duterte's government. Period. I hope you can put that story to rest," Kim told a small group of journalists at his official residence in Makati. "Categorically, confidently, I can tell you that is total nonsense. There is absolutely no basis for that report."
Asked what the US would do in case Duterte declared martial law, Kim said he did not want to comment on hypothetical situations.
He said while preparing for his posting in the Philippines, he went over all the cables and reports sent from the US embassy in Manila and "there's nothing that even resembles what's claimed in that media report."
Since taking up his Manila posting in early December, Kim has had what he describes as two "very long" meetings with President Duterte and key Philippine officials. Kim would only say that they had "wide ranging discussions" on numerous issues including "law enforcement in general."
Having worked as a prosecutor in Los Angeles, Kim said he understood Duterte's concern and focus on the drug menace. This is why the US government wants to continue its cooperation with the Philippines, which Kim described as one of the bright spots in bilateral relations.
Asked about the Trump administration's position on human rights and extrajudicial killings, Kim cited the statement of the nominee for secretary of state, Rex Tillerson, who said he wanted more information before passing judgment on the Philippine campaign against drugs.
"Obviously we have some concerns about some aspects of the drug campaign," Kim said. "While everybody acknowledges that there is a very serious drug problem, there is also concern that some aspects of the anti-drug campaign has flaws."
He stressed that the concerns are shared by others including Filipinos, and that his government is not telling the Philippine government what to do.
"I hope people will not view this as somehow an American concern being imposed on the Philippines," Kim said. "My sense is this is a concern for many people. So I think it's a mistake to portray this as a US versus Philippines issue."
Duterte had hurled invectives at former US president Barack Obama and Kim's predecessor Philip Goldberg for criticizing the Philippines' bloody war on drugs, which has claimed over 6,000 lives in less than seven months.
Trump, on the other hand, reportedly told Duterte in a phone conversation that the latter was doing the right thing in the anti-drug campaign. Duterte has since described Trump as a "friend" and has invited the US president to Manila for the annual leaders' summit of the Association of Southeast Asian Nations later this year.
Kim noted that even as the two countries were going through a "rough patch" in bilateral ties last year, the US Drug Enforcement Administration continued to provide information and assistance to the Philippines that helped in several major drug busts.
"We recognize that President Duterte was elected in a vibrant and free democratic election. We have great respect for the Philippines' democratic process. He won a very impressive victory," Kim said yesterday. "What we want is to work with them to strengthen bilateral relationship and work together on some common challenges beyond our national interests."
Malacañang has accused a group of Filipino-Americans of plotting to oust Duterte with help from certain elements in the US government and support from "yellows" in the Philippines – a reference to groups associated with the Aquinos and the Liberal Party (LP).
The plotters allegedly want to install Vice President Leni Robredo, who ran under the LP banner, as president.
Robredo, the LP and Filipino-American businesswoman Loida Nicolas Lewis have denied the existence of any such plot.