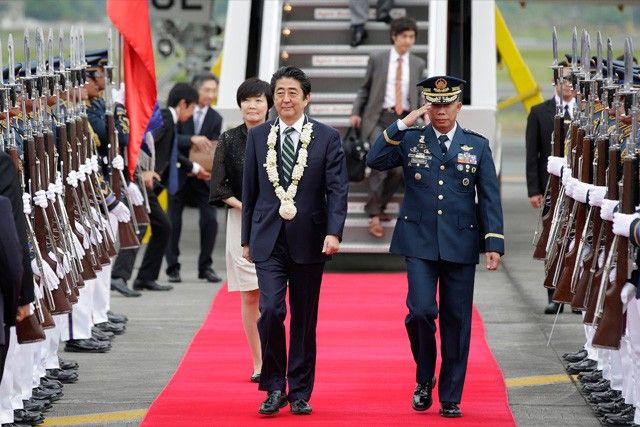 Japanese Prime Minister Shinzo Abe, center, followed by his wife Akie, walks during arrival honors at Manila's airport, Philippines, Thursday, Jan. 12, 2017. Abe is in the country for a two-day official visit.
AP/Aaron Favila
Japan Prime Minister Abe arrives in Philippines for official visit
MANILA, Philippines (UPDATED 4:33 p.m.) — Japanese Prime Minister Shinzo Abe has set foot in Manila for a two-day official visit in the country.
Abe landed at the Ninoy Aquino International Airport Terminal 3 around 2:50 p.m. aboard a Japanese Air Force plane from Tokyo. He was accompanied by his wife Akie Abe.
The Japanese prime minister, his wife and his delegates were welcomed by Executive Secretary Salvador "Bingbong" Medialdea, Foreign Affairs Secretary Pefecto Yasay along with honor guards as they walked the red carpet at the Balagbag Remote Parking Area.
For his official visit, Abe is expected to renew Japan ties with the country. He is scheduled to meet President Rodrigo Duterte and business groups in Manila and Davao City.
Palace said there will be a state dinner and lunch for Abe. It was also said that Abe will drop by Duterte's home in Davao for breakfast on Friday.
Abe is the first head of the government to visit the country. His visit was the first reciprocal one following Duterte's visit to Tokyo in October last year.
This is the third official visit of Abe to the country. He first visited in 2013 and he also attended the Asia-Pacific Economic Cooperation Summit hosted by the Philippines in 2015.
Editor's note: The latest update reflects the corrected description for Prime Minister's Shinzo Abe's visit. It is an official visit, not a state visit.