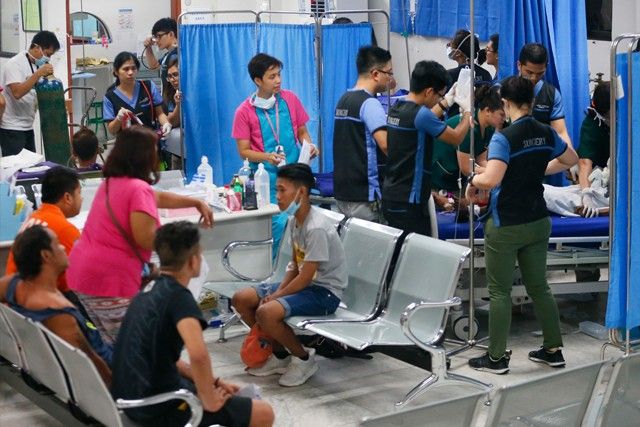 Doctors treat victims for mostly firecracker-related injuries, during a raucous celebration of New Year Sunday, Jan. 1, 2017 in Manila, Philippines. The country's notorious tradition of dangerous New Year's Eve celebrations persisted after President Rodrigo Duterte delayed to next year his ban on the use of powerful firecrackers, often worsened by celebratory gunfire.
AP/Bullit Marquez
DOH: Fireworks injuries up but still lower than 2016
MANILA, Philippines — The Department of Health (DOH) on Monday reported that the number of people injured by firecracker explosions is still significantly lower than last year.
As of 6 a.m. on Monday, DOH spokesman Eric Tayag said there were a total of 524 recorded fireworks-related incidents during the holidays. 521 of which were firecracker injuries while three were due to ingestion.
This was higher compared to the tally on Sunday, when the DOH recorded 350 injuries due to firecrackers. Health Secretary Paulyn Jean Rosell-Ubial said this was lower by 60 percent compared to the 2011-2015 average.
Tayag said there were 874 fireworks-related incidents in the same period in 2016. He added that there were no recorded deaths from fireworks.
In his update, Tayag said 426 of those injured were male with age ranging from 1-year-old to 71-years-old. On the other hand, 284 were children aged 15-years-old and below.
Tayag said 297 of those injured were in Metro Manila.
He added that 177 of the recorded injuries were caused by the prohibited firecracker piccolo while 98 of the cases were eye injuries.
The Philippine National Police Community Relations Group earlier released an anti-firecracker infomercial with puppet versions of Philippines' top cop Director General Ronald "Bato" Dela Rosa and President Rodrigo "Rody" Duterte warning of risks of using firecrackers.
RELATED: WATCH: 'Bato, Rody' puppets warn of risks in firecrackers