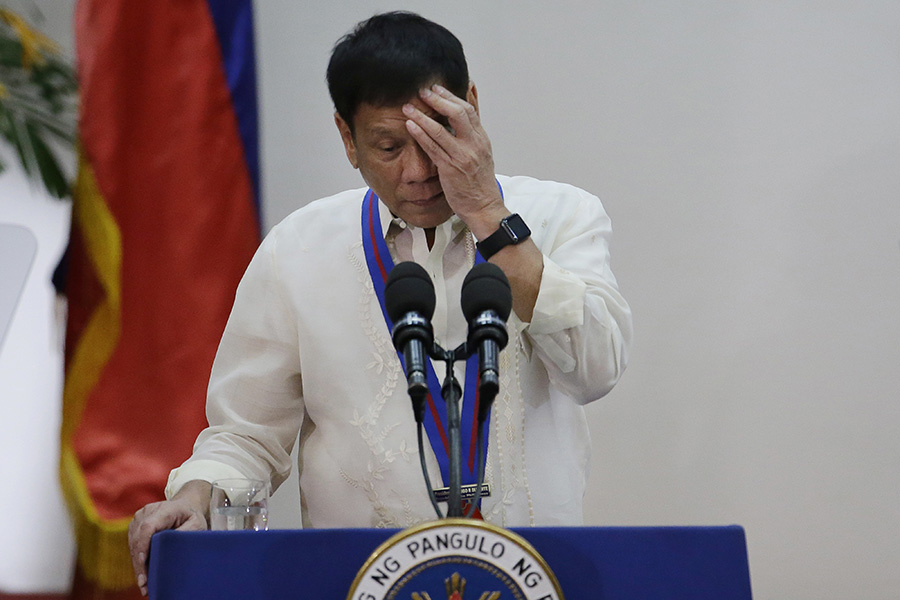 The 72-year-old President Duterte also admitted having spinal issues but was advised against undergoing an operation. AP/Aaron Favila, File
Duterte admits suffering from back pain, daily migraines
MANILA, Philippines — His spokespersons claim that he is stronger than a carabao but President Duterte admitted on Monday that he has health issues including a migraine that he endures every day.
During the Wallace Business Forum dinner in Malacañan, Duterte suddenly talked about his health while talking about supposed efforts to oust him.
"Oust me, good. Assassinate me, better. I have this migraine every day," Duterte said.
The 72-year-old Duterte also admitted having spinal issues but was advised against undergoing an operation.
"My doctor would want to operate but you know my wife was a nurse and she used to work in the States, United States, and she said, since a lot of operations for the spinal that went awry, that went wrong," he said referring to his partner Honeylet Avanceña.
"So that if you guys see me always with a sad mode, I am actually pushing a nerve here to relieve the pain."
Asked to clarify Duterte's statements about his health, presidential spokesman Ernesto Abella said: "Nothing serious."
The president revealed that he used Fentanyl, a powerful synthetic opioid painkiller used by cancer patients. He said his doctor once advised him against abusing it.
"I was only given a fourth of that square thing. There was a time that if I took two… Of course, my doctor learned that I was using the whole patch because I felt better," he said.
"When he knew it, he made me stop and he said, stop it. The first thing that you would lose is your cognitive ability."
Duterte clarified though that he has no cancer, a rumor that circulated when he was still running for president.
"Don't believe in cancer. What I have is really Buerger's disease. It's an acquired thing that you get from smoking because of nicotine. Nicotine constricts the vessel. Alcohol dilates the vessel," he said.
One of the businessmen who attended the event suggested that Duterte try acupuncture to soothe the pain caused by his spinal problem.
Last month, Duterte said every 72-year old person like him is sick but did not say what is ailing him.
Duterte's spokespersons, however, claimed that the president remains physically fit for the job and is "stronger than a carabao."
During the campaign period, Duterte said he had illnesses but claimed that they are not fatal. He admitted to having acute bronchitis and a migraine that was connected to a spinal injury he sustained in a motorcycle accident in the 1960s.