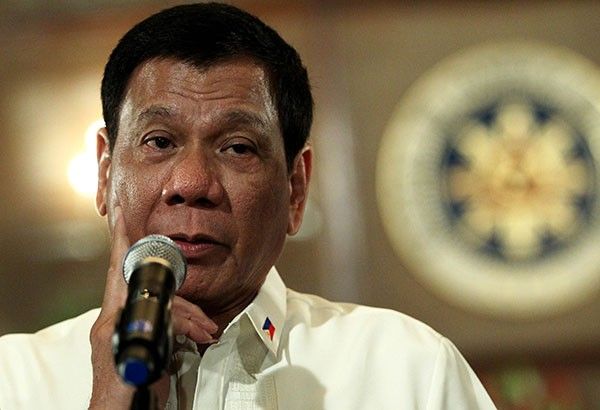 Malacañang denied reports that President Duterte fainted at noon yesterday.
PPD/Ace Morandante, file photo
Palace denies Rody passed out
MANILA, Philippines - Malacañang denied reports that President Duterte fainted at noon yesterday.
Presidential Communications Secretary Martin Andanar said no such thing happened, adding nothing was wrong with the President.
"We would like to assure our people that the President is in good physical and mental health. He is strong and agile and can stand the responsibilities and demands of the presidency," Andanar said in a statement.
Presidential spokesman Ernesto Abella said the President's meeting with Bangladeshi officials was cancelled due to some "pressing matters."
A Bangladeshi delegation was supposed to pay a courtesy call on Duterte at 2:30 p.m. yesterday to discuss issues on money laundering.
Aside from the Bangladeshis, the President was supposed to meet with former president Gloria Arroyo, former chief justice Renato Puno, rebel leader Nur Misuari and officers of the Integrated Bar of the Philippines.
Last month, Duterte told Filipinos not to ask him about his health, saying it is natural for a man of his age to have some health concerns.
The President is 71.
During the campaign, he admitted to be suffering a slip disc due to a motorcycle accident, Buerger's disease or constriction of the blood vessels caused by nicotine, and Barrett's esophagus.
Earlier, he missed several meetings with world leaders either due to migraine or upset stomach.
Bangladesh Ambassador John Gomes earlier said Duterte had assured him of the return of the $81 million stolen by cyber criminals from a Bangladesh bank account at the Federal Reserve Bank of New York.
The amount was transferred to four accounts at the Rizal Commercial Banking Corp. and laundered through casinos.
Of the amount, $15 million has been returned to the Bangladesh government.
Meanwhile, Malacañang is unfazed by the probe that the Office of the Ombudsman would conduct on the plunder and graft complaints filed against Duterte.
The Palace said the Chief Executive enjoys immunity from suit while in office.
"Part of the constitutional mandate of the ombudsman is to act on complaints filed against government employees and officials, including the one filed by Sen. Antonio Trillanes against the President," Andanar said.
"Whether this will become a case against the President is an entirely different matter. The President enjoys immunity while in office and although the ombudsman may investigate, it cannot discipline or remove a sitting president," he said.